We swapped clothes for a night out and some of us are never going back
Boys' jeans are so much comfier than girls' jeans
One drunken night, we reached the collective conclusion that the only way to strengthen our bond as flatmates was to transform ourselves into each other through the medium of clothing. It wouldn't be good enough to just sit around and drink in our flat in our new personas: we had to take our looks to the runway, e.g. Lancaster town centre.
When it came to who dressed up as whom, we wanted to get as far away from our own personal style as possible. This meant we had to be strategic and thoughtful in our selection process. Without further ado, this is how the night progressed. Spoiler alert: some of us are never going back.
Felt like Taylor Swift in her 'Reputation' era
Not going to lie, when I found out that I would be dressing as Kara Mills I was concerned about wearing black eyeshadow and a leather jacket as I'm more accustomed to a pastel palette and floral tops. I feared I'd messed up the makeup and I almost stabbed myself with the eyeliner five times. In true Kara Mills fashion, I had to borrow her push up bra as my cleavage also had to be in character. I couldn't fit my size seven feet into Kara's black boots so I had to improvise with my black and grey trainers.
Once we were out, I felt confident in the clothes, yet had to do a double-take every time I looked into the mirror. There was no colour in the outfit so I felt very out of place. To accommodate Kara's love for Taylor Swift, I felt as if I belonged in the "Reputation" era. I had the urge to be singing "Look what you made me do" all night.
Dressed for a shift at Sainsbury's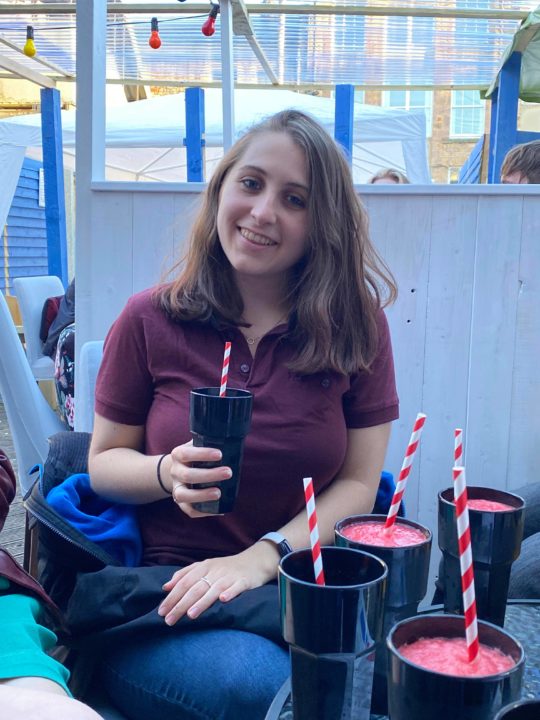 Having been assigned James, I was concerned that I would not be able to pull this look off in the slightest, however, that maroon polo top was not a hard look to pull off at all. Did I look like I was going to work a shift at Sainsburys? Yes, but that doesn't mean that it wasn't a look. 
Normally when I see James in this outfit he looks very formal but, for some reason, on me this was a very casual outfit. Maybe I just don't have the suave that James has to pull this off. 
It was when I saw everyone else spending hours to get ready that I realised I had hit the jackpot in picking James. With just the basic makeup (so I didn't look dead) and the polo top on, I was ready to hit the streets in 10 minutes. 
I never knew my eyeshadow should match my earrings
Being assigned Rebecca felt more daunting on the day than I had initially anticipated. It felt like a lucky escape to have not been given one of the boys – I could still feel somewhat feminine for the evening. However, when it finally came round to slipping into my pre-selected skirt I realised there were a lot more steps to Rebecca's evening routine than my own. Wearing a skirt meant participating in my second shower of the day to shave my legs which would ordinarily be hidden away under jeans or flares. 
The second major contrast was the bright colour palette. While I am not entirely limited to monotone I have never gone to the extent of coordinating my earrings, eyeshadow, shoes and bag. Usually, I just do whichever makeup gets me out the door fastest. Equally, my jewellery decisions are based on the particular aura of the crystal around my neck rather than a well thought out fashion statement.
Rebecca's clothes gave me the confidence that perhaps being a bit bolder wouldn't be a bad thing (and being more organised before leaving for the night definitely wouldn't go amiss). Although, realistically, I was a bit cold.
'No boys asked for my Snapchat or bought me a drink'
James debatably picked the short straw and had to dress as Vic, meaning he was dressed head to toe in the colour purple. He gravitated towards the lilac blazer to cover himself up and he was self-conscious at the idea of wearing a crop top so opted for a cardigan as well. All in all, he pulled it off with confidence and served the look effortlessly.
James said that he "was freezing all night" and that "no boys asked for my Snapchat or bought me a drink." In his opinion, he rated the experience a dismal zero out of 10.
'I missed my colourful jewellery and makeup'
To get into the character of Adam, Rebecca had to curl her hair and use his hair products to get those luscious bouncing curls. Who would have thought that dressing as the guy who wears the same black t-shirt and jeans every day would take the longest to get ready?
Rebecca said: "Adam's clothes were very comfortable and inspired a purchase of a hoodie in the style of Adam's, but because they were oversized I felt very underdressed compared to everyone else and I missed my colourful jewellery and makeup. Also, the hair took some maintenance.
"Overall a 10/10 experience, would recommend, and Adam was very accommodating with the supply of clothing."
'The whole outfit was vibey'
Adam being assigned Eleanor was honestly a match made in heaven, the union no one knew they needed. This outfit fitted Adam perfectly (definitely not literally). We think he has some shopping to do. Serving in all white, he pulled this outfit off with Eleanor's crystal pendant hanging pride of place around his neck – the outfit wouldn't be complete without it.
Adam said: "The whole outfit was vibey, especially the leather jacket." Even though he probably wouldn't choose to go out dressed in a woman's crop top and shirt, he got the most attention as he was chatting away to two girls in the bathroom. What a win.
After this social experiment, we learnt that dressing as each other wasn't so bad after all. Maybe we should keep our wardrobe doors locked from now on.
Recommended articles by these writers:
We tried all the underrated caterpillar cakes in Lancaster so you don't have to
Which 'High School Musical: The Musical: The Series' character would be in your college?
16 diss topics for if you were studying Lancaster University students