We asked Lancs Students to send us the last photo in their camera roll
Calling it a mixed bag would be an understatement…
The Camera Roll can be a very scary place, from selfies and memes to arty photos showing off photography skills. You could say they show the hidden side to people, and normally people don't jump to show off their camera roll. But let's go ahead and start exposing Lancaster Students last photos…
By the Seaside
Up first is this beautiful picture of Morecambe; look at that sunset. Some of us first years who haven't even been to Morecambe yet could mistake it for a nice beach holiday in Spain; we are all craving a trip after the year we've had. We hate to be the bearers of bad news, but Morecambe beach is not like Spain at all; swap your suncream for an extra jumper! But this photo is also a very well taken photo with the railing… It looks very nice, makes me want to hop on the bus for a sunset photoshoot.
No to Drugs
Now this one is very different from the first… We're not quite sure how to explain the events happening in this photo, taken from google. But I would like to know why they have this photo and what they plan to do with it? We will assume it's some inside joke and not a life aspiration. This goes to show, you never really know someone until you've seen their camera roll.
Hungry Anyone?
This is one of our favourites. Who needs that much porridge? So many questions must be answered, most importantly, why would someone take this picture? Here we have someone proud of their porridge collection, or maybe it's the opposite. They're dreading the amount of porridge they have. We need to know! And who actually likes porridge enough to have this much and take the time to put it in a pretty jar? Is this a terms worth of porridge or a week's worth?
Sunset in Bowerham
Up next is another pretty sunset! Someone sent in this picture with a message explaining that they took it at Bowerham Hotel; any first years reading this may have to google where that is. But Lancaster really does have some beautiful sunsets. It's easy to imagine sitting here with a tinny in hand. This is yet another arty photo. We have some wannabe photographers in Lancs.
Mystery of the QR Code
This photo was very intriguing, and don't worry; we scanned the QR code, so you don't have to…although what we found, we didn't expect. It comes up with a google search of the phrase "you have a fat ass". Y'know, in case you were wondering… Although you get points for creativity with the code, it seems a good way to compliment a friend; we don't condone QR codes. They give us flashbacks to secondary school buses and getting airdropped random photos; this would have been a creative one to do (but still, leave me alone).
An Inquisitive Duck
A classic Lancaster University photo. What more needs to be said? This duck looks as though it is posing, knowing full well the photo was being taken because they all know that they run the campus. We have been told that this duck was called 'Josie' so, if you see Josie around campus, say hi, and she might model for you.
Fiery Vibes
This photo is fighting for the top spot, from the fire fuelled with what looks like cereal boxes on a bin lid to the scarf and the funky glasses. We feel as though it sums up student life in lockdown, but I don't encourage setting fires, especially on campus! It definitely looks like a fun night, and I feel like we all lowkey wish we were there. It kind of looks like Bowland Annex, and I suppose this is the behaviour we'd expect from there…
Now, what happened here?
When a flatmate has to call an ambulance and get taken to A&E, what do we do? Take a photo. We love this one, especially as you can tell from the angle they were trying not to get caught taking the photo. And while I hope that your flatmate is okay, We're very glad you documented this, as we are sure they will be when you remind them in months to come. Besides, it's a right of passage to go to the hospital at uni, right?
Chilling Outdoors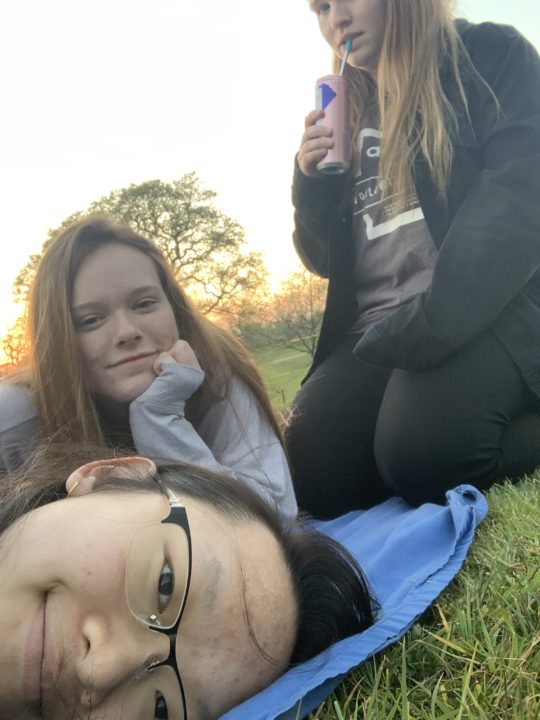 And surely it's only fair to expose mine… is it not another Uni classic to go on photoshoots with your flatmates and get weird looks from people just going about their lives. But here we are, sat near the netball and tennis courts, getting attacked by flies and watching the sun go down.
So while some of these photos were a little bit strange, and I still have so many questions (who actually needs that much porridge!), they weren't as bad as I was expecting, sunsets appear to be a very common theme, and it wouldn't be a Lancs Tab article without a duck.
Recommended articles by this writer
The results are in: the Round House is the sexiest building on campus
Here's what each college will wear to the gym now it's reopened
'Dogs bring so much joy to many people': An interview with 'DogsofLancs'