Here's all the Lancs pubs reopening on Monday
The day is almost upon us! On Monday, Boris announced that the English government was on track with its reopening plan and that they'd be moving onto the next stage of easing lockdown.
As of Monday, April 12th, non-essential shops, hairdressers, gyms, and pubs serving outside will be able to reopen. Finally, we'll be able to go out for food and drinks and after months of being barred from the pub. But the time is finally upon us; as long as you're in a group of six, these Lancaster businesses are opening up their beer garden gates.
Bay Horse Inn
On their website, the Bay Horse Inn said: "It's official! We can welcome people back, albeit only in the garden for now. In celebration, we are offering 'Burgers & Beverages' in our beer garden from five to eight pm. Please book if you would like to join us.
"Wrap up well; we promise the welcome will be warm, but alas cannot guarantee the weather!
"We have invested in a marquee for the top terrace, which should offer some protection from the elements, although if it is blowing a gale and pouring down, defaulting to takeaway will be recommended."
Boot and Shoe
The Boot and Shoe posted on Facebook: "We can't wait to welcome you back, but to do so, we need to follow some restrictions;
Outdoors only for food and drink.
Table service only at all times.
Social distancing still in place.
Mask wearing still in place when using the toilets inside and moving around the beer garden.
Rule of six (up to six people from up to six different households) or two households sitting together.
"For the first few weeks during this initial stage of reopening, we will be operating a first-come, first-served basis for tables rather than taking bookings so arrive early, or try to visit at quieter times during the week to avoid disappointment."
Toll House Inn
On their website, the Toll House Inn said: "Our bar and restaurant will be re-opening on Monday 12th April. We have a selection of new seasonal menus to enjoy from mid-morning all the way into the evening. In line with government guidance, we will be doing things a little differently:
Our indoor space will remain closed, and we will be operating outdoor alfresco service only (weather dependent).
The rule of two households or six people applies. More details on this can be seen here.
Table service only applies during this time, too, so we cannot serve you at the bar.
Whilst we are offering outdoor dining and drinking, you do not need to book a table with us. Just come along, and we will do our best to accommodate you."
The Borough
The Borough posted on Facebook: "We are getting ready to open our outside areas in Dalton Square and our courtyard garden on April 12th!
We are now taking bookings at www.theboroughlancaster.co.uk. Please, please, please only book if you're definitely coming!
The rule of six still applies.
Sit back and relax; it's table service only.
We have heaters and screens, but we are still in the lovely North, so dress accordingly!
We will still be following strict covid guidelines to protect you and our lovely team."
The White Cross
On their website, The White Cross said: "As we have previously announced, we will be reopening for outside service on the 12th of April.
"We are now taking reservations – if you want to make a booking, please go to our website and read the guidelines we will be working under."
Greaves Park
On their website, Greaves Park said: "We are now taking beer garden bookings.
"We hope you're as excited as we are, so start weaning yourself off the loungewear, and we look forward to seeing you soon."
Casa Rastelli

Casa Rastelli told the Lancaster Tab: "We are so looking forward to seeing you all on the 12th of April when we re-open. Bookings will not be compulsory."
Kanteena
Kanteena posted on Facebook: "We are stocked up and stoked to welcome you back. Missed you.
"Monday 12th until Sunday 18th April, open from 11 am.
"Table bookings are not essential, but to guarantee a spot, all bookings via www.kanteena.co.uk.
"P.S. The new stretch tent will be in full force for our great British summer. So you can wet your whistle and not your hair."
Merchants 1688
Merchants 1688 posted on Facebook: "We are now taking reservations at Merchants 1688 for when we reopen on 12th April!
"If you want to reserve an outside table, please go to our website and read through the guidelines we will be working order to make your booking."
Lancaster Brewery
Lancaster Brewery posted on Facebook: "We can see this first month feeling like àpres ski!! Don't know what that is? Bring a woolly hat, gloves and a warm jacket… and enjoy the beer garden! Beers, ciders on tap brought directly to your table!!! Pizzas will be flying out!! We're opening all week from midday on Monday the 12th.
"No need to book tables! We have loads of space!!"
Mint
Mint posted on Facebook: "We are back! Mint will be reopening our outdoor areas on the 12th of April in accordance with the new government guidelines!
"Our team are excited to be back serving you cocktails from three pm – two am, seven days a week!
"[We have] three refurbished, fully heated balconies!
"To book a table for our opening night or for all other enquiries, don't hesitate to message us on Facebook! Make sure to get your bookings in early to avoid disappointment!"
The Mill (Fylde Bar)
The Mill posted on Facebook: "We're back! Fylde will be open for outside food and drink service on Monday 12th April. Hopefully, see you all then. We are ready to welcome you back!"
The Pendle Witch
On their website, The Pendle Witch said: "We are hugely excited to announce that we are re-opening on Monday 12th April. In line with English Government guidelines, we can only open our beer garden at this time.
"Make sure to beat the rush and book now for your local beer garden in Lancaster!"
The New Inn Galgate
The New Inn spoke to us and said: "We are opening on a first-come, first-served basis.
A brand new roofed area covering a part of our decking
Outdoor heaters
Outdoor sound system
Outdoor TV, including Sky and BT Sports
Outdoor hand sanitising stations."
The Study Room
The Study Room posted on Facebook: "You can now book outside tables for Monday 12th April onwards through our website.
"We advise getting your bookings in early as we expect to be very busy."
The Plough
The Plough posted on Facebook: "We are not taking bookings, and operating on a first-come basis only. As we can't rely on the British weather – please check our daily Facebook posts, which will confirm our opening hours, or give us a call.
"All orders for the beer garden should ideally be done via our app. Save time by downloading and setting up your account now. A link can be found on our website.
Mandatory track & trace for each adult
Hand sanitiser
Masks on when moving about, and please remember social distancing
You can still enter the building to use the toilets
The Sun Hotel and Bar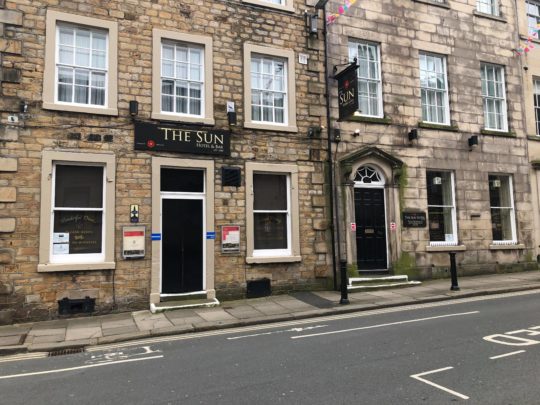 The Sun Hotel and Bar posted on Facebook: "It's happening! Beer is being dropped into our cellar, ready for beer garden opening next week.
"We'll be serving drinks only (until indoor hospitality can reopen). We won't be taking bookings. All tables will be allocated on a first-come, first-served basis so you can come along when you please and stay as long as you like. Make sure you wrap up warm in case the typical British weather takes hold.
"Bar open 12-10 pm each day for beer garden drinks. Please adhere to government guidance during your visits."
Cappuvino
Cappuvino posted on Facebook: "Who's ready for some real Alfresco dining?! We can't wait to welcome you back to our lovely terrace for some drinks and nibbles!
"Starting from Monday the 12th, we will be serving our full and improved menu of food and drinks. A whole new range of craft beer cans is waiting for you!
"We will not be taking bookings! It's all on a first-come, first-served basis, so feel free to pop down and enjoy yourself for as long as you like!
"Our terrace will be open Monday to Sunday 12 pm – 9 pm. Please adhere to the latest government guidelines when visiting us."
The Water Witch
On their website, The Water Witch said: "Between 12th April-16th May, if the weather forecast is for heavy rain, we will not open but rest assured we will contact all our customers who have pre-booked to rearrange tables for them. Fingers crossed for amazing weather!"
Accidental Brewery
Accidental Brewery posted on Facebook: "We will be opening our bar on Thursday 15th of April.
"It will be outside, to begin with, mainly cos that's all that is allowed, and it's safer that way. (What we don't want is another lockdown, eh!?)
"Things will be very similar to last time back in Sept/Oct, table service outside, bookings on the website, card payments preferred, masks are worn until seated etc."
The Cornerhouse
The Cornerhouse posted on Facebook: "We will now be opening Thursday 15th from five pm for anyone who hasn't been able to reserve a table for our fully booked first weekend.
"Remember we have 30 per cent of our tables set aside for walk-ins, so if you haven't been able to book, you can still turn up, first-come-first-served, or we will take your phone number and give you a call when a table becomes free.
"Book your tables in advance to avoid disappointment."
The Royal Hotel & Bar
The Royal Hotel & Bar posted on Facebook: "We're planning to open our beer garden from Friday 16th April. It'll be drinks only until we can allow customers inside (hopefully mid-May), so please don't come expecting to be fed just yet.
"Our table reservation system is back online. You can visit our fresh new website www.theroyalhotelandbar.co.uk for more information about what to expect and book tables.
"Please remember, if you're booking for between April 16th – May 20th, you're booking for drinks only, outside in the beer garden.
Grizedale Bar
Grizedale Bar posted on Facebook: "We are delighted to announce that Grizedale Bar will be reopening from April 19th for outside table service."
Don't forget to check whether your fave pub has a booking policy. If it's popular, it's likely to get full pretty quickly. But here's to every Lancs student having a safe and fun partial-reopening and an even better full-reopening on June 21st!
Recommended articles by this writer:
'On top of the world!': BAME Students' Officer Max Kafula on renaming The Sugarhouse
'I feel elated': Patrick Ete reacts to the overwhelming support on GoFundMe page
I love being autistic: What it's like being an autistic student at Lancaster University