A definitive list of the college stereotypes at Lancaster University
Unsurprisingly, Bowland didn't win a single category
One of the things that make Lancaster University so distinctive is the collegiate system. Our college becomes our defining feature from our first freshers week. We must pledge our allegiance without any idea what we're signing up for. There's nothing wrong with a bit of college rivalry, but aside from Fylde being sporty and Grizedale being party-central, what do we really think of each college? As a first year, the stereotypes of the different colleges can be quite baffling. Still, there is no better way to solve this than creating a google forms questionnaire and getting everyone else to decide on your behalf. Ever wondered which college seems most likely to be filled with flatcest or what students would be messiest on a night out? Well, look no further. The results are in, so scroll down to see what your college's defining features seem to be.
Who is the most stuck up?
Starting with a very predictable answer here, with Cartmel getting almost a third of the votes. This might have something to do with their only flex being the expensive en suite catered accommodation, making them think they are leagues above the rest of us, just because they don't have to wait for their shower. Don't worry, Cartmel, take that nice long walk from the main campus as an opportunity to be humbled.
Who spends all their time in the library?
Of all the students at Lancaster University, you would expect postgraduates to have learnt from the mistakes made in their youth and come to accept that the library is the only place actually to be productive. With dissertations and the threat of actually having to get a job looming over them, you can typically find these students hidden away in their dedicated corner. The only downside to this hangout spot: first year students who see the library as an unlimited social space instead of the solitary save haven it needs to be.
Who is the life of the party?
As anyone could guess, Grizedale dominated this category, closely followed by County, showing that townhouses are the place to be on a Friday night. When you consider the renowned cocktails from Grizedale bar, infamous townhouse parties, and the classic summer BBQs, it's hard to imagine going anywhere different if you want to experience the best social life on campus.
Who would you go to for advice? 
This question presented some mixed results, as understandably none of us know what we are doing, let alone who to go to for help. However, Furness and Pendle, being two of the smaller and generally unproblematic colleges, would take you on a walk up and down the south spine to listen to your ranting and solve all your problems before treating you to a Costa to make everything seem ok again.
Who would be the messiest on a night out?
We all have that one friend who always has one too many shots on a night out, and you have to half-carry onto the last Sugarbus after watching them stumble around the dance floor for most of the night. This prestigious title goes to County, where students party just a little too hard, followed closely by Bowland. There must just be something in the air on the north side of campus…
Who would commit flatcest?
Somehow related to the last question, where drunken mistakes can lead to a rather awkward encounter at the breakfast table, County appears to be the most likely to commit flatcest. The dreaded offence every first year is warned of as soon they start university, and an affair that doesn't end well the majority of the time, County appears to be the most reckless of us all to try it.
Who is the most problematic?
Unfortunately, this was a pretty easy win for County. It appears being lively, and fun comes with a price. All those crazy (and illegal) house parties seem to be the only publicity they get now, leading them to bag this notorious title.
Who is the most emotionally unstable?
This was a fairly split decision, which is expected after all the difficulties we have experienced recently. However, I feel sorry for Pendle; their accommodation is split over the main and South campus, obviously creating a college divide. They don't seem to be known for anything except witchcraft. At least they have maintained a fairly unproblematic reputation.
Who would pull the most on a night out?
Saying you're from Grizedale must carry some status that draws people to you on a night out, or maybe living in a townhouse with 11 other students forces you to improve your social skills. Alternatively, it could just be that anyone would jump a chance to see the inside of one of the legendary townhouses. Either way, it appears Grizedale students will be most successful when Sugar opens its doors again.
Who is the biggest simp?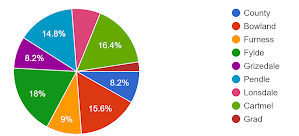 This title was pretty divided between the colleges, but Fylde takes the crown. Although they put on the front of busy sporty students who have time for no one, maybe students from Fylde are just as desperate as the rest of us and secretly long for someone to satisfy their competitive nature and takedown to the sports bar for a pint in the summertime. For this, we don't blame them.
Finally, a moment of silence for the forgotten colleges: Bowland and Lonsdale. Despite being the founding colleges, it appears neither has relevance in the minds of Lancaster students today. It's ok though; we know who to count on for a classic rivalry and scapegoating whenever necessary.
Related articles recommended by this writer
We asked Lancs students how they feel about their exam timetables
Which personality trait is each degree hoping to defrost after lockdown?