What were Lancaster students' New Year's resolutions and have they kept them?
It's been a hard year, so we forgive you for giving up so soon xx
We'd been waiting to say "Goodbye and good riddance" to 2020 for a while now, hadn't we? Now it's "Hello 2021". The New Year is always the perfect time for a fresh start; we entered 2021 without the "New Me" attitude and our expectations flying high. So far, not much has changed, we're still in lockdown and uni work carries on, but just because things haven't changed on a larger scale, doesn't mean they can't change on a smaller scale.
Enter new year's resolutions. You know those things that you make at the start of every year, you hold onto them for a few weeks, until they slowly start to slip through your fingers, and though you try to hold on, you eventually realise that it's dead weight and you may as well let go? Yeah, we all forget about them in the end, but they're fun to remember. We asked Lancs students what some of their New Year's resolutions were and whether they've kept them or not.
To be kind to myself – Chloé, second year, County
Chloé, a second year County student, told us that her goal was to be kinder to herself, and she's stuck to it so far. She said: "I made the resolution because I noticed I wasn't being very kind or forgiving with myself, like I put a lot of pressure on myself all the time and it just really got me down."
To achieve this, Chloé told us that: "I started doing stuff like meditating and eating better and generally being more positive towards myself so I feel like I can be happier." When asked about how she stayed motivated, Chloé said that "I've noticed how positively it's affecting all aspects of my life," and that was enough for her. Congrats Chloé, we're so proud!
To work out twice a week – Madeline, second year, Furness
Next we asked Madeline, a second year Furness student, what her resolution was, and she has gone for the classic fitness route. She wants to work out twice a week at least. Lockdown one is what inspired Madeline to pursue this as "working out in lockdown one definitely made a difference to my mental health, so I wanted to do that again."
However, Madeline expressed that sticking to her resolution has been quite hard because of her living situations, which is totally fair enough. She said: "It's been hard because of my whole family being around all the time, there's no space to work out." Despite that, Madeline is still proud of herself for trying, she said: "A few years ago I did absolutely nothing."
Eating breakfast and cooking every day with no takeaways – Chez, first year, Pendle
Chez, a first year Pendle student, has been mighty ambitious this year and gone for a triple threat of eating breakfast every day, cooking for herself and avoiding takeout, and taking care of her mental health. And on top of that, she's stuck to all three. Look at you Chez, you absolute legend. She's got her best interests in mind for this one: "Its important and encourages me to wake up before noon regularly, and cooking is a great habit for mental health and creativity."
It's not been without difficulty, but Chez is pushing through and is really proud of her effort. "It's better for my body and my bank account". We should all be more like Chez.
Yoga – Ami, first year, Lonsdale
We've got another fitness guru on the list with Ami, a first year Lonsdale student, who has taken up a daily yoga practice, as well as adding an academic twist with daily reading for her course. She said: "The promise of getting fitter and looking better is enough motivation for me, and I'd do anything to get those boring texts done."
Sadly, Ami's struggled with keeping her efforts up lately and said: "I'm an essential worker and work lots of long shifts. I'm exhausted most of the time, but I'm trying my best." It's not your fault babe, you're doing God's work.
Create a uni schedule – Anna, first year, Lonsdale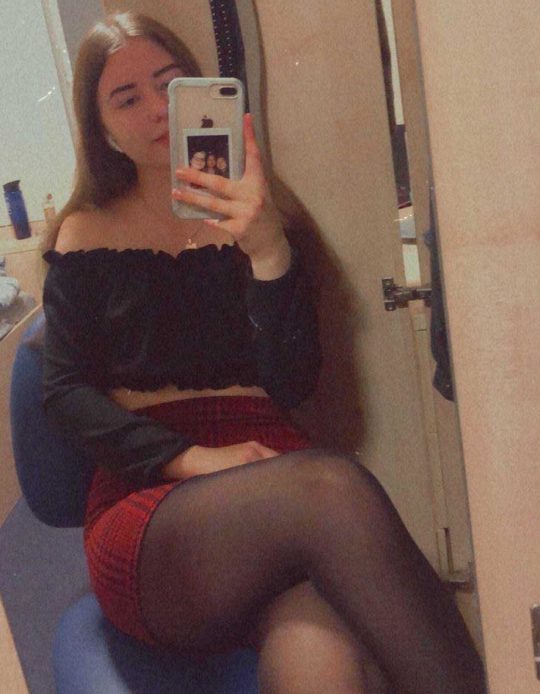 Anna, a first year student from Lonsdale, has decided to put us all to shame and direct her "New Year, New Me" attitude towards her studies. "My resolution was to start having a schedule with my uni work and so far so good!"
Once again, mental health is at the forefront of Anna's motivation: "I want a balanced study schedule, so I keep on top of my deadlines and don't burn out." It's shame we don't have a no detriment policy that could help out with that… Good luck Anna, we hope this routine stays strong.
Fitness at the end of the day – Helena, first year, Cartmel
First year student Helena from Cartmel has made doing 20 press ups a day her goal for the year. This stemmed from the short walks around campus she would do with a group of her flatmates. She said: "At the end of a busy day it is such a great way to destress."
To stay motivated and keep the tradition going, Helena and her friends will go for a walk and pop by Central on their way, sort of as a goal. "It is something I've missed over my time away, and I look forward to getting back into it when I return in a few weeks."
To fix the sleep schedule – Katie, second year, Cartmel
Finally, Katie, a second year from Cartmel, has taken on the tough challenge of fixing her sleep schedule. So far it's not going too well, she told us. Katie has expressed that she has no motivation: "Uni just sucks the life out of you," which we can all relate to. To be fair, who needs sleep anyway when all the days blur into one? Keep trying Katie, we're proud of you.
Recommended articles by this writer:
We switched rooms with our flatmates and here's everything we found out
Here's how to stay motivated to actually do some uni work this term
'I'm worries my degree will suffer': Lancs students react to lockdown extension