Holding out for a hero: The saviours of the online seminar
My camera is off but just know that I'm giving you heart eyes right now x
Studying online has taken a lot of adjustment, you have to remember to unmute yourself before you speak, click to raise your hand and type in an attendance code on iLancaster. However, there are other elements to the virtual seminar, raising questions about what the etiquette is: Can everyone tell if I'm looking at myself the whole time? Is it wrong to judge people's bedrooms? How do I make myself look interested?
But then you find a torch in the darkness, a symbol of hope that will guide you – the hero of the online seminar. These are humble people, they aren't one to accept thanks or praise for the vital work they do, but the Lancaster Tab won't let heroic acts go unnoticed any longer. This is for them, those heroes of the virtual seminar.
The one that asks a question
Picture this: The brief moments of calm pre-seminar are slipping away, the inevitable 50 minutes of anxiety loom overhead and you find yourself taking a sharp breath as you hear the famous last words "does anyone have any questions before we begin?" You panic and start fumbling through the notes in front of you, perhaps if you can think of an intelligent contribution at the start you won't be called on later on?
Before you have time to mentally digest what is happening someone interjects with a stroke of such pure genius that you find yourself lost for words (not that you had any to begin with). This question is both simultaneously well-spoken and perceptive enough that a good 10 minutes can be spent dissecting it, giving you just enough time to organise your thoughts – or at least pretend to, anyway.
The one that breaks the silence
The breakout room is a cold and desolate place for even the most courageous of people, but at nine in the morning they truly are a recipe for disaster. Not only can you hear a pin drop in the deafening silence but, if you listen closely, you can hear your tuition fees being wasted.
But then a brave soul pokes their head above the parapet (metaphorically, of course, their camera is still off and you couldn't see their head even if you want to) they have the voice of an angel even as they only squeak out a small greeting.
The one that asks them if they can repeat that
Translation: "I don't have a single clue what you just said." This person might be the best of them all, they've exposed their own vulnerabilities in front of a large group of people and they don't even realise that, in doing this, they've thrown you a life ring just as you were drowning. Okay, yeah, this might be a slight overreaction but this is the person I'm most passionate about, even if I know exactly what's going on (for once) all it takes is for the WiFi to have a meltdown and I'm back in the dark.
The one that offers to speak for the group
You're over the initial trauma that is being put in a breakout room with no warning and there are 10 seconds left on the timer at the top of the screen. You should be rejoicing with glee but instead, you feel the blood drain from your body: somebody has to speak to the main group.
This may seem like a small task but there's no crowd that's more intimidating than the scary academic, the show-off with a southern accent, the boy that always wants to disprove your point and the girl that stares you dead in the eyes as you speak. If you offer to speak I will offer you my hand in marriage – it's really that simple.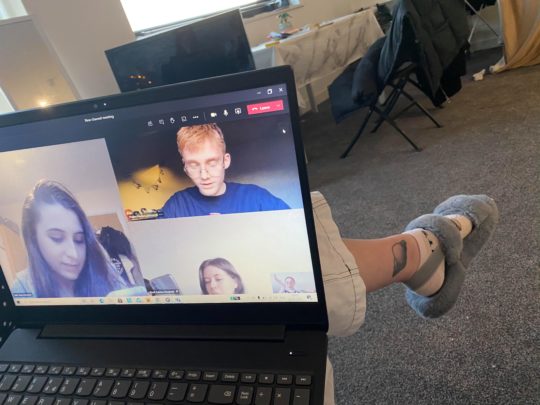 The one that fills you in on the reading
Considering how difficult it is to maintain a social life in lockdown, or even back in Tier Three, it's surprising to realise that time has still managed to escape you and you haven't finished this week's reading. Obviously, the rule of thumb is to just not draw any unnecessary attention to yourself. But in the breakout room, you take a gamble and admit how underprepared you are. For a second you think your admission might have been a mistake, but they take pity on your shaky voice and sense your agony. The next 10 minutes is spent doing a rundown on the content so you don't get caught out, not all heroes wear capes.
The one that agrees with you
So what I was saying did make sense? Really? Are you sure? Are you sure that you're sure? Well, thank God for that, I was making it all up. If somebody agrees with me I suddenly I go from a timid, stuttering mess to the most confident person in the (virtual) room.
The one that asks for the check-in code
There is absolutely no way in hell that I am going to suffer through an hour of torment and not get credit for it. Hand over the check-in code right this second before things get violent…
No, but seriously, thanks for asking about it because somehow I always seem to forget.
Articles recommended by this writer:
Dear Lancfessions: I want to seek help but I don't know where to start
Describe your lifestyle at Lancs Uni and we'll tell you which Riverdale character you are
Lancaster University announces penalties for students breaching lockdown rules