We bought coffee and a cake in Lancs cafes so you know where to go
We rated the cafes based on value for money, vibes and the number of plants they have
Lancaster is well-known for its range of little coffee shops and cafes which attract not only many first-years, but also those locals who can't resist a cafe trip now and again. We know the feeling. This one is for those of you who haven't yet ventured into Lancs' greatest hotspots.
The Deli

Located centrally on the spine, this cafe offers a wide range of food from sandwiches to flatbread; from coffees to juices. The Deli is perfect if you want a little food break after spending all day in the library, with an essay due the next day.
Value for money: A cappuccino and salted caramel banana muffin for four pounds. The cappuccino was smaller than expected so it was overpriced. We love salted caramel anyway so having it in muffin form is the cherry on top (or banana in this case).
Vibes: Perfect for students due to its central campus location, but obviously open to everyone. Nice staff. Adapted well to covid because if you want to take out, you have to scan a QR code, choose from the menu and they bring your food out to you. Didn't really have any decor, which brings the vibes down.
Plants: They don't have any. Disappointing.
Overall: 5/10
The Quarterhouse 
This restaurant/ bar is something a little different than other placed we visited. The Quaterhouse is regarded as a restaurant as well as a cafe, due to its ability to serve not only brunch meals but also evening meals too. This cafe also sells alcohol (which is ideal for us uni students) so it is a perfect place to go for a date.
Value for money: A well-priced cappuccino considering the fancy foam art on top, we were very impressed by this.
Vibes: We went in the evening and everyone was dressed up, so we felt out of place. A very boujee place to go. From looking at other things on the menu, it seemed a little overpriced.
Plants: Good amount of plants.
Overall: 6/10
Esquires Coffee
Situated in the centre of town near Costa, this coffee shop is one of the larger cafes we visited. Esquires also offer a 15 peer cent student discount (only on hot drinks!) so be sure to show your student ID when you go there! This cafe is the perfect spot to bring your parents or grandparents too!
Value for money: Without the student discount the cappuccino is almost three pounds, making it more pricey than an under-19 day rider. The Maple Pecan Tray was lush but the chocolate on top was hard, making it difficult to cut.
Vibes: Friendly staff. Very different vibes from all of the other coffee shops we visited but still with a relaxed aura. Not just ideal for students, but also for families.
Plants: Not a single one in sight. Very disappointing.
Overall: 7/10
Journey Social
This top brunch spot is ideal for students and non-students galore. This very simplistic coffee shop has all of its furniture handmade so we've got to give credit where credit is due. Journey is right next door to Tipple, so you can be sure to fill yourself up before you get drunk on the cocktails of next door. This centrally-located coffee shop is on Common Garden Street so is an ideal place to go for a post-uni break or even a place to go when you've finished a shopping spree in town. This popular spot is always heaving as the queue can be seen from outside, so make sure you get there early so you can grab a seat.
Value for money: This is potentially the priciest one on the list, but that doesn't mean that it's not worth it as little treat every now and again.
Vibes: A hipster breeding ground. This is where the flannel-clad Lancastrians come to congregate.
Plants: Plants garnish the room just as much as they do the plates. Even the most basic of meals are decorated with some kind of greenery.
Overall: 7.5/10
The Herbarium
This vegetarian/vegan restaurant is also deemed to be one of the best that caters for Lancaster's wide range of dietary requirements. It has such a cosy environment and even a yoga space (yes you read that right), this cafe has everything you could wish for. Their menu is a mixture of vegetarian lunch classics, making it hard to resist such delicacies like 'Mexican Bowl'. Now, this is what we like to see, plants everywhere we look. This added to the beaut decor, what else can you ask for?
Value for money: Here you can find a range of sandwiches and smoothie bowls for under five pounds and buddha bowls for not much more.
Vibes: HEALTH. I'm positive that students won't recognise the wide array of vegetables on offer after a diet of mostly pot noodles.
Plants: It's like a jungle in here but I'm not complaining, I'm sure the oxygen levels were exquisite. I knew there was a reason I was so clear-headed.
Overall: 9/10
The Whale Tail Cafe
Starting off the off-campus section with (arguably) one of the best vegetarian cafes in Lancaster. This cute lil cafe (albeit tucked away), is perfect for a filling lunch; or cake and a coffee in our case. This go-to spot for vegetarians/ vegans can't be missed. There is also plenty of artwork on display and even some for sale, so grab one while you can!
Value for money: The vegan chocolate fudge cake is a similar price to chain coffee shops like Costa. This cake tasted very similar to one with milk and eggs, which was surprising to us as you can eat it and feel guilt-free (disregarding the calories obvs).
Vibes: Not just for students, very welcoming to everyone. A lot more chill than other cafes. The artwork sale is unusual for a coffee shop but really interesting. Fairy lights and friendly staff create a cosy atmosphere.
Plants: Although it has a few, there's always room for more!
Overall: 8/10
Brew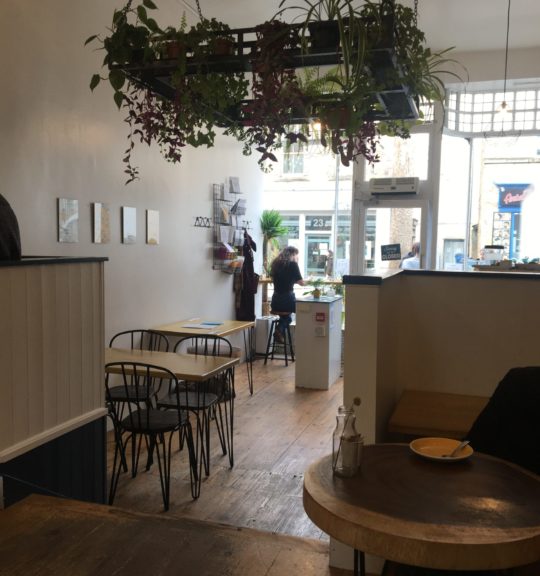 Conveniently located near Dalton Square, this cafe is very popular among students. Food in here ranges from cakes right through to a full English breakfast. The free Wi-Fi in this cafe entices not only students but also the locals who want to book their next getaway, catch up with some friends or even watch the newest series on Netflix. There are even a few books to read while you enjoy your stay!
Value for money: A cappuccino a vanilla slice for a fiver, with a good amount of icing to cake ratio.  Bit expensive in my opinion but the food and coffee was worth it.
Vibes: Cute decorations with friendly staff. Chill vibes with quiet music so work can get done in a relaxed environment. Nice outside area with fairy lights so perfect for when the weather is better.
Plants: Lots of them scattered around the cafe.
Overall: 8.5/10
Articles recommended by this writer:
We spoke to Lancs students about their experience with sports this year
Plan a day in Lancs and we'll tell you what type of Bake Off contestant you are
Driving on google maps and guess the rock: Life on a Lancaster Uni virtual field trip