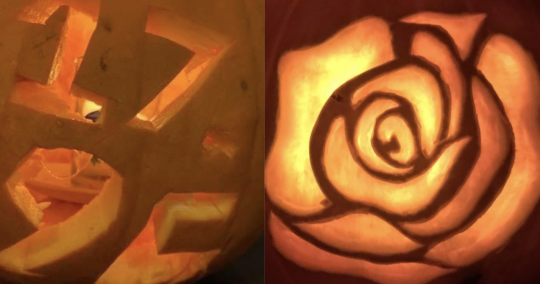 These nine pumpkin designs just scream Lancs Uni
But there's nothing quite as spooky as campus post-lockdown
Halloween is upon us and this is the time of year students get the most creative. With costumes, decorations and carving pumpkins, there are many ways you can be inventive around Halloween. But let's face it, after seeing the tenth smiley face and triangle eyes, the average pumpkin becomes a bit mundane. 
To jazz up our pumpkin designs this year, we took inspiration from Lancaster culture and carved out Lancs icons to glow on our front steps. Every Lancs student will be able to recognise each and every one of these designs.
The ghost of Norman the tree
A spooky graveyard is one of the oldest horror film tropes there is, and if you think about it, that's exactly what the library has become…
Rip the one and only Norman the tree. We now have Norma, but your soul will always remain close to our hearts. Library sessions are no longer the same. We miss you dearly and here is our tribute. Rest in peace Norman.
Roses are red
The idea of York winning Roses is pretty scary. Let's just forget that Roses was cancelled last year otherwise this will be more of a tear-jerker than a horror. The rose is a staple to Lancs uni and after a lot of hard work, I think this really pops off! This rose is more orange than red but it's close enough (and pumpkins don't lie).
Did somebody say Greggs?
It's a Tuesday lunchtime and you are walking through Alex Square to the library, but hold on, your stomach rumbles. You turn to see that the Greggs queue is only five people long. What do you get? A sausage roll of course.
Greggs is a staple landmark on Lancaster's campus. If you want to make your own Greggs pumpkin and don't have the level of hand-eye coordination to execute the intricacy of a carved sausage roll, then pretend it was intentional. It's not wonky it's crumbly – just like the real thing!
The uni mascot
What could be more iconic to Lancs uni than the ducks? They can be a nuisance when they get in your way on the Spine, but all in all, who could hate the ducks? They are the unofficial pets of Lancs uni.
This one may not be real but it still looks like it might chase you around campus and attempt to steal your Greggs crumbs. It might be best not to put it next to the last pumpkin (just to be safe).
"Take a bottle of water"
Sultans is the heart of Lancs' campus. Everyone always feels welcome and it's the best place to get a free bottle of water. No matter if you are getting food day or night, Sultans will always offer you a free bottle of water.
This pumpkin is perhaps a good representation of what the offer of water can look like after a long night out at Sugar. You've missed the Sugarbus and had to pay for a taxi, all your mates have left with different guys, but you are determined to get some cheesy curly fries. The offer of a free bottle of water can make it seem like everything is alright again.
The next closest thing to Disneyland castle
Lancaster castle. What a beauty. Now you can look at it from the comfort of your own home without the uphill walk to get there.
The 100 bus
What could be more horrific than getting onto the 100 bus to find out that the 1A was just behind it? Nothing. What a spine chilling moment when you realise you have to spend the next twenty minutes on the bus from Common Garden street to uni when it could have taken half the time if you had just waited one extra second. If only you hadn't been so eager to get to campus…
£17.95
Because there's nothing scarier than that price tag, potentially the scariest part of having covid. This will haunt Lancs freshers for the rest of their uni experience (and especially their bank accounts).
Sugarmouse
Remember the days we would all greet the Sugarmouse in Alex square? How we'd limbo for a free VK whilst the Sugarmouse danced to Sean Paul. Gone but never forgotten.
Articles recommended by this writer:
We bought a coffee and a cake in Lancs cafes so you know where to go
Returning to Lancaster University during a pandemic messed up my life
I went home due to Tier Three restrictions and honestly, it's so much better