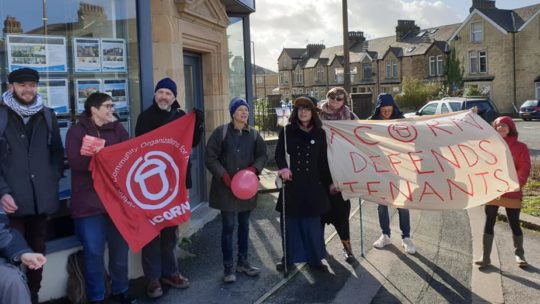 Trouble with housing? ACORN wants to help Lancs students
We spoke to ACORN Lancaster, a union for tenants, to see what they were all about
We spoke to ACORN communication officer for Lancaster and Morecambe, David Murphy from the picket line of the strikes this week. David is a student from Lancaster, currently working towards a master's degree.
What is ACORN, and why should students care?
ACORN is a tenant's union and community action group, founded in Bristol in 2014, who help renters get fair representation in difficult cases, especially amongst students. The local group for Lancaster and Morecambe was started in 2019.
How did they get started?
A rent hike was challenged by some renters and the landlord served them an eviction notice (a Section 21 notice, which did not require the landlord to specify the reason for eviction). These renters reached out to ACORN UK and within a couple of days the landlord rescinded their stance.
Soon realising that the case was not uncommon in Lancaster, ACORN returned to help out in similar cases.
What kind of activity do you do on a week to week basis?
"We work on building community among renters and residents. Simply put, we often use the slogan 'for a united working class'. We have dealt with member defence cases regarding things such as threatening behaviour from landlords and poor living conditions. Week to week, we have member building and defence cases, with such things as stalls, actions and meetings."
ACORN also had their first big action on the 29th of February at Mighty Student Living as part of a 'broader member defence case'.
David also pointed out why this was such an important cause, saying that ACORN's "work with student renters is really important to me because renting of student accommodation introduces people to the renting market. If renters' rights are not respected here, it sets a precedent for this to be normalised for the rest of a person's life."
What would you want to say to students?
ACORN Lancaster and Morecambe is here in order to defend the rights of renters and fight for the interests of their members.
"In terms of students, student renting is something that has become more and more difficult in recent years for students at Lancaster. [They want to combat the normalisation of] unfair rents and poor quality housing for the rest of a renter's life. Therefore, ACORN Lancaster and Morecambe will continue to work with students and the local community more broadly to defend the interests of our members."
Any horror stories with your Landlords? Contact The Lancaster Tab via DM at @thelancastertab on Insta or The Tab Lancaster on Facebook.
Contact ACORN at: [email protected]