'Your fight is our fight': Lancaster students support lecturers on the picket line
'This fight is something that can only be won collectively'
Lancaster University is striking once again over the atrocious and unacceptable working and pay conditions which affects both students and staff. We went down to the picket lines outside the Sports Centre on Friday 21st Feb where many disgruntled members of staff and supporting students stood out in the rain and cold to fight the battle worth fighting for. We spoke to students about their opinions regarding lecturers striking and how it affects them.
Importance of the strikes
We spoke to Jack O'Dwyer-Henry, one of the Labour city councillors and undergraduate student here at Lancaster, about his passionate speech regarding the strike action. He began by saying, "I think it's really important that the issues they are striking over about how the university treats its staff and the way the university treats its students is completely unacceptable. It's a shame that the union has been forced to take strike action but the university has refused to work with them constructively."
"Your fight is our fight"
In his speech, Jack emphasised the importance of student action and support as this is a fight everyone should be a part of. He said: "So many students standing in solidarity at the UCU. We recognise that your fight is our fight and the battle against the marketisation of education is not something that just affects staff but affects us and our learning conditions and our education as well."
Over-worked lecturers
Jack went onto explain the cruel and unjust amounts of work lecturers are expected to do as well as the unacceptable conditions of students being in overcrowded lectures where students even have to sit on the floor. He said: "We see the effects of this whenever we have to go to overcrowded lecture theatres, whenever our lecturers are being expected to work unpaid hours, being expected to work absolutely massive workloads."
Large amounts of debt
The amount of money students have to pay to attend university is sky high, resulting in piles of debt. Therefore students deserve the best experience. Jack continued by saying, "We see the effects of marketisation of education in the thousands of pounds we end up in debt after leaving university and we see it in the thousands of pounds that we have to pay to the university every year to pay heightening rents so the university can extract every last drop of money from us it can."
"Greedy university managers"
The mistreatment and disregard for student welfare is evident from the recent Caton court case when the safety of students was not prioritised. The strikes include the care for both staff and students. Jack said: "We see the effects of it whenever the university outsources the accommodation to the private sector. We saw it in Caton Court recently, where student safety was basically put at risk by greedy landlords and greedy university managers."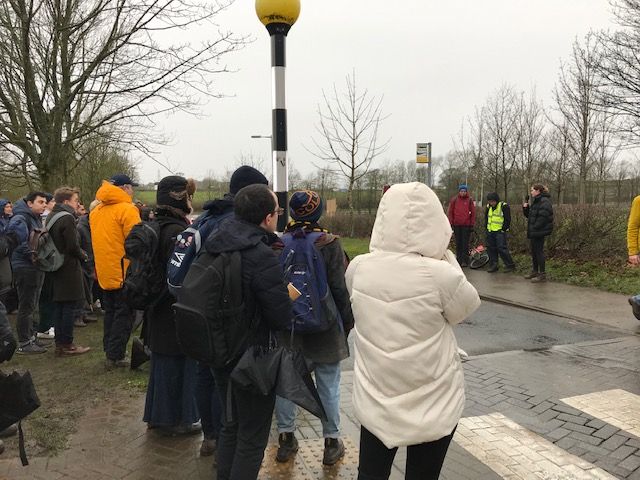 Winning the fight
It is important for the union to not give up the fight for the rights of many underpaid and overworked staff. Jack concluded by saying, "We recognise that this fight is something that can only be won collectively and that students have an important role to play in that. The fight we are fighting, we can win and I think we are going to win because at the end of the day there are far more of us than there are of the few university managers earning hundreds of thousands of pounds who are doing a pretty bad job really."
Here to support
We spoke to student supporters Kane and Nero at the picket lines and asked them their reasons for coming out and being apart of the strike action. One student said: "We are supporting our lecturers. I know it intrudes on my own learning but I still think that it's important that our lecturers get paid and get their pensions and get equal pay."
Another student added, "I'm here to show solidarity, main reason being because if you've heard uni management have been victimising some people."
The aim of the strikes is to evoke action so staff and students at Lancaster University have the best experience and the best working/ teaching conditions possible. Go down to the picket lines to support your lecturers and be a part of the strikes for positive change.