Galentines Day truly and undoubtedly the best thing about Valentine's
Galentines is truly and undoubtedly the best thing about Valentines day. Valentines day; a day to celebrate love, romance and finally admit to your crush that you love them. OKAY, WE GET IT. But Valentines also allows for something greater. Galentines day.
Forget the roses and fancy meals, whack on Ariana's 'Thank U, Next' and chizel the Ben and Jerry's from your especially frosty freezer. Its Galentines day, we don't need no man.
We know its exciting getting the girls together in revolt, but you might be wondering how? How do we celebrate the BEST thing about Febuary? We've got you covered.
Watch a "girly" movie
There is nothing like reminiscing on the good old days and watching some Disney classics like Hannah Montana and Lemonade Mouth with the gals. It's only really with your girlfriends that you magically find the confidence to sing along at the top of your lungs. You are not here to impress, so put on your joggers and sweats because who needs a man when you can have chocolate fudge brownie? Honestly, its more satisfying.
Go out for a meal
You know that feeling you get when the waiter brings your food over, those tiny little butterflies that hold a rave in your stomach? No partner will ever compare.
Okay, going out for a meal is an obvious valentines date but it doesn't have to stop there. So grab all your friends and head off to Spoons or Bella Italia in town. And guess what? No arguing over who pays the bill. Stunning.
Bake together
We aren't talking about heart shaped cookies and pink swirly icing, but we are here for the sugar and chocolate. This doesn't have to take long, you could even buy ready made kits, it's the decorating which is the fun part. Get together and be creative. There is no room for a relationship when you are full of cake.
Make pancakes
Pancakes are literally the easiest things to make as it is likely that you will already have all the ingredients in. This is something you can do with your girlfriends, having fun trying to flip the pancakes without them ending up on the ceiling. Then just add a bit of lemon or Nutella, job done.
Paint each other's nails
Is there anything more iconic than girls painting each other's nails? Have a nice pampering, relax and boost your confidence so high that you could continue to be single for the rest of your life without a care in the world.
Relax with face masks
Really we should all be doing this every night of the week but there is no better time then Galentine's Day. Detox those bad vibes from previous relationship and leave those pores as fresh and new for the stress of new relationships to come. It is good vibes only with the gals, so watch a film, gossip and overshare, because what are girlfriends for?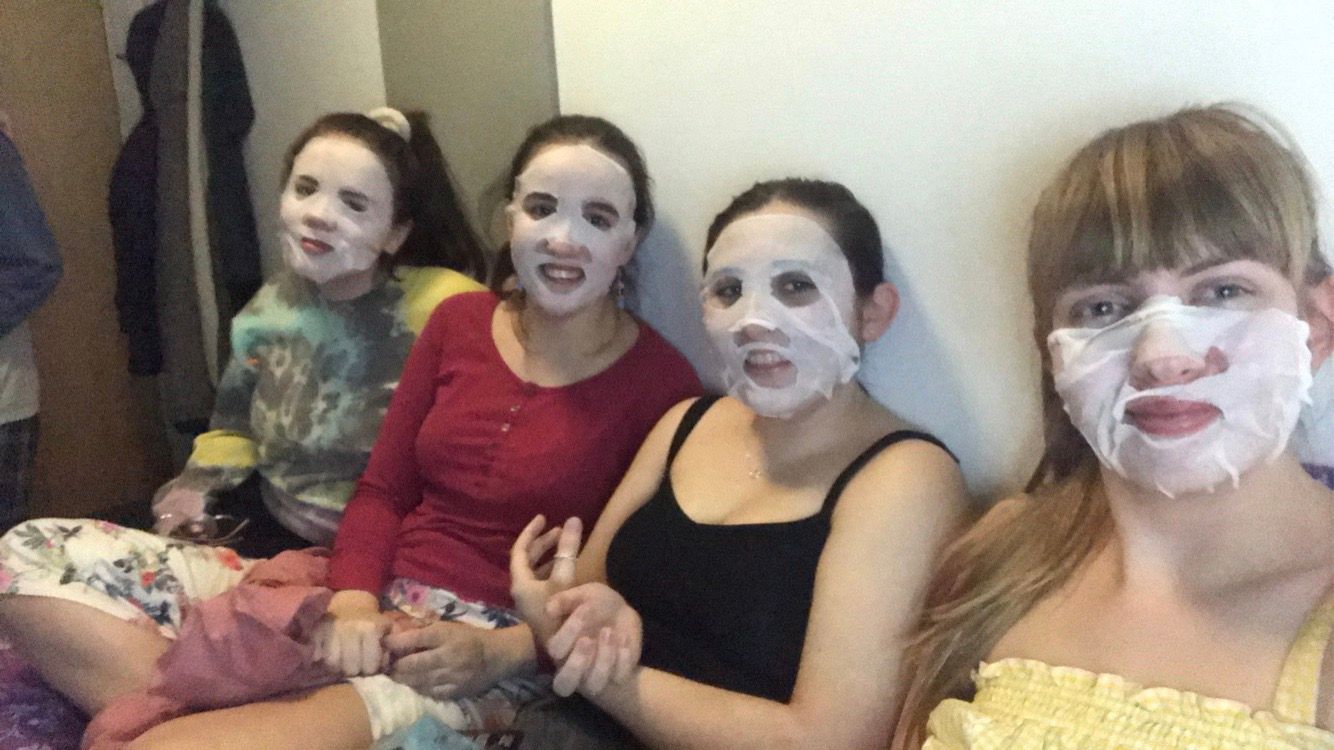 Have a girls night out
There's no better to go out and meet other single people in the club than Valentine's Day, who also have nothing better to do. Get your girls together, crack open the drinks and play Beyonce all night at top volume 'Single ladies, put your hands up!' But it doesn't matter if no one pulls, because it's a night with the girls and they should come first.
Cook together
Cooking together is more fun than just ordering a takeaway. Let's face it, you are going to have to cook anyway, so you might as well make it fun and spend time with the girls. It doesn't have to be that fancy. A classic spag bol will do. It will be like a family dinner and if you split the cost, you have a cheap and easy meal.
Go out for cocktails
A bit more classy than the clubbing option but this can still be just as much fun. Drown your sorrows in an ironically named 'sex on the beach' pitcher or stick to a pretty little cocktail to take a picture of for your Instagram, anything to break up the constant stream of couple photos.
Go on a walk around campus
Ever wondered where Cartmel and Londsdale actually are? Well, get the girls together and go on a peaceful stroll around campus. This can be a nice way of getting fresh air and having a much needed catch up. But there is one rule, not a single guy's name allowed. This is Galentine's and boys are off the menu.
Galentines is the best thing about valentines day. Enjoy it, embrace it and start the countdown for next year. Thank U, Next.