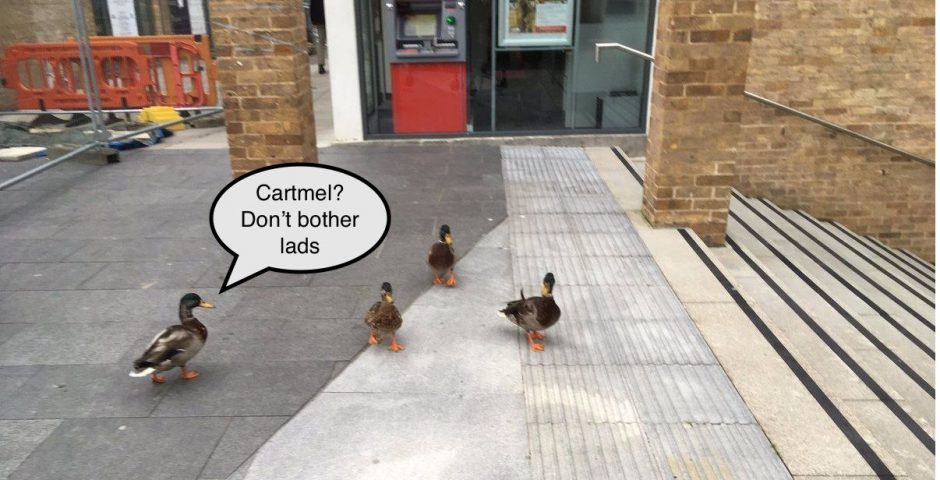 Oh you're in Cartmel? Unlucky
An insight into the perception of college identity
Broken down into nine separate colleges, the university describes each as "lively and close-knit communities" with "distinctive character". This all sounds lovely on the website, but in reality is it actually true? When it comes down to perceptions, it seems as though there are only two key qualities deemed appropriate:
One: The volume of promiscuous females and lads who can hit a treble 20 at the darts
Two: Proximity of the college to Greggs
When a college does not meet these requirements, it is deemed "irrelevant". Now, I'm not saying everyone views colleges in this way, but the university's idea of "lively and close-knit communities" with "distinctive character" is not what springs to mind when someone states they're in County.
I myself am a third year in Cartmel College. If you're wondering which one that is, it's one of the very end ones, with all the pool tables and a spacious launderette with nasty leather sofas. If someone were to ask me if I was proud to be in and represent Cartmel, my answer would be simple – not really. I've got great friends and fond memories from my time in the college, but that's all it is. Therefore to me, Cartmel really is merely the name of the college at the one end with all the pool tables and the fat launderette.
Where many universities pride themselves on a cracking night life or decent food, for many Lancaster students comfort lies within the mystical world of bar sports. Before coming to Lancaster I'd played pool and darts, even enjoying the activities on occasion. However, little did I know that at Lancaster these activities become the pinnacle of a whole new world, where missing the black is as horrific as murder and more importantly, college is everything. Where I see no association between my college and my identity, many students proudly represent their respective colleges in bar sports.
What I find intriguing is how this opinion differs from person to person. This was evident when asking another fellow Cartmel student, who is involved in bar sports, of his opinion towards his college: "Being in Cartmel gives me a feeling of community within the university", he said. "The ability to compete in sports at a college level is also one of of the main reasons I enjoy being in Cartmel, as I would not get the opportunity, especially at beginner level to compete for the university as most university sports require prior experience even though they are advertised as open to beginners."
Bar sports cannot be the sole reason for this difference in opinion. If this was the case we should all be given a pool cue upon registration in first year, obviously along with the awkward single condom and high fashion Cartmel drawstring bag I was handed in Freshers' Week. Although I don't share these feelings towards my college, I do find the opposing opinion rather commendable. The fact that even one student finds comfort in being part of his or her colleges' community can only be a positive.
It's funny how certain colleges are viewed in certain ways. Even though I personally have no issues with any college, I can still make comments about certain ones. Fylde? You can't just call it a sports college because it has a sports bar, you just can't. Grizedale? Only decent in summer when you can drink diabetes-filled dark fruit slushies. Pendle? Well I don't really go there, don't think anyone does.
Perceptions of other colleges does rise debate. Being in Cartmel, County college is rarely a world I venture to. Moreover if someone were to ask me what County is like? I wouldn't really have a lot to say. Perhaps the vast landscape sitting between the two colleges and little academic reason for me to walk there is the stimulus behind my own perception of County as possibly irrelevant.
It's likely this opinion would be reciprocated, but probably just because Cartmel really is an empty abyss, and not just because of the walk.
The college a student belongs to does not shape the individual, but certainly has an affect on how someone views the college system. Every university year group is different and what is viewed as a "popular" college today could change in just a few short years.