Football C teams have more fun than As or Bs
A & B may come first in the alphabet but C is #1!
Football is one of the most fiercely contested and popular sports in the world and it isn't any different at Lancaster University. Every college has three teams (As, Bs and Cs) apart from the main University team.
The A team consists of players who want to make it to the University team and the B team are made up of players who want to make it into the A team.  In the C team, of which I used to be part of, players are more concerned with having a good time rather than climbing up the footballing ladder. While they are very competitive, the banter is just as important as the winning or losing.
We don't take football or ourselves too seriously
The C teams are generally known for their light-hearted attitude towards the sport. Dom Clarke said: "It's more casual, it's more flexible and it has an ideal level of seriousness." Ideal for someone looking for a cheeky kickabout.
Our training sessions are always interesting
We train through the hail and through the rain and while the sessions aren't compulsory we all turn up nonetheless. We even play in complete darkness sometimes when it's difficult to to even tell who's on your team. C team training is so much fun that many A and B team players come along as well and this year the captains have introduced a special kickabout session every Friday so players can get extra practice.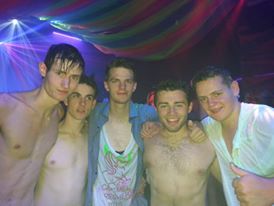 Being sober during a game, what's that like?
Most of the lads go out on Friday or Saturday and show up for the games looking like they have! We hardly ever have all 11 players completely sober during matches.
Our socials are great. Three hours, eight bars! We've even been kicked out by the porters for singing bangers like You Raise Me Up and Hero too loudly.
This doesn't affect our match day performance… too much.
We become really good buddies
We spend as much time drinking together as we do on the pitch playing football together. This reflects on the performances since we understand each other's game more and are better coordinated. Knowing the people you play with on a more personal level improves team bonding and creates a very good team spirit. We know we can rely on the man standing next to us even if we make a mistake. Mentally knowing someone's got your back is very reassuring. You can play completely relaxed and freely. This certainly brings out the best in a player.
You have more fun and become a better player at the same time
To win games you need to enjoy games and C team players definitely do that. Several top players of As and Bs started off as C team players where they polish their skills. The C team certainly provides a good platform for beginners and advanced players alike to improve their technique, get accustomed to the pace and weather conditions and improve their overall game.
We don't mind fraternising with the opposition
I was sat with a friend from Pendle C team in Pitzetta before a game. We were stuffing ourselves with all you can eat pizza. Even though we represent opposite teams we could still enjoy pizza together. Needless to say, playing football after binge-eating pizza wasn't the brightest idea.