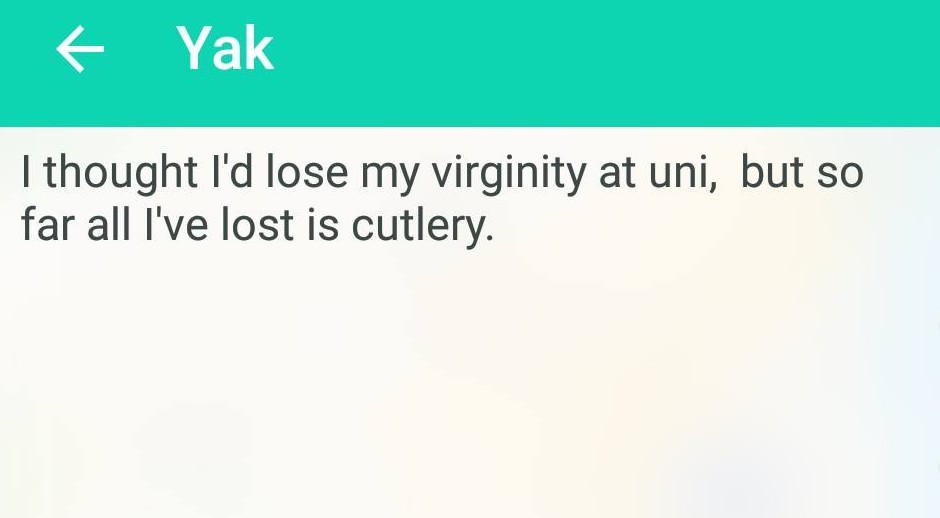 Yik-Yaks of the week
Whether it's a long one on the John or you're just trying to look busy to avoid talking to someone, Yik Yak's charm, since its release in 2013, has yet to wear off. And whilst many abuse its majesty (for Yik-Yak is no Tinder substitute for criminally desperate, nor part of some kind of smear campaign against UCUM), there'll always be those comical Yakky gems that'll have you cackling for the days that follow.
And to those Yaks we say: thank you.
The Grateful for a Steak Bake Yak
The Bowland Jedis Yak
The Dancing with Deadlines Yak
The Barefoot Breakfast Yak
The 'Walk of Shame' Yak
The World War Z…ZZZ Yak
The Wisdom Tooth Yak
The Taxi Betrayal Yak
The Forking Yak
The Seminar Excitement Yak
The 'Sir Works-a-Lot' Yak
The Ice Cream Extortion Yak
The Club Attendance Yak
The Ground Floor Accommodation Yak
The Missing Capital Letters Yak
The Carrot in the Shower Yak
The Long Journey Home Yak