It is finally snowing in Lancaster
'I am waiting for another snow apocalypse'
Lancaster had a heavy snow shower on Saturday afternoon. It lasted for the whole afternoon until late evening. A lot of students at Lancaster University are very thrilled about the snow.
Ben Wu, Linguistics, 20
Ben is an exchange student from America (Iowa State University) but he spends most of his life in Taiwan. He said: "It snows a lot in where he lives in America." So he wasn't particularly excited about seeing the snow, though he was eager to pick a snowball fight with his mates in Alexandra Square.
Ali Dunn, Marketing, 19
Ali, a first-year student at Lancaster University, along with his mate George seemed just as ethusiastic. They said: "We are used to the snow" since they were both from the UK. Though it was their first time seeing it in Lancaster.
Ali said: "I am excited as hell about the snow. Or maybe because I am still a bit drunk from last night."
On a side note, he was just as excited as about being featured in The Tab Lancaster.
After the flood in Lancaster last month, Ali says: "I am waiting for another snow apocalypse in Lancaster." He really wants the school to shut down again so he can have another break, despite it being the first week of lectures after our four-week long Christmas break.
Kalia Tsiourtou, Law, 19 (left) and Andrea Constantinidou, Accounting, 19 (right)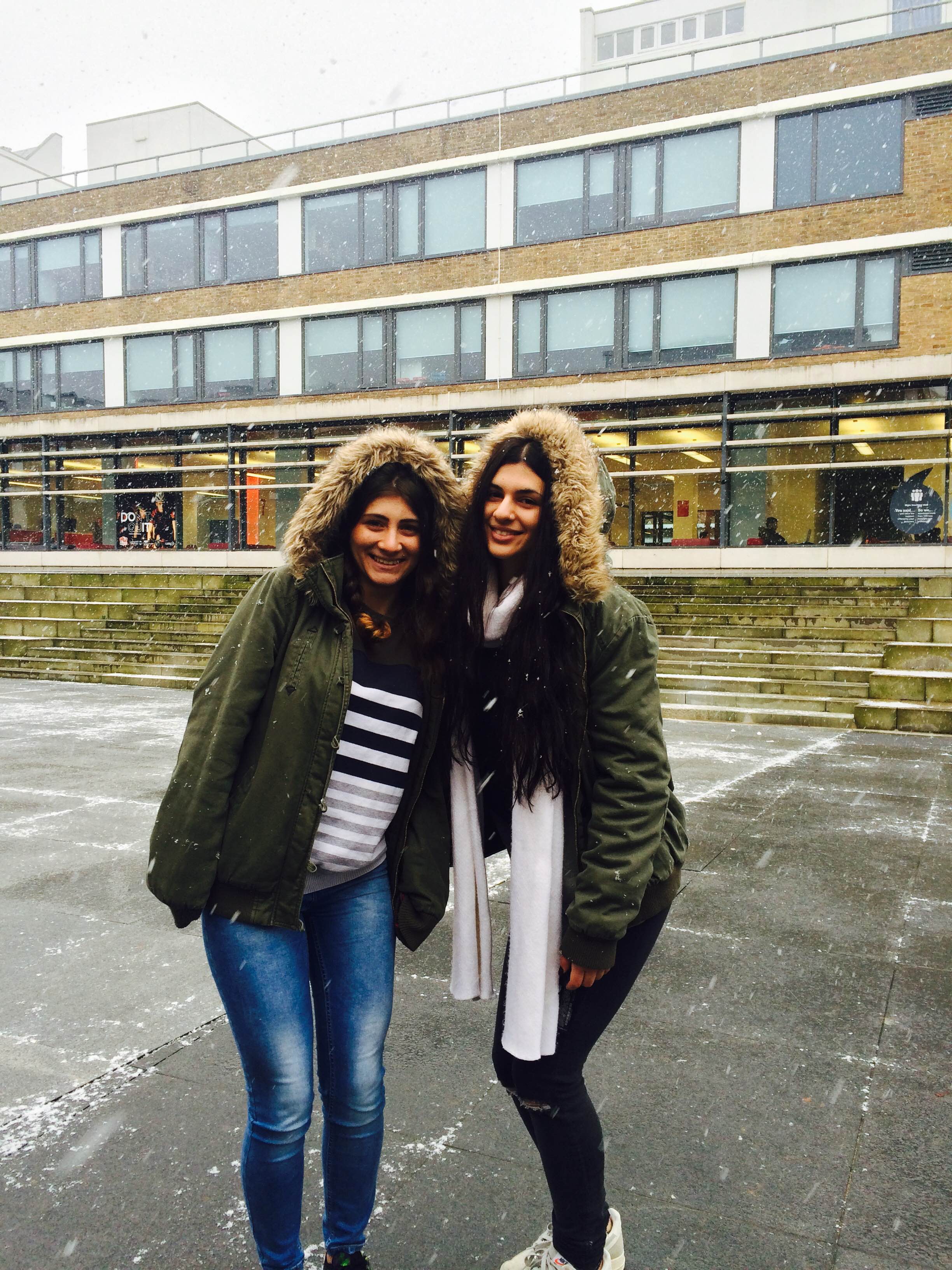 Both Kalia and Andrea come from Cyprus. Kalia says: "It only snowed once last year (in Cyprus).
"It was about 20 degrees celsius back home during Christmas."
The girls are definitely happy at the sight of snow after engaging in their own photography shoot after our chat.
Kris, 17 (left), Rona, 17 (middle) and Polly, 19 (right); foundation year students
Kris, Rona and Polly just arrived last week and are lucky to have witnessed this snowfall in Lancaster.
Kris said: "I've never seen snow before. Except from in movies." She cannot help taking photos on her phone and as she says how "super duper excited" she is.
"I was expecting snow this morning already when I saw frosting on the floor outside the window!"
Rona and Polly were expecting snow today morning too, they said: "We have been checking the weather forecast lately to see if it would snow. And it did!!"
Rona is a bit embarrassed about her excitement, she thinks it is odd to act excited about the snow: "You know you are Asian when you get excited about the snow!"
The other two nod and Rona said: "Especially when we take lots of pictures."
Though Rona feels conscious about her typical Asian response to the snow, she is very insistent about looking flawless even in the snow.
She says she: "Has been picking boots and an outfit in the morning It's very important to look trendy in the snow." She settled with a pair of black ankle boots because they match with her outfit and protect her from the cold.
Polly, who comes from Thailand tells me she has seen snow before but only once, so she is just as thrilled as the first time she saw snow.
"It doesn't snow in Thailand you know!"
Polly is hoping a heavier one next week so she can: "build a snowman". In fact, she does not have to wait until next week as people on yikyak have been building snowmen already, in addition to drawing a massive snow dick around campus.
A student has built a travel size snowman outside Furness college.

A humongous dick drawing has been spotted outside the student residence at Lonsdale College.
There is another one at Bowland Main, at the open area outside Bowland bar. Clearly, the dick drawing competition has begun.