9 of the best boozy venues in London to help your Insta game
KCL Psychology gals bring you the best spots to hit for a cute post-lockdown Insta pic
June 21st is just around the corner, meaning that lost dreams of drinking on London rooftops with all your best mates will no more be a mere figment of your imagination. The current roadmap post-lockdown plan is for everything up to nightclubs (that includes restaurants and bars) to open up without limits on capacity. After three stifling lockdowns, our Instagram feeds are looking a bit dry, so I asked some of my friends from my course (Psychology) for the finest bars in town for a 'cute Insta pic.' We gathered a considerable number of photos taken over our three years at King's and chose the ones that best captured the ambience and most Instagran-worthy aspects of the venue. Read on for our recommendations:
Bob Bob Ricard, Soho
This one is a bit on the expensive side, so save it for a celebration! This place looks as if it belongs on the set of The Great Gatsby. The cute brass and glass tables and pink and gold-accented interior decorations are to die for. The highlight of the restaurant, however, is the iconic "press for champagne" button and extensive champagne menu. You've definitely already seen this on every Mayfair model's Instagram feed. The cuisine is Russian-inspired and they have a delicious lobster mac & cheese, but people mainly come here for the sophisticated drinks and atmosphere.
     
Churchill Arms, Kensington
Where better to head on a hot summer's day than the most picturesque pub in West London? The flowers that hang on its façade make its exterior perfect for those girly Instagram shots. On the inside, Churchill memorabilia decorates the walls and gives the pub an old-school traditional British pub feel, setting it apart from all the other venues on this list.
Lost in Brixton, Brixton Village
This rooftop terrace is hidden away in an unassuming corner of Brixton Village and accessed via a secret staircase. As soon as you step in, you're transported to a rooftop paradise decorated with jungle greenery. You can snap a cute pic and video in front of the greenery, or even go for a photo in front of the vibrant walls and cool blue coloured booths. Once you're in, you use an app called Tablesnapper that basically allows you to get food brought to your table from traders within all of Brixton Village and Market Row. You get loads of choice, and you won't risk losing your table– it's perfect.
La Bodega Negra, Soho
From the outside, this venue looks like another Soho sex shop, but once you go down a steep staircase and past two check-in counters, you're inside the bar! The ambience in the basement-like venue is dark, almost similar to a dungeon, and very rustic. At the same time, it might just be the buzziest basement in London. You'll enjoy the most extravagant margarita-based tropical cocktails and eat trays of duck and flat iron tacos to soak them up, all while surrounded by vintage-décor and gorgeous bar staff. Fun fact: La Bodega Negra is a reinvention of New York Soho's La Esquina.
SUSHISAMBA, Heron Tower
SUSHISAMBA has bewildering 360 views over the City of London. That's not even an exaggeration– the bar/restaurant is on the 38th and 39th floors of the Heron Tower, making it the highest outdoor dining terrace in Europe. The menu (including cocktails!) is a fusion of Peruvian, Japanese and Brasilian flavours and every dish and drink looks perfectly elegant. The SAMBA SOUR, the venue's very own version of a Pisco Sour, is easily the most Instagrammable drink on the menu with its colourful swirls. SUSHISAMBA should be reserved for a chic evening. Not an everyday venue but one that you definitely cannot miss this summer.
Tonight Josephine, Waterloo
When you're a London fresher, this is the first of the famous neon signs located at the cutest bars around the city that you will identify on virtually every girl's Instagram feed. Make sure you get in for the 2-4-1 happy hour before it gets too crowded. Perfect for a girls' night out and a hen party hotspot, Tonight Josephine has a mirrored ceiling to take selfies, cute neon signs and an expansive cocktail menu.
Hutong, The Shard
I know we're students, but at some point, while you're in London, you must go to Hutong. You take the express lift from the Shangri-La at the Shard to the 32nd floor and walk up two metal stairways to access this striking view of London Bridge (and pretty much all of London) seen from 33 floors up. Snap a cute pic in front of the dark-wood panelling lit with red lanterns after you enjoy the bar and the view. If you're feeling a little boujee and wouldn't mind spending on a meal, don't hesitate to get the Dan-Dan noodles and a mixed dim-sum platter (rose champagne shrimp… crystal crabmeat… what a dream!)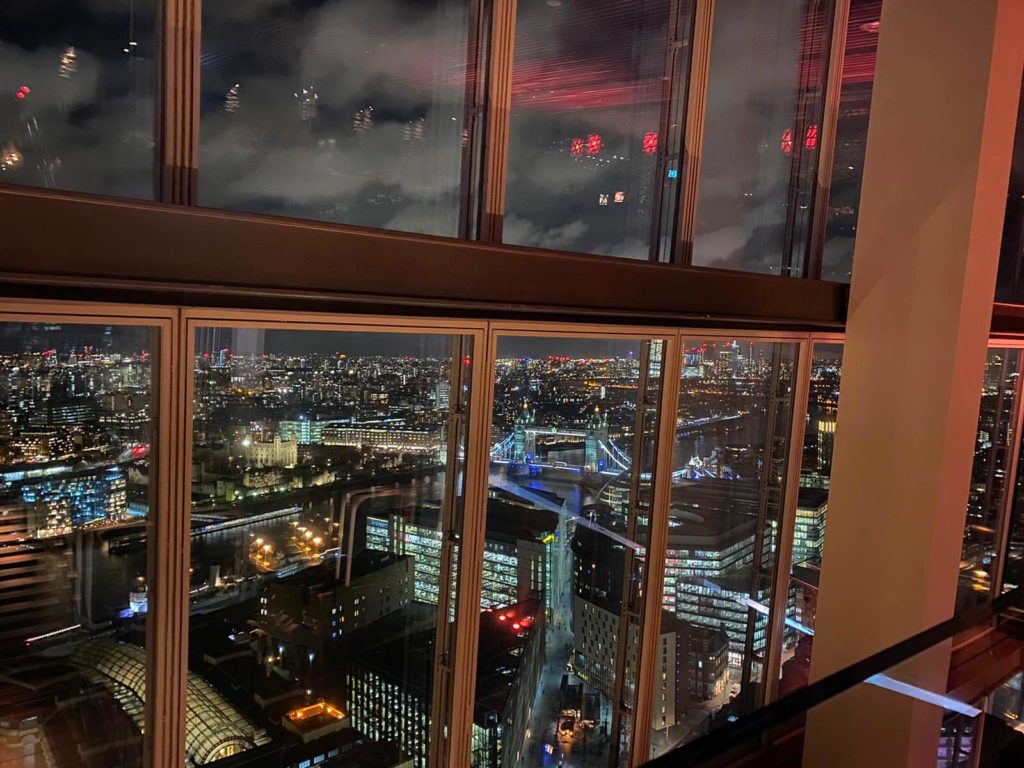 Tonteria, Belgravia
This Mexican restaurant turns into a wild nightclub with a fire show and dancers at night. Tonteria is Instagram famous for its "Hell is empty and all the devils are here" sign, so make sure you snap a cute photo in front of it after your evening of tapas and cocktails.
Cubana, Waterloo
Last but not least, Cubana, a KCL favourite. Perhaps not the best spot in London for an Instagram photo, but it would have been rude not to include it. Student-friendly with their cocktail pitcher deals, Cubana is a hot spot for pres before a night out, society meet-ups (especially KiSS!), or drinks after an evening spent studying at the library in Waterloo. Their massive cocktail pitchers are a sugary delight. You'll be sure to find big groups of students and young working professionals having a good time on any given day of the week. Plus, there's loud salsa music and slow-cooked Cuban and Latin-American dishes and tapas! What more could you want?
Related stories recommended by this writer:
• Prepare for the 12th April with this guide to the most aesthetic outdoor bars in London
• Which big London park has the best vibes? We rated them all on the stuff that really matters
• Missing the pub? Here's our roadmap back to social drinking