Meet Emma Bates, the KCL alumni turned New York start-up extraordinaire
She could be the next addition to the alumni wall
Emma Bates graduated from King's just six years ago, but she is already making a splash in the New York start-up world. While she was a student, The Tab interviewed her about her successful lifestyle blog. Fast-forward to the present, and The Tab King's is once more speaking to Emma, who is now the founder of start-up Diem, a new online social space for women and non-binary communities. We spoke to her about her time at King's, figuring out life after graduation, and her journey to founding her start-up.
What were some of your experiences at King's?
Emma graduated from King's in 2015 with a degree in War Studies. "I met some really nice friends at KCL that I'm still friends with. I think it's definitely a different university experience from a lot of my school friends who had campuses, but I met some really cool people," she said, remembering her favourite aspect of life at university.
When asked about why she chose to study at King's, she went on to say, "No offence to anywhere else in England, I just didn't see the point of leaving London. If you have what is one of the best cities in the world on your doorstep, why would I go anywhere else? UCL and KCL were top on my list. I had friends that were at UCL and thought, this seems a bit odd. Like, it doesn't seem as nice as King's. I also loved the location way better, as I was on Strand campus."
She clearly made the better choice! When asked about her favourite spot on campus, Emma recalls the ordeal of being lost in the Maughan Library. She also loved the terrace by the river at the back of the Strand campus, although she recalls writing most of her dissertation in Somerset House's coffee shop (then Fernandez & Wells, now WatchHouse).
Who is your favourite KCL alumni?
Emma wasn't sure she could list one but eventually chose Florence Nightingale. "I want to be on that wall! I thought that for the entire time I was at King's… hopefully I will when I've created the social network for women, and I'm at Mark Zuckerberg's level. I'm so over men ruling the tech industry." So really, an ambition similar to any King's student. She added that her favourite society was Women in War Studies, and she optimistically joined netball at the Fresher's Fair before remembering she hated it. "I do wish I'd probably done more. In hindsight, I feel like maybe I could have done more in a gender equality society, or something like that. But I didn't. I was very focused on being drunk for my first year, so I didn't sign up," she joked.
What was your journey from War Studies to Marketing like?
Emma gained a following after starting a lifestyle blog during her first year at King's: "While I was there I thought, I love writing, and I love film photography, so I just started writing a blog. It became quite popular." This was at the onset of Instagram influencing, which she describes as her "crash course in marketing."
"I guess it was an unconventional route into marketing, building a blog with hundreds of thousands of impressions. I built a following around myself and my blog, so I could understand how to do that for others. While I was doing that, I realised that while I hated building a following around myself, I really liked doing it for other people. This is when I felt like I had a good grasp of marketing concepts," she said.
Both at university and in her work, Emma describes being very split between creative and academic subjects.
"I love understanding why people behave the way that they do. War Studies seemed like a combination of all my interests because I believe war is essentially human behaviour in its most extreme form. While you don't have to understand it to understand marketing, I think it definitely helps."
"I also love marketing because it is applied psychology. It's about figuring out consumer behaviour and getting them to engage with your brand," Emma added.
After graduating she undertook freelance work for a few companies, working on their social media strategy in the early days of Instagram for brands. A longtime friend and mentor introduced her to a co-founder of Away, then a small startup launching in the UK. 
"I always knew I wanted to go into start-ups. I don't think I really knew what startups were but I was interested in working in a smaller company. I started with them by launching their presence in the UK. We did lots of local partnerships, local marketing activities, we hosted events in the store… it was a crazy four months. I really enjoyed partnerships, bringing different people together to create an experience. When that came to a close, they offered me a role doing Marketing and Partnerships in New York. Exciting!"
What was it like moving to New York? 
Emma believes New York is "the best place in the world," going on to say, "If anyone has ever been to New York with a local in the middle of summer, you will never want to live anywhere else. There is just an amazing atmosphere."
"When I finished my degree I'd already lived in London for four years, whereas all my friends were only just moving there. I thought,  let's try something else. Maybe I didn't give it enough of a chance, but I never really felt truly at home in London. I didn't realise that until I moved. I feel like New York is a part of me at this point, and I still love it so much. It's a tight-knit community. It's a smaller city than London, so it feels more vibrant. You just don't walk through streets that don't have people on in Manhattan, it just doesn't happen."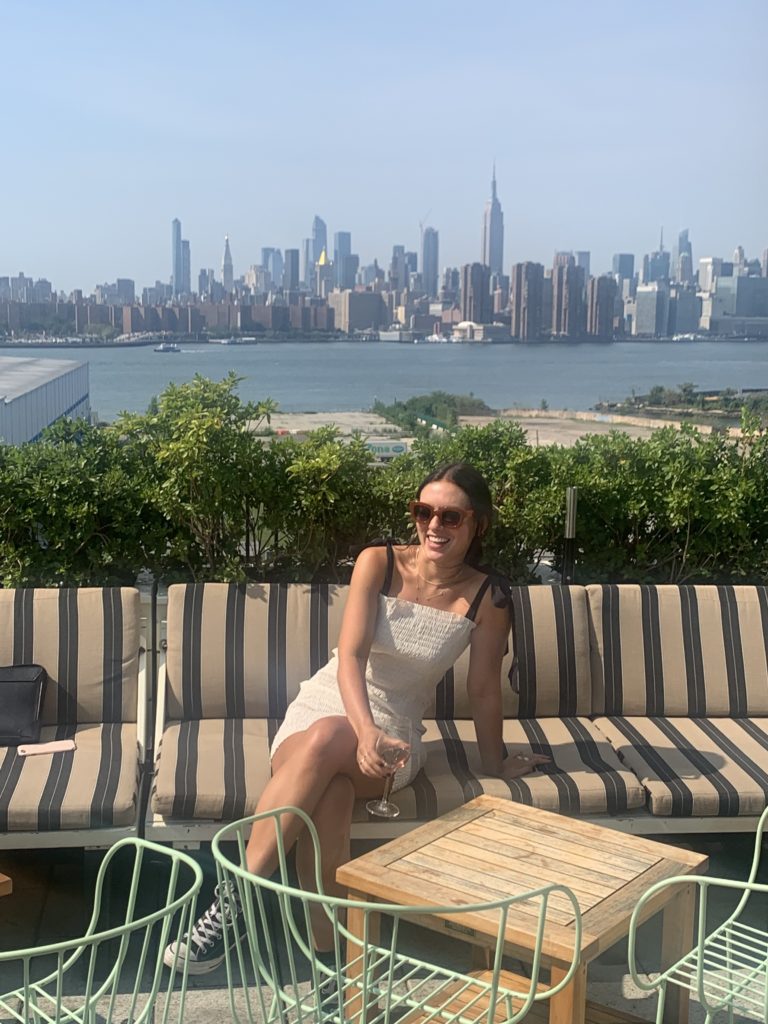 Speaking about the difference living in New York versus the UK, she says, "The biggest difference I've experienced is attitude. In the UK, everyone, myself included, can be a bit cynical and jaded. New Yorkers have the opposite approach. It's a far more welcoming and positive environment, or at least that's how I found it to be."
You're now founding your own startup. What is Diem?
"We are building social 'Spaces' for women and non-binary communities of all shapes and sizes," Emma explains.
"Diem is the digital front door to expert-led communities and live conversations – for women and non-binary people to connect with peers, subject matter experts and find the resources they seek while navigating life. Our mission is to build the digital society that these underserved communities deserve. Diem will have fulfilled its purpose when gender inequality no longer exists."
"It's not something that you necessarily recognise in yourself at the moment, but I've always been someone who really loves bringing people together. At uni, I had like eight different friendship groups. Some of them were at King's, some were working… I was always the one who would organise parties, who sought friendships outside of the friendship circles I was presented with."
She went on to say, "Community-building is like that, and you have to be good at understanding how to do it in person before you start trying to do it digitally. Community-building entails thinking along the lines of, have those hundreds of thousands of people spoken with each other? Do they know each other? Do they have a connection that you have created for them?"
What was the biggest lesson you learnt while setting up Diem? 
"Something that I've always known and done, but that I didn't realise was so beneficial until starting Diem, is to just be kind and make really amazing relationships with people. Because even if you were nice to the executive assistant seven years ago, there's a chance that they might have their own business now or are doing something really cool and you could contact them again," Emma said.
"Just be kind and build relationships because they have so much value, in ways you may not yet know. Honestly, to be successful in the startup world, networking is very important."
What advice would you give to any King's student hoping to set up their own business or get into the startup world? 
Emma explained the importance of networking and making the most of being in London: "I didn't really network with professors or faculty, but I used being in London to my advantage. You could go and do an internship while you're still doing classes. I worked for a PR & Communications company for two months while I was doing my degree. Use the location and the access to people in London to build that network for things that you might want to do in the future."
As for advice, she said, "What I always say is just keep going. If you have an idea, or if you have a passion for the startup space either as a founder or as an employee, networking is the very best thing that you can do for yourself. Not just meeting the founders but talking with people who have done it before. Reach out to them as well, because a lot of the time people are flattered that you even contacted them."
"Just keep figuring out what you want to do. And just keep going, because it's going to be really hard," she concluded.
Related stories recommended by this author:
• Meet the King's students volunteering their Friday nights to feed London's homeless
• We spoke to the founder of 'It Happens Here' KCL
• All about London Classicists of Colour, a society working towards decolonising Classics