Meet the KCL Football Women ready to smash UCL once and for all
Varsity is here and The KCL Football Girls are back with vengeance. Despite their loss last year, they're ready to claim back their winning title.
The match takes place Friday the 13th at Haringey Borough. You can buy tickets here. 
Scroll down to meet the team who are going to put UCL to shame.
Welcome to The King's Tab's coverage of London Varsity 2020, bringing you the wildest stories from the games, rundowns of the squads, and the latest score updates. Anything mad happens at a game? Message us on Instagram or Facebook.
Michelle Keller – Captain
Course: Biomedical Science
Year: Third Year
"She defends her breakfast choices as hard as she does on the pitch, oatmeal for life."
Diede Fennema – Vice Captain
Course: Psychological Medicine
Year: Second-year PhD
"Sweetest off the pitch, but an absolute beast on the pitch. Would highly recommend not to defend her"
 Rebecca Visser – Vice Captain
Course: International Relations and History
Year: Second-year
"Has passed on her dark horse persona to Chloe, but still a funability"
Ines Wood
Course: Biomedical Science
Year: Third-year
"Watch her whack hands save some hard shots, look her up on Red card fb page for reference"
Sabina Hollywood
Course: History
Year: Third Year
"She's such a number 7" -Danielle
Danielle Kleinerman
(creds for title)
Course: English with Film Studies
Year: Third Year
"Will rip pants for sick moves"
Carlota Montalban
Course: psychology
Year: First Year
"Queen of the pitch"
Karla Montes
Course: Biomedical Science
Year: First year 
"Karla is just an HONEST player"
Alma Zickerman
Course: Economics and Management
Year: First Year
"Doesn't seem like it, but is the strongest man alive"
Akhina Gaches
Course:  Psychology
Year: Second Year
"If Akhina doesn't ask for tequila shots after a match, did we really play that day?"
Brandi Coleman
Course: International Politics
Year: Third year
"As creative on the ball as she is with her insta stories"
Bethan Brown
Course:  Economics, Government, and Legal Studies
Year: Third year
"Will question if there is a bathroom at flat parties"
Chloé Ng-Trique
Course: International Development
Year: First Year
"Bro, she's always keen to hangout"
Magdalena Bodlund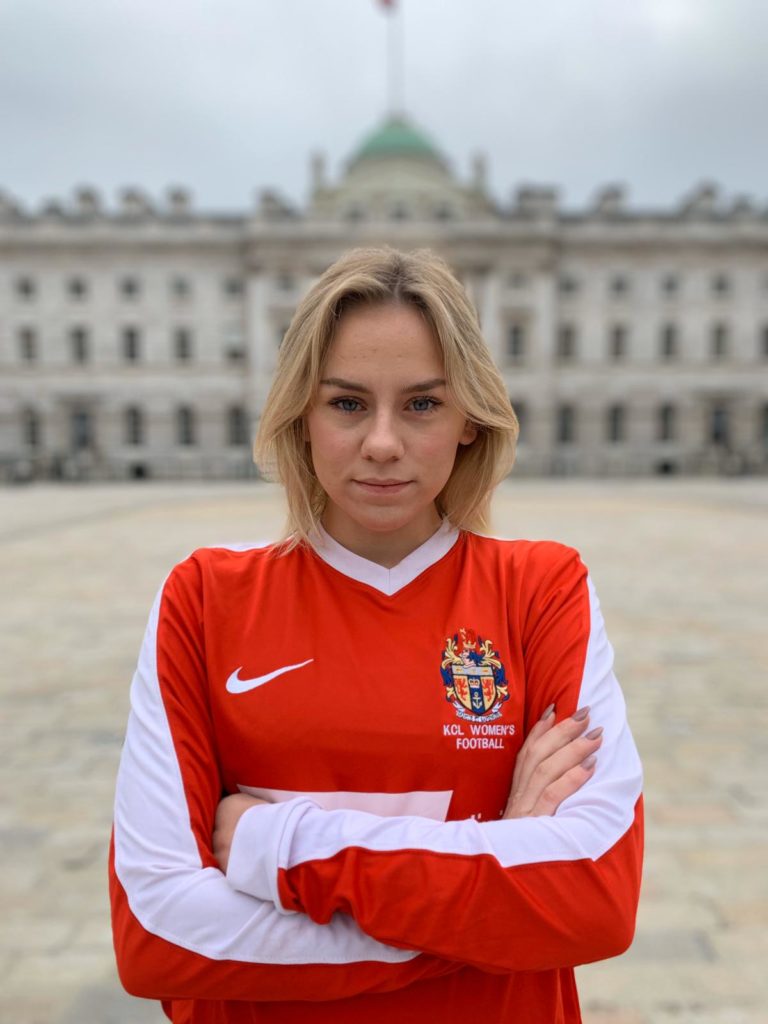 Course: Digital Culture
Year: First Year
"Magda doesn't like to pass to me" -Michelle (CAP)
Solene Declas
Course: Psychology
Year: First Year
"Will do an Irish dance with the ball"
Paula Arrus
Course: International Relations
Year: Second-year
"Is one of the feistiest players on the team, will argue with ref"
Related Stories Recommended by this Writer:
•Meet the King's basketball varsity squad ready to destroy UCL
•Meet the King's Netball Varsity squad ready to smash WhoCL
•Meet the King's Varsity hockey boys, who are much much fitter than UCL will ever be