Meet the 18 king's lacrosse boys getting ready to humiliate UCL at Ram Ranch
WHO-CL does not stand a chance
Welcome to The King's Tab's coverage of London Varsity 2020, bringing you the wildest stories from the games, rundowns of the squads, and the latest score updates. Anything mad happens at a game? Message us on Instagram or Facebook.
Last year, The King's Lacrosse Men very kindly donated the winning crown to UCL, but this year they're back and they're ready to claim what is rightfully theirs.
The sky will surely bleed red as you watch the Lacrosse men destroy UCL on March the 7th at the King's House Sports Ground. You can buy your tickets here.
Until then, the team members have gathered together to say a few things about each member of the team.
Ladies and gents, I present to you, King's Mighty Lacrosse men.
Jake James – Captain, Defender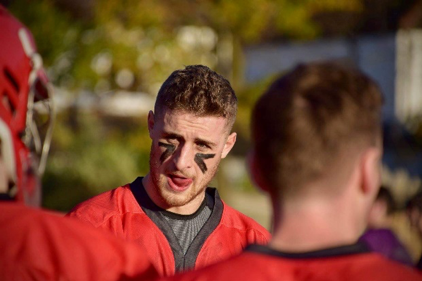 Course: War Studies
Year: Second Year
Bio: Jake "I'm so good looking" James is a, 6"4', self-loving, lesser good-looking Oli Priestly. He is lucky to make it onto this year's team, as he commands 0 respect from the players and his lacrosse knowledge is about as extensive as his personality. Jake is very competitive but is yet to back up any of his claims. So, don't expect much from this all talk, no walk, family disappointing man.
Leg days completed: None.
GCSE's: None.
Orlando Wallace – Attacker
Course: Biomed Engineering
Year: First Year
Bio: A fascinating character that has been moulded from a long lineage of lacrosse heritage. Although, much of these talents have been absent from the field and instead, present on an ever so warm bench. Fear not, however, for when Lando steps onto the field- cries of awe can be heard from the side-line. With the heart of a lion and the strength of 1000 dwarfs (he carries the team's water bottles boldly), you can be sure that he'll put his body on the line for both Lacrosse and a special someone on the Ladies 1st (Eliza is a lucky, unlucky lady).
Where he lost his virginity: public school bathroom.
Sisters his parents love more than him: 1.
William Pickles – Attacker
Course: Medicine
Year: First Year
Bio: Pickles is a veteran and the oldest member of this year's lacrosse team. We wish this ex-captain would have stayed away, however, upon hearing that UCL had a "Harem of fresh young lacrosse boys", Pickles decided to return following a three-year hiatus. Don't ask us why, and don't judge the quality, 3 years is a long time.
Infected ears: 1.
Games won: 0.
Patrick Taylor – Attacker
Course: Ancient History
Year: Second Year
Bio: Oh Patricia, few things can be heard from his beautiful mouth. Urban legend states he murmurs wise words of wisdom to his closest companions, who go on to achieve incredible feats. Such encounters with the other kind can be seen in the Men's 2s, where Patrick has established himself as a formidable captain. With a love for Devon, classics, vegetables and Alyssa- this mullet bearing attacker's shot has a power rate beyond comprehension and an accuracy worse than a Thursday at DC. His brave spirit, humble origins and ambition to be the best boyfriend/human in the universe is an asset that the 1s could not be happier with. But seriously, work on your speech, shot and boyfriend skills.
El Chapo: did nothing wrong.
Most used phrase: Alyssa take me back?
Jonty Baker – Defender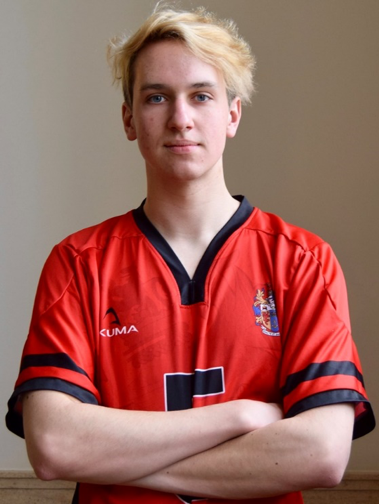 Course: Maths
Year: First Year
Bio: Also coming from a long line of lacrosse players, Jonty's commitment to lacrosse has been impressive(ish). This may surprise some as Jonty's understanding of commitment is a tumultuous one, having cheated on three separate girlfriends. Fourth time's the charm? Nevertheless, there's one lesson of love we can learn from this man, never go to university with your girlfriend. Whatever the case, he is a quality player and a solid addition to the men's 1s of the future.
Games played: less than the number of girls he's cheated on.
Minutes he'll likely see at varsity: pending a horrific ankle injury from Chrallen – 0.
Tom Barnhurst – Goalkeeper
Course: French and Management
Year: 2nd Year
Thomas "Barndoor" Barnhurst. This unstoppable keeper cannot be affected by even the most powerful of forces manifested in the velocity of a lacrosse ball. His composure on and off the field can be observed very infrequently given he only appears during a full moon. UCL, beware- Barndoor wants your shot, soul and sacrifice.
Gang membership: C-Section.
Place of residence: still in halls.
Eugene Fung – Vice-Captain, Midi
Course: Medicine
Year: Fifth Year
Bio: Emperor Fung is playing his last varsity game this weekend hoping to finally win it under the tutelage of his much-needed leader. This once captain has moved from the limelight and has thrived in his supporting role. Still on his quest for love, this little Casanova has left a trail of broken hearts behind him, unfortunately most of them have belonged to him and not his jilted lovers. This day may be more important to this man than any of us, trying to secure his place in king's history as the 5th best player on a winning team.
Height: growth spurt loading.
Crushing feelings of loneliness: Daily.
Adan Khan – Attacker
Course: Medicine
Year: Second Year
Bio: Recently qualifying for the Welsh under 13s, Adan started university at an astonishingly young age. Studying medicine, Adan looks to be a shining star in the future of King's Lacrosse. This individual also has a fascination with the dark web, obviously for research purposes. His cradles and obsession with wearing a pinny on the coldest nights of training is exactly why we like him.
Age: under.
Future: bright.
Thomas Bianchi – Defender
Course: Global Health
Year: Fourth Year
Bio: Our third defender and treasurer, Thomas "-£1,892" Bianchi will be executioner checking left, right, and centre come Saturday. Don't thank him if he makes some good defensive plays as he's simply doing his job.. cough.. He hates bus drivers… cough. Notoriously a closet Tory there's only thing he hates more than the poor- being ignored by Saf. We're hoping he's going to take out his pent-up sexual frustration on some poor UCL attackers.
Private Planes Chartered: 1.
Bus drivers thanked: 0.
Successful hinge dates: 1.
Jamil Alexander Farid Malthe – Midi
Course: Politics
Year: First Year
Bio: Arriving from the red dunes of Dubai. Jamil has assimilated well with the grass of lacrosse, given he had to leave the ice of hockey in his past. He'll need to obtain a new shaft for Saturday having broken his stick in a match situated within the fjords of Valhalla. This shaft isn't the only one Jamil has broken this year. We have his position at midi, but he does the most damage at reverse cowgirl. Jamil hasn't adapted to living on his own without the maids around for cleaning, he'll get the shock of his life when he has to take his first bus, we'll just make sure Tom doesn't teach him the etiquette. There's only one thing we know for sure about this exotic beauty is that he's truly left his mark…on the ceiling of DC.
Country of actual origin: Unknown.
Favourite nursery rhyme: row row row your boat.
Fears: crutches.
Even greater fears: empty snus container.
Lucas Monserat – Midi
Course: Economics and Maths
Year: 3rd Year
Bio: An experienced operative who seeks to establish American dominance against UCL. Mr Monserat will have the heads of his enemies impaled on his broken lacrosse stick. With a beautiful shot and rapid speed- all should fear him.
Favourite food: antibiotics
Nation of origin: unfortunate.
Jed Perler – Midi
Course: Biology
Year: Third Year
Bio: This name screams America and Lacrosse. Another operative that stems from sporting backgrounds and the motherland. His powers and skills are to be feared ever so much on our reckoning day. We hope to see him out more, we need more Jed in our life.
Favourite place to get lost: Greggs.
Preferred sport: golf.
Michael Parnell – Attacker
Course: Film Studies
Year: First Year
Bio: Michael "Man O' God" Parnell. Hailing from the beautiful wilds of Alaska, this peri-sauce wielding Texan can go on for days with no sleep or nutrition. He can often be spotted soul surfing in Cornwall or harassing people with desires of Nando's and himself being tagged in Instagram stories. This strong attacker possesses multiple abilities in the dark arts of films, breakdowns, cooking and romance. With chat spicier than Nando's lemon and herb, you can be sure he'll infiltrate both the psychological and physical beings of the UCL team. Interpret that however you wish…
Kerry's slept with: None.
Favourite activity: Screaming indecipherable Alaskan.
Diet: Plant based (ish)
Jonathan Parker – Midi
Course: Translational Cancer Medicine
Year: MRes
Bio: "SECTION 1 THE PLAYING FIELD Rule 1 Dimensions 1.1 The lacrosse playing field shall be a rectangular field 110 meters (120.30 yards) long and 60 meters (65.62 yards) wide. 1.2 The boundaries of the field shall be marked with white lines. An extra heavy white line shall be marked through the centre of the field perpendicular to the side-lines; this line shall be designated the centreline. The boundary lines on the long sides of the field shall be designated side-lines; those at each end shall be designated end lines. 1.3 Soft, flexible cones or pylons of red or orange plastic or rubber shall be placed at: • The four corners of the field; and • Each end of the gate within the special substitution area; and • The ends of each of the men's goal area lines; and • The end of the centreline opposite the bench area." – Jonathon Parker
Goals scored: more than Eugene.
Rules quoted: 428.
Chris Allen – Defender
Course: Anatomy
Year: Fourth Year.
Bio: Imagine having a president that drops out the morning of the LAX tour. Chris's presence this year has been huge, showing up to all important presidential duties and providing strong guidance to his flock, tour being a shining example, he is a solid pillar of the club. This notable Irishman can neck a Guinness in just about as much time as it takes to get his medical degree. His First lady, Kat, is out of his league but so are UCL. I'd keep a watchful eye on this man on the pitch, because if you look away for a moment, you may find he has moved exactly 3cm from where he was before. Even though this is all true this doesn't stop Chris being a defensive powerhouse and should strike fear in the hearts of the UCL attackers.
100m time: 4 minutes 39 seconds.
Vegetables consumed: 404 error
Everest Yeow – Attacker
Course: Strategic Communications
Year: MA
Bio: This 'turncoat' recently saw the light of KCL, coming here from UCL to study his masters. UCL may brand him judas, but he'll be happily counting his 30 silver pieces as we crucify them on the pitch. A military man (having completed Singapore's national service), Everest is not to be underestimated.  Trained in the arts of Lacrosse in the peaks of the Nepalese mountains- this man is one not to be trifled with.
Height: 8,848 metres (29,029 ft).
Dislikes: Everyone he ever met at his former university.
Marcus Buchannan – Midi
Course: Geography
Year: First Year
Bio: Formed from the sands and waters of Guernsey, "Mike Tyson" is confirmed to be moulded as one with the swords of LAX. A kind and loving individual, who enjoys nothing more than going for big plays and embracing the spirit of the game. However, associates of King's Lacrosse have confirmed he's an individual that is willing to take many down on the ship with him if mission fails. Ask the bouncers down at Guy's Bar for more information regarding the night of bite, dash, and blood. He also enjoys 'helping' drunk girls back home after a night out and choosing to sleep on the floor or even a car- humble, isn't he?
Favourite palette cleanser: bouncers.
Favourite car: unlocked ones.
Favourite song: Ram Ranch 07.
Who?
Course: Biomedicine
Year: Second Year
Bio: This mystery figure could potentially grace the field on Saturday. Legend says he is our social sec, though historians have yet to find any conclusive evidence.
of cars been hit by: 1
of girlfriends that went flying: 1
of socials attended: 1
of games attended: 1
Images: Jake James, Thomas Bianchi, Jamil Malthe, Joshua Wanblad
Related Stories Recommended by this Writer:
•Meet the King's basketball varsity squad ready to destroy UCL
•Meet the King's Netball Varsity squad ready to smash WhoCL
•Meet the King's Varsity hockey boys, who are much much fitter than UCL will ever be