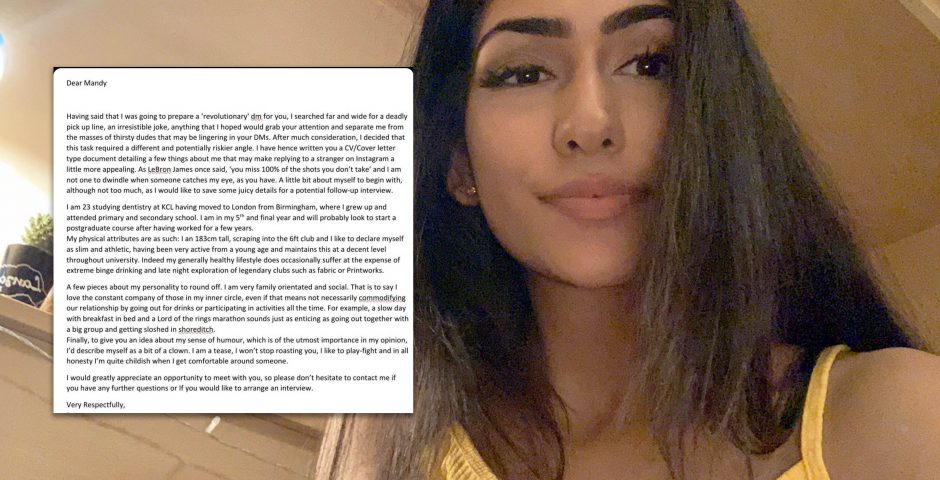 KCL Dentistry student slides in UoM third-year's DMs with a full cover letter
She hired him 'as a friend'
What's the most out-there thing you've ever done in the name of the chirpse? Whatever it is, it's probably not as ballsy as what Manchester third-year Mandy found in her DMs this week: A full cover letter from a King's Dentistry student asking for a date.
The letter explains that the "tall, slim, and athletic" 23-year-old is "family-oriented" and just as up for a "slow day with breakfast in bed and a Lord of The Rings marathon" and a night out "with a big group getting sloshed in Shoreditch."
Tweeting the DMs, Mandy said: "This took shooting your shot to another level." She later told The Tab the letter was "deffo different and funny", adding she'd hired him "as a friend."
The Dentistry student slid in Mandy's DMs on New Year's Eve, saying: "Nah you are so cute I'm gonna have to come up with a revolutionary DM slide. Give me 3-5 business days I'll sort something out."
After a "busy week after NYE" he returned with a full cover letter addressed to Mandy, who studies Neuroscience and Psychology.
The letter describes him as "very active", although his "healthy lifestyle" sometimes takes a backseat to "extreme binge drinking and late-night exploration of legendary clubs such as Fabric or Pianoworks."
"I mean it was more likely to get a reply than a 'hi'", Mandy told The Tab. "It took a lot of effort but it was deffo different and funny."
The Tab reached out to the King's student, but Mandy said he didn't want to be "exposed."
Mandy told The Tab her admirer "got hired as a friend," adding: "Twitter's probably gonna attack me for friend-zoning.
"Already had someone say 'If you don't give him a chance, tl will break your legs'."
The full cover letter read: "Having said I was going to prepare a 'revolutionary' DM for you, I searched far and wide for a deadly pick-up line, an irresistible joke, anything I hoped would grab your attention and separate me from the masses of thirsty dudes that may be lingering in your DMs.
"After much consideration, I decided that the task required a different and potentially riskier angle. I have hence written you a CV/cover letter-type document detailing a few things about me that make replying to a stranger on Instagram a little more appealing.
"As LeBron James once said: 'You miss 100 per cent of the shots you don't take', and I am not one to dwindle when someone catches my eye, as you have.
"A little bit about myself to begin with, although not too much, as I would like to save some juicy details for a potential follow-up interview."
The letter continues: "I am 23 studying Dentistry at KCL, having moved to London from Birmingham, where I grew up and attended primary and secondary school. I am in my fifth and final year and will probably look to start a postgraduate course after having worked for a few years.
"My physical attributes are as such: I am 183cm tall, scraping into the six-foot club and I like to declare myself as slim and athletic, having been very active from a young age and maintained this at a decent level throughout university. Indeed my healthy lifestyle does suffer occasionally at the expense of extreme binge drinking and late-night exploration of legendary clubs such as Fabric or Pianoworks."
He adds: "A few pieces about my personality to round off. I am very family-oriented and social. That is to say, I love the constant company of those in my inner circle, even if that means not necessarily commodifying our relationship by going out for drinks or participating in activities all the time. For example, a slow day with breakfast in bed and a Lord of The Rings marathon sounds just as enticing as going out together and getting sloshed in Shoreditch.
"Finally, to give you an idea about my sense of humour, which is the of the utmost importance in my opinion. I'd describe myself as a bit of a clown. I am a tease, I won't stop roasting you, I like to play-fight and, in all honesty, I'm quite childish when I get comfortable around someone."
He finishes: "I would greatly appreciate an opportunity to meet with you, so please don't hesitate to contact me if you have any further questions or you would like to arrange an interview."
The Dentistry student later mocked up a photo of the two of them together, telling Mandy: "I have spent the last 12 minutes building us a time machine, so below you should see that I have attached our wedding photo."
Related stories recommended by this writer:
• We spoke to the Languages chat about *that* singing voice note
• A King's exchange student is trying to find the fresher she fell for on a night out: Can you help?
• Soton student spotted in London tube stations asking for work experience