Exclusive: KCL Jewish Soc President harassed LGBT student at work and wrote homophobic insults for her to find in a bin
He left them in a pizza box
The Tab King's can reveal that the newly elected President of KCL Jewish Society, Elliot Orenstein, has been accused by a student of homophobic bullying after she asked him whether or not the society would be putting on any LGBT+ events.
Fourth year Geography student and Labour Society Chairwoman, Esther Endfield, relayed to the Tab King's a conversation she had with Orenstein in December last year.
Esther was working in Waterfront Bar, when she was approached by Orenstein and then President Tom Garcia.
Esther says "basically, they came up to me being like 'so I heard you're not a Zionist,' which is obviously a really rude thing to say to someone anyway."
As she was clearing up the tables, the pair returned. "They were just asking me questions," says Esther, who had previously expressed dismay at the lack of diversity in J-Soc events. "There was basically nothing going on for anyone except straight white men," she claims.
When she asked the pair whether there would be any upcoming LGBT representation, Orenstein simply responded "in the Bible, it says you're not allowed to be gay. If we were to put on an LGBT event, it would be endorsing something we don't agree with."
Esther then posted on Facebook detailing the account, although the post was quickly jumped upon by many, including Garcia, who commented: "this post is a blatant lie."
Days later, Esther was told that a pizza box filled with rubbish had been left at Waterfront for her. A message inside the box read: "you are trash."
It transpired that Orenstein had left the box. Esther had not been on shift that day and Waterfront staff decided not to tell her to avoid upsetting her. However, Elliot himself messaged Esther apologising, adding that the Union was "looking into it."
It is unclear what came of the investigation, and while no one got in contact with Esther with any form of follow-up, it is certainly questionable that Orenstein was later allowed to run for an important position in a society like J-Soc.
Indeed, when Orenstein was elected President, Esther commented beneath a congratulatory post on the J-Soc Page, expressing her disappointment with the result and publically calling out the bullying she had suffered at his hands, even attaching the screenshot of Orenstein's apology to the comment.
The comment was then deleted by group admins, which she later reposted. "Then they blocked me," she says.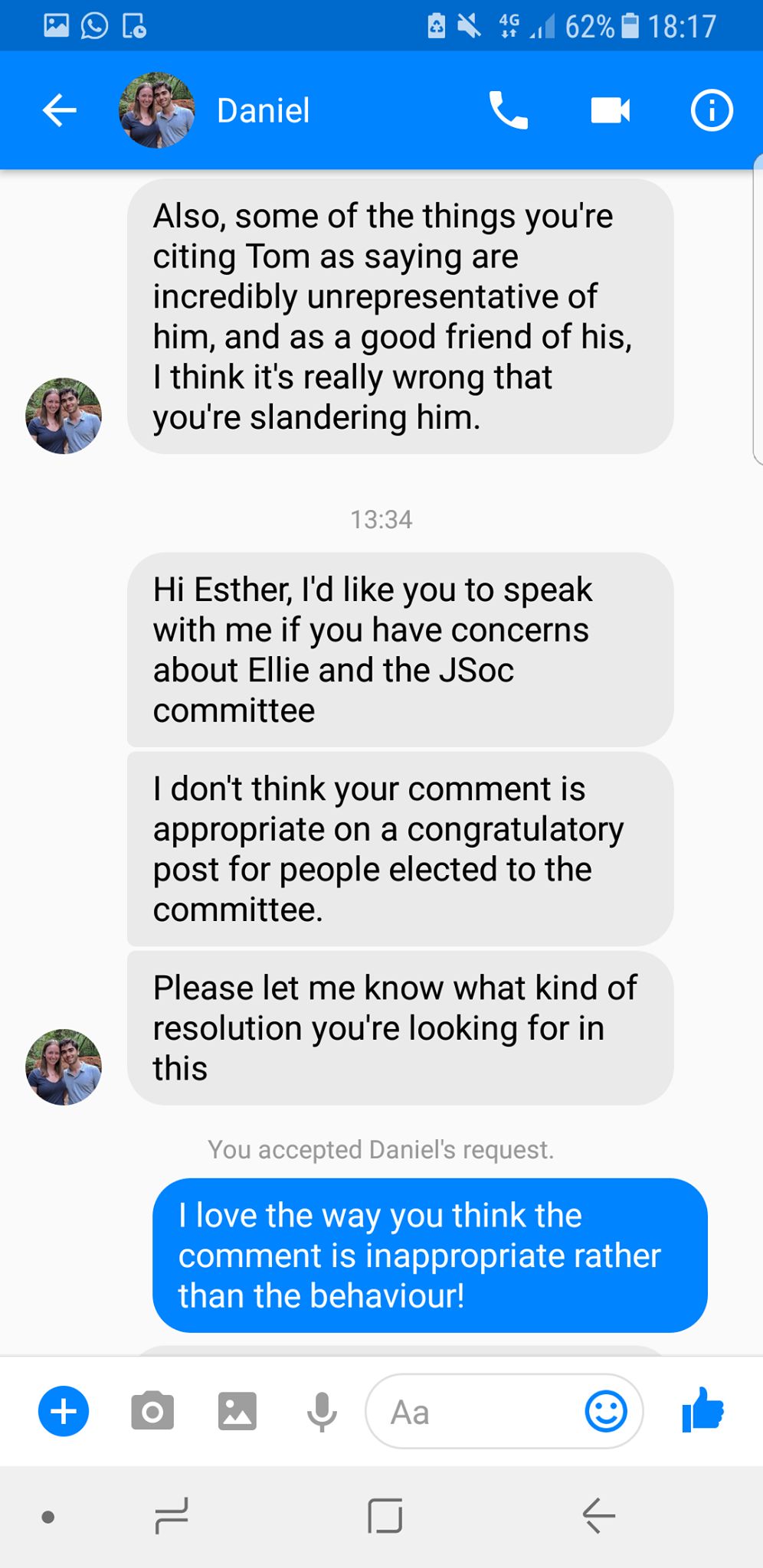 Esther was also contacted by the Treasurer of J-Soc, who criticised her for "slandering" the newly elected President and later told her that it was "inappropriate" for her to comment beneath the congratulatory post.
The Tab King's reached out to J-Soc, however they declined to comment.
Elliot has also been approached for comment but is yet to respond.
Get King's news straight to your WhatsApp by clicking here.