We asked King's students if the Mayor's new clean-air campaign is actually effective or just a waste of paper
If you could see London's air, you'd want it clean too: what do King's students think of the Mayor of London's new campaign to reduce air pollution?
This week, the Mayor's hard-hitting air pollution posters began making an appearance around London's underground and train stations, following the social media campaign where images of pollution were placed on top of a number of beverages.
The aim of this is to provide a visual representation of how much air pollution Londoners breathe in each day, in hopes that it'll emphasise the scale of the pollution problem in our city more clearly and effectively.
So, we took to King's campuses and asked our students whether they thought this visual campaign is really as effective as it is setting out to be.
"That's just a bit scary isn't it, seeing that visual representation" Liv, 1st Year, English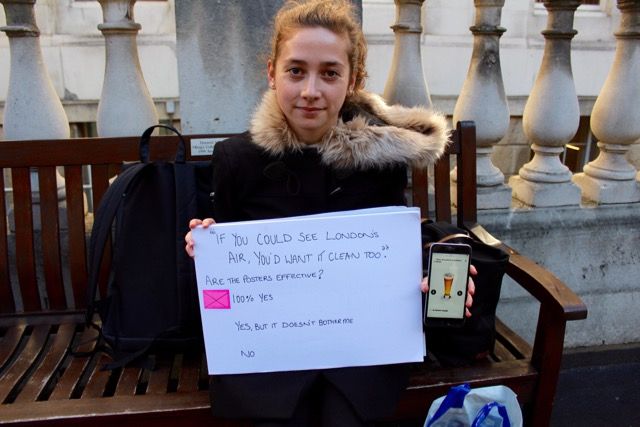 "Being from Wales I can feel the difference. I just go home and my face feels dirty. So yeah, I think the posters do a good job at representing the problem everyone already knows is there." Johanna, 2nd Year, Law
"I mean I don't think the posters are effective. Cigarette packs now have photos on them and you don't see everyone quitting smoking in London. Financial pressures, like even higher congestions chargers, are more likely to get a reaction." Mroue, MA, Conflict resolution.
"People just don't know how to quantify the figures they see in places like the Evening Standard. These photos make the move from being something that's just figurative to physical. So yes, I think they are extremely effective" Christian, 1st Year, War Studies
"To think that goes in your stomach and it's in your hair constantly … Before I saw these I didn't think about that too much …" Brigida, 1st Year, English
"They're not shocking enough. Everyone already knows its there, people won't be horrified by looking at something they already know to be true. It won't change much." Juliette and Mary-Anne, MA, War Studies
"They are so effective. But even just swabbing your nose after a day in London, you can see what you are breathing in." Coleen, 1st Year, English
"I don't think they're too effective. Not for students anyways. They seem to be aimed mainly at parents of young children, with the beakers. Those photos don't affect me." Jess, 1st Year, Liberal Arts.
It's clear that, at King's, there's a range of opinions and the students we asked had a definite yes or no stance on the question.
It can be questioned, however, whether the tube and railway stations are really the right location for these posters, as the Mayor tweeted earlier this week that it is motor vehicles in the city that cause the most pollution. So shouldn't we be putting the posters in inner city car parks instead? Either way, these posters are only one step to #CleanAir for London.