My male flatmates dressed me for a week and they kinda nailed it
'Right, I'm thinking like a 'Secretary of Whoredom' kind of look, what do you think?'
Hello and welcome to a summation of my wardrobe. This won't take long.
Anybody else sensing a theme here?
That's right – I just so happen to be another one of those girls who likes to own a lot of black coloured clothing. Or grey. Or black and grey. White – if I'm forced against my will.
One could say I'm stuck in a style rut. That my 'style' is boring. I prefer to go for terms such as 'classic' or 'simplistic', mainly to cover up the fact that I'm not always hugely invested in what I buy or wear. But when you realise you've worn the same three jumpers to uni for about six months, something's got to change.
So, when my male flatmates asked if they could dress me for a week, I said yes! Surely I can't feel uncomfortable in clothes I myself have bought and loved, right?
Boy was I wrong. Enter the very enthusiastic bearers of my clothes-related doom, Jake and Andy.
Sunday – 'Sexy parisienne meets school girl hair and shoes'
Andy wasn't available today, so my outfit was left in the self-assured hands of Jake. He immediately said that he wanted to take me away from the 'dark side' and inject some 'spring colour' into my looks – this was probably when I knew I wouldn't feel as comfortable this week as I thought I would.
What I'm wearing: Topshop jeans, Zara top, H&M flats, and Zara (winter) coat
I spent most of the 15 degree weather day in a winter coat. General sweatiness and complaints ensued, but overall, this look was ok for me. It was my first time wearing these three pieces together, and people seemed to like it, especially the coat.
Monday – 'Just been to the library type of hoe, but she still looks fresh 'cause she's got a date afterwards'
Andy chose my outfit for Monday. After a little bit of confusion over what's high waisted and what's not, he confidently picked my outfit – and then had to have a bit of a lie down on my bed after the exhaustion of doing so.
What I'm wearing: BDG jeans, Zara top, Topshop leather jacket, Adidas Stan Smiths
I generally felt pretty comfortable today and I liked the utilisation of the one black piece I own that I haven't worn for a long time (mainly because it's too small for me now). Somebody told me I looked effortless, and I didn't have the heart to tell them it was because I literally did not put any effort into picking this outfit.
Tuesday – 'Brandy Melville girls are just more dateable tbh'
After a potential terrible outfit involving an orange crop top and a blue coat, this is what I was given for today.
What I'm wearing: Topshop jeans, Brandy Melville top, Zara coat, Stan Smiths
This was fine – to be honest, I was just thankful to avoid any potential orange/blue outfit disaster.
Wednesday – Illness beats me 
Haven't left my bed yet today. Can't do it. Too sick to put on a pair of jeans and a bright mustard top (happy to just wear my sweatpants and a jumper for today) – however, I have been warned that this 'rest day', if you will, will have repercussions and that I should be nervous for the rest of the week…
Thursday – 'Modelling a true fashion icon'
Enter the inspiration for today's look:
Evidently, Jake wanted to take inspiration from one of the best dressed people he knows.
What I'm wearing: Zara shirt, Zara top, Topshop jeans
Friday – What happened to giving me some 'spring colour'?
Black, white, and navy blue – did I pick this outfit?
Turns out we'd run out of all the colourful pieces I've got in my wardrobe, and this is what I've been left with.
What I'm wearing: H&M top, Zara trousers, Light before Dark coat, Stan Smiths
Non-restricting, super comfy, darker tones – solid outfit for me, 7/10.
Saturday – haven't worn a dress since September last year
Given it was the last day, the boys decided that instead of a daily outfit, they were going to pick an outfit for our night out instead. When it comes to nights out, unsurprisingly, I'm a jeans and top kind of girl, usually pretty monochromatic. I'm fairly sure I don't even own a pair of tights – didn't matter to these guys, and they put me in a khaki coloured dress.
What I'm wearing: Zara jacket, Zara dress, Stan Smiths, chilly legs
Here's a picture of the clothes I wore, minus me in them, because I forgot to take pictures whilst we were out last night (you know how it is):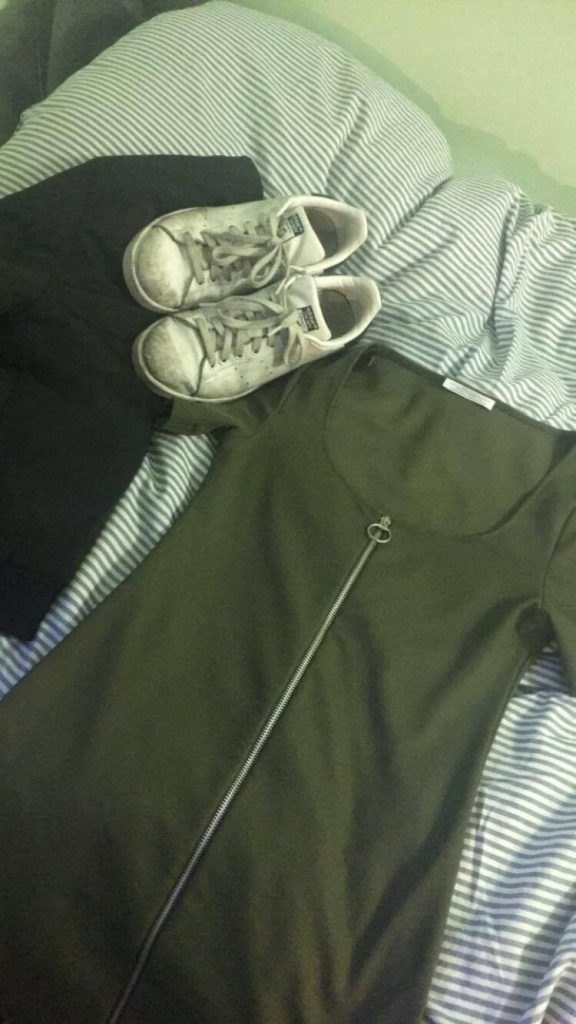 I spent most of this week happy to have the decision of what to wear every day taken away from me (even if I was slightly concerned at times with what my flatmates were picking). At the end of the day, no one really cares what you wear, but a lot of the girls and women I know prefer to stick to a monochromatic palette: because it's simple, it's easy, and it makes them feel powerful. Injecting more colour into my wardrobe made me feel oddly uncomfortable for a while – yes, there are more important things to be worrying about, but I want to feel comfortable whilst worrying about those things.
This past week was more like a trust exercise for me. Could I trust Jake and Andy, my flatmates and friends, not to make me look like a fool for a week? Turns out they did pretty well, and it could have been much worse. Thanks for the run, boys (but, it doesn't mean we'll be doing this again anytime soon). I'm off back to my dark ways – stylistically speaking, of course.