King's students are campaigning to diversify our campus
KCL have been criticised for their failure to celebrate non-white female staff
King's students are fiercely campaigning against the lack of diversity on campus.
According to university data, the attainment gap at King's between home Black and Minority Ethnicity (BME) undergraduates  and white students achieving a first or a 2:1 was 12 per cent last academic year. Nationally, BME students are 16.1 per cent less likely to attain a first or a 2:1.
In response to these troubling statistics, KEMA (King's Ethnic Minority Association) has been at the forefront of recent walkouts at King's.
Protestors are taking part in an ongoing campaign against the lack of diverse curricula, alienation of BME students, lack of welfare support for students of colour and an environment that ignores people of colours' contributions to academia.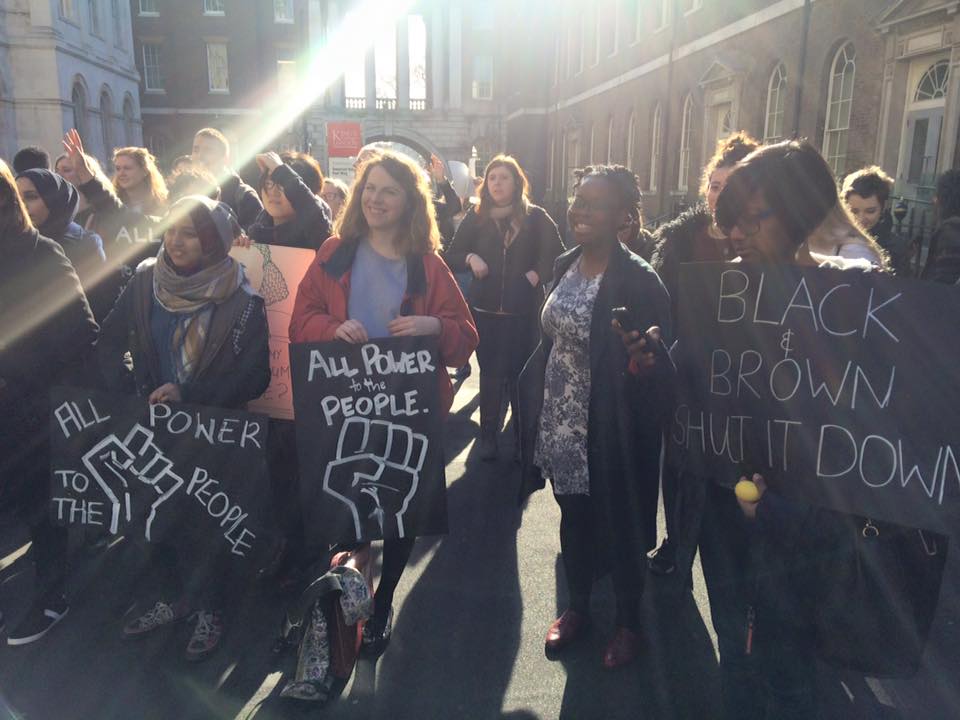 Last Wednesday, chants of "Black and Brown, shut it down!" were heard across the Strand campus, as 100 students staged a lecture walkout in protest of a "whitewashed" curriculum.
On their Facebook page, KEMA invited students who are "currently angry or dissapointed in how the curriculum, staff and system at King's treats them" to join them . They wrote: "Diversity is talked about consistently, the BME attainment gap is talked about, projects are talked about but NOTHING HAS BEEN FELT.
"This is a direct response calling for more immediate and urgent action."
Speaking to the Tab, first year English student Zahra Butt explained what the demonstration meant to her. She said: "We are demanding to be treated as more than just a footnote in a system that we are paying the same amount to be in.
"We are essentially being treated like inconveniences, despite the fact that people of colour have been at the forefront of feminism, literature, science, mathematics and art amongst other things for years!"
Following last week's walkout, KEMA held a second protest in front of the Strand Campus' "Meet the Professors Wall". Since its unveiling, the wall – which was intended to celebrate the achievements of female professors at King's – has been criticised for its failure to feature any non-white female faces.
Gathered in front of the wall, which is outside the Edmund J Safra lecture theatre, protestors chanted: "Where are we on this wall? Nowhere, Nowhere."
Theology student Raffaele Bellino shared his reasons for demonstrating in front of the wall. He told The Tab: "It is wrong for King's to exclude BME Professors from the " diversity wall", by the words of management they seem to be deluding themselves into thinking they're helping to diversify the university.
"This allows for complacency and only makes matters worse. They need to acclimatise themselves with the reality of institutional racism at King's."
In an emailed response to students' protests, Principal Ed Byrne said: "I take issues of race and  equality very seriously… [The college] recognise that we have more work to do but I hope current and planned initiatives will indicate how seriously we are taking all these issues."
In his email, the Principal also mentioned a BME Student Success Working Group which the Principal said was being chaired by the Vice-President of Education.
However, KEMA representatives and and KCLSU's Vice President of Education, Ben Hunt, insist that such a group does not exist.
On Facebook, Ben Hunt explained: "The group is called the inclusive education working group. It does things to do with inclusive learning including issues around the DSA cuts & attainment, but it is not a focussed group around the BME attainment gap."
Meanwhile, KEMA representatives have accused the University of "cherrypicking the student voices to be heard", following a decision to hold an open meeting with KEMA – but only allow 10-15 students selected by BME Student Attainment Officer Hana Riazuddin to attend.
Speaking to The Tab, KCLSU's People of Colour Officer Maria Dadabhoy said: "We are currently still awaiting a reply from the Principal following our emails sent on Thursday 18 February.
"What we are hoping to achieve is an open meeting with the principal where any PoC student can come and talk about their experience at KCL and suggest how we can ensure that PoC students are getting the same out of their degree as their white counterparts.
"Our next steps are not planned as of yet and will be dependent on communications from the College; we plan to continue taking action until we achieve an open meeting.
When asked about the BME Student Success Working Group and whether students will see some tangible changes in the near future, a King's College London spokesperson said: "The BME Student Success Working Group is separate to the Inclusive Education Working Group, which was set up to support the delivery of actions on embedding and enhancing inclusive learning, teaching and assessment practices locally.
"The strategy and action plan were approved by the group, including the current KCLSU Vice President of Education, Ben Hunt, in January 2016. The next Inclusive Education Group meeting is on 22 March 2016. Whilst this is a separate group, the strategy and action plan that the group oversee reflects the objectives of the BME Student Success Working Group project."
"The last BME Student Success Working Group meeting was in July 2015 where work streams were approved and have since commenced. The previous KCLSU Vice-President for Education (Arts & Sciences), Areeb Ullah, was part of this group. The action plan, which is also a part of our Race Equality Charter Mark action plan, is monitored and reviewed by the Diversity and Inclusion Steering Group and all of the actions set to be implemented this year are underway. Progress will be reviewed later in the year."