All the things you know if you went to Dagenham Park school
Three name changes, a new building, and a new badge…the list goes on
Before 2009, the cluster of old and slowly decaying buildings were my first experience of 'big school'. There was a stigma attached to Dagenham Park, formerly Dagenham Priory, and the rumour was that only the dumbest and most underachieving students were thrust in there.
We had the lowest GCSE A-Cs percentage and were repeatedly told we needed help. But somehow the school scrambled together a plan, accepting both bright and not-so-bright 11 year olds, in the hopes that it would raise the percentages.
We had a bad rep, but things changed for the better:
The old and crumbling DP
The old building, though it housed many many memories, was crumbling. Those awful demountables we not supposed to be a permanent solution, although they became one. For some reason, the English department was unlucky enough to be situated there. Each "classroom", though it had the basics; a projector, tables, chairs, a computer and a supplies cupboard, felt temporary. With the old building came the old car-park and playground, the dining hall, the maths block, the old sports hall and the (then new) arts block.
The Sixth Form toilets
The old school even had a strictly Sixth Form common room and break area. Some of us knew that this was where the nice toilets were, and would sneak in from time to time to use them. These toilets also had mirrors, and more often than not, some tissue. Although use of these was 'illegal', you snuck in, knowing that the impending telling-off was worth it for that posh wee.
We're off to make a difference
In a bid to make us look pro-active, 10-12 of the school's brightest and smartest kids travelled to Downing Street to appeal to the new government for funding. We returned victorious, with plans in tow to build an all new school, changing the name again. Renewed hope!
The gym
When I started in 2007, the school promised to build a new sports facility, as the old one was becoming difficult to use. Years of examinations and use had began to wear it down, and it was getting drafty. By year eight it was finished – and what a beauty it was, with a rock climbing wall, dance studio and not to mention the new digital clock! We loved the new sports hall, it appealed to all of us, from the smallest year seven to the biggest year 13.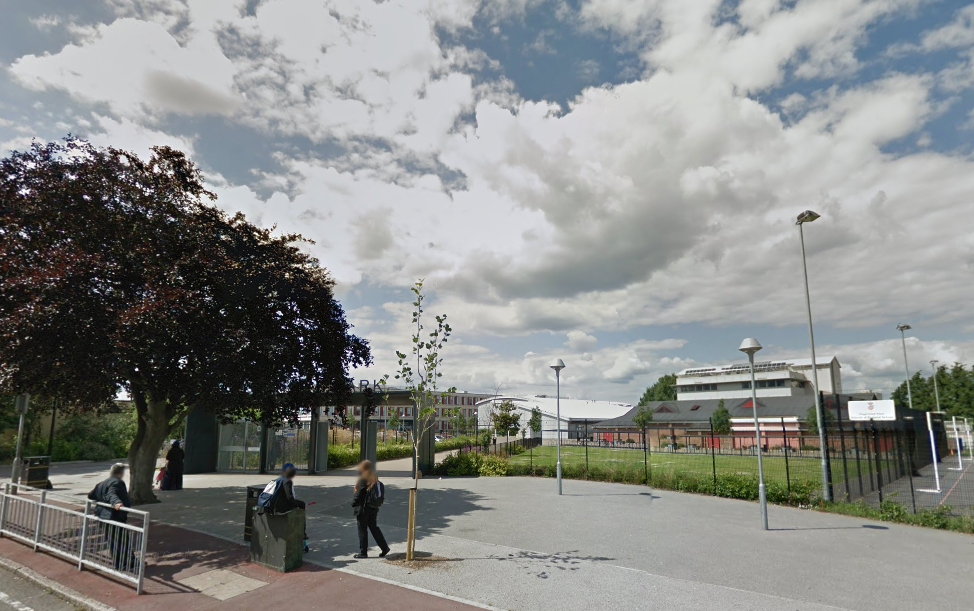 We had another new name: DPCofE
With the change of name, came the change of badge. In 2009, the school decided that in line with plans for a new building, they wanted a new name. It went from Dagenham Park Community School, to Dagenham Park Church of England School. Along with the new name, came a new badge with a fetching Christian fish symbol.
Prom
As every student knows, after Year 11 there is a prom for the whole year. It's roughly a dress-to-impress event, where a venue is hired out, food is served and everyone has a great time dancing in their finery and taking pictures. My prom wasn't a disaster, but it wasn't perfect either. Instead of having a sit-down meal, as most do at prom, we had a buffet, mostly consisting of finger food. The venue was decent enough, it was a nice little secluded place in Upminster with a beautiful garden, perfect scenery for taking pictures.
The new building felt like a prison
The new building was tasked with fitting everything from the old building into what looked like a finite space at the time. It did manage to house most of the classes under one roof. The school was now an open plan, yet segregated cluster of rooms, numbered 001, 002 and onwards…it sort of felt like cell-blocks in a prison.
The cafe
There was a glimmer of hope. Next to the now 'all glass' walled library, there was a modest little cafe which sold cookies, sausage rolls, coffee, tea, sandwiches, canned drinks and other treats. This was the new place to get some lunch or a snack, and it was limited to Sixth Formers and teachers – pretty exclusive.