Every reason why Canterbury needs Diwali
In a town where street lighting is somewhat scarce, Diwali might be the best thing ever
For some of us, October means going down to the fireworks shop and stocking up on gunpowder to assuage the inner-pyromaniac. Tea candles are lit and beautiful rangoli patterns are drawn outside the front door and enough food is made to pass around to your whole street. This is Diwali, the festival of lights.
I'm from a British-Sikh family, and back home in West London, alongside the seasonal pumkins and creeping Christmas tinsel, Diwali is everywhere; from the multitude of Indian sweet shops with lights and paper decorations in their windows, to Tesco dedicating two aisles to vegetable oil especially for the festivities.
Here in Canterbury, shops windows are currently full of capes, cat suits, devil horns etc. Greggs is selling cupcakes with a blob of icing that looks like a friendly apparition and the shop window of Third Eye looks even more bizarre than usual. Of course, it's Halloween. Club nights are dedicated to it, with Chemistry promising razor blade swallowing, a snake show and straight jacket escape. But, does this mean that there's no space left for the humble diva lamp?
Diwali is celebrated by Hindus, Sikhs and Jain around the world.
In a town where street lighting is somewhat scarce, Diwali might be the best thing ever. To be honest, if everyone did just light up the pavements once in a while with candles, we'd all get home from Cuban without draining our phones on the flashlight to reveal where the curb ends.
Celebrating Diwali in Hales Place during second year is one of my best experiences of the city. Matches strike conversation. Everyone stands in awe over a single fountain firework that looks like a cactus of lit gunpowder.
And once the rockets come out, so do people. This means you won't get anyone flaking on your event.
The neighbours stepped out of their doors to watch in curiosity. And although some people mysteriously disappeared once the police car pulled up (chill, I was told to have a good evening), this DIY attitude to pyrotechnics is what makes Diwali special.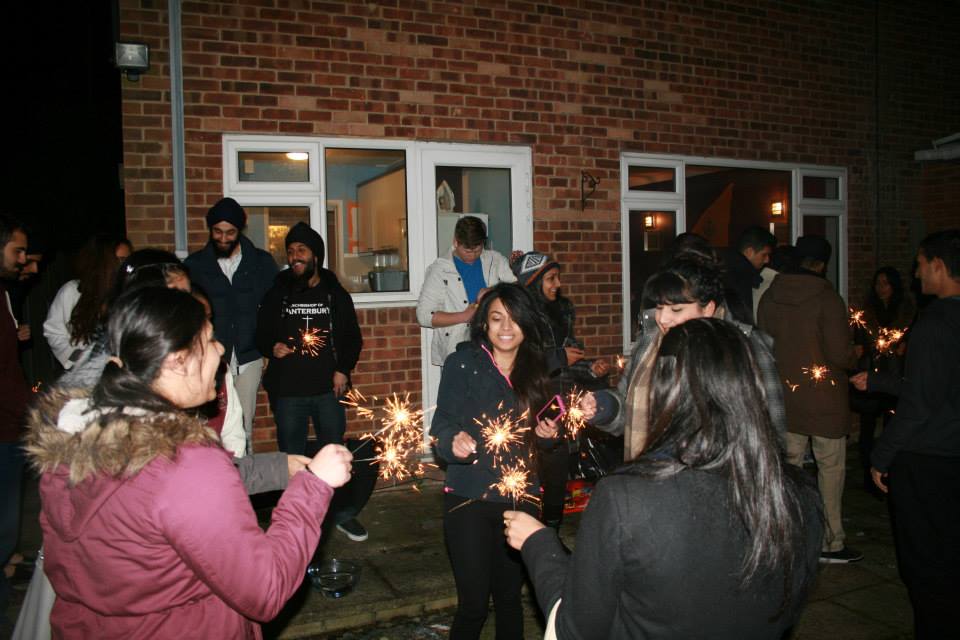 Who's ever said no to an evening of alcohol and food? Indian finger food and sweets are amazing, just maybe not for your waistline. Canterbury is one of the best places to celebrate food and the best thing about Diwali is that your night doesn't have to end waiting at Ocakbasi for your chicken doner to be ready.
It might even encourage you to cook. You could have a Diwali dinner? That is, as long as you have friends who are willing to put their lives on the line for your lamb rogan josh.
Canterbury loves to dress up. Have you ever seen those strange ladies dressed as medieval housewives with their aprons re-enacting in the middle of Canterbury high street? Diwali is a good excuse to get imaginative. Not quite in the same way as Halloween because you'd look like a nutter, but anything bright, mildly garish, and sparkly will do.
Moreover, you also get to take the cushiest of baths. This is a holy tradition that involves bathing in the morning the next day as a spiritual cleanse. It uses scented oils and soaps, pastes made from spices and gram flour and scented soaps at the end, before putting on some clean new clothes. It's the best hangover cure in the world, so instead of gorging on a maccie's, why don't you expose yourself to a soothing world of sandalwood and tea tree oil?
Not to mention, The Times of India once said, spicy food needs to be on the menu if "you want some real action between the sheets tonight".
Don't believe it? The land of spices is also the land of the karma sutra – coincidence? I think not.