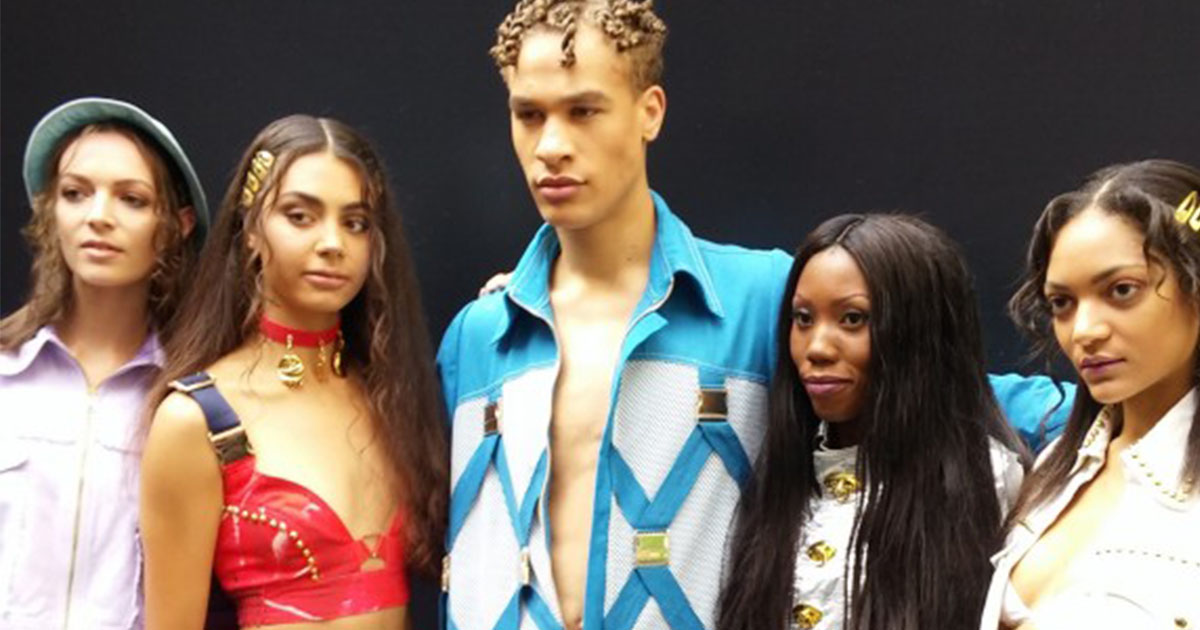 We asked people at London Fashion Week to describe their aesthetic
'I guess my style aesthetic is free spirited'
national
London Fashion Week is a hugely intimidating place. It's full of dressed up people prancing around begging to be photographed, by anyone that will have them. So, we wondered the streets of Piccadilly asking these fashionistas to "describe their aesthetic."
Alaqyane Blair, from Nottingham
"I'm a fashion design student at Central Saint Martins. It's a difficult one, but I'd describe my style aesthetic as, hmm… genderless."
Alaqyane doesn't have Instagram or Twitter, so god knows what he gets up to on his days off when he's not wearing all black everything. He also wins the prize for best adjective.
Obsure Rebellion, from London
Obscure Rebellion does what it says on the tin, both obscure and, uh, rebellious. That is if you can call fabric pool sliders rebellious.  The designer (second from right) said: "we aim to create clothing that goes beyond the realms of superficiality and creates a platform where people are empowered and free to explore their true self."
Paris Tsang, Photography student from London 
"Today I'm wearing Moschino and Vivienne Westwood, and today I'd describe my style aesthetic as floral. Here's my card."
Paris has over 5,000 Instagram followers and writes about himself in the third person.
Pip Jolley, Blogger and Tara Scott, Designer 
Pip: "I'm Pip, spelt P-I-P, Jolley and this is Tara. I'm actually wearing a blouse from Tara's own label, Tara Starlet."
Tara: " I would describe Tara Starlet's style aesthetic as retro; we make clothes for intelligent and beautiful women."
Remario Chevoy, model and dance teacher from Nottingham 
"I've been to London Fashion Week many times, I'm a bit of a veteran. Today, I'm wearing pants from Charlotte McDonald, a jumper from WAY, and Doc Martins. I'm not a fan of spending large sums of money, and charity shops are like my goldmine, so I guess I'd describe my style aesthetic as vintage."