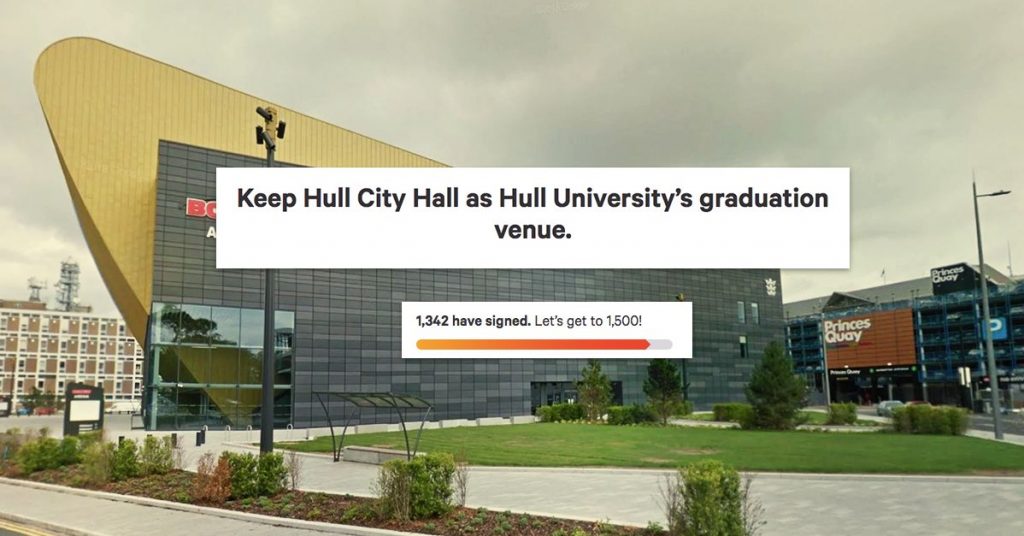 Petition to stop graduation venue move hits 1,000 signatures in 12 hours
Students clearly oppose the decision
A Change.org petition created following The Hull Tab's reporting yesterday that the University of Hull is to move the graduation ceremony venue accrued over 1,000 signatures in less than 12 hours, now standing at 1,400 supporters.
The petition, called 'Keep Hull City Hall as Hull University's graduation venue', was created by student Sadie Sørensen who wrote the move "marks a change from a historic, beautiful location to one with no history and a view of a derelict nightclub".
Sadie argues that the university should have put the move to a vote before making the decision to change, and calls on the university to "take heed of the backlash of this decision and make a return to the historic venue."
In a statement to The Hull Tab, the university said: "The decision to look for an alternative venue is a result of graduates' feedback.
"We will be trialling a new venue for the summer 2019 ceremonies, the Bonus Arena. The Bonus Arena is a fabulous venue which will enable us to take the graduation experience to another level and provide the type of special event our graduands and their guests deserve.
"Facilities available to us at this newly built venue will allow us to address a number of issues raised by former graduands, including improved access for students and guests with additional requirements, increased capacity, and gowning, photography and ceremony all under one roof."
Talking to The Hull Tab, the creator of the petition Sadie Sørensen reiterated her anger that the move went ahead without a vote by the student body.
She further suggests that given the University have claimed the Bonus Arena is costing more to hire out than City Hall does, "why not book City Hall out for longer using this extra cash? This would allow graduations to be more spread out allowing for more tickets without compromising the venue."
She went onto express how amazed she has been my the petition's popularity and she is doing everything she can "to use it in the right way to make sure we all get the graduations we deserve after 3+ years of hard work!".
The petition has also garnered over 60 comments for supporters, explaining their reasons for signing. Amelia Pagliaro said: "I would like to graduate in a beautiful and historic building of Hull, not somewhere with no cultural significance to this city. I'm shocked and saddened to hear of this change".
Caroline Freeman wrote: "It feels like the university are cost cutting, but disguising this with putting 'more seats on sale' and everything being in one place. Like most students, I wouldn't mind a little walk to retrieve my cap and gown, if it meant the ceremony was being held in a proper place".
Chloe Baker expressed: "As a History student I have spent the past three years of my life loving the historic side of Hull, the fact that the university didn't even think to ask this years students what they wanted to do is disrespectful to them, considering it is their graduation".
The petition can be viewed here.