Hull to reconsider naming lecture theatre after BBC presenter who said trans women aren't 'real women'
Students are protesting as she comes to the uni tonight
transgender
The University of Hull have been accused of transphobia and "disregard towards their student population" for the decision to name a lecture theatre after a BBC presenter who wrote that trans women aren't "real women".
Protests have taken place as Hull plans to name six newly-refurbished lecture theatres after Jenni Murray, presenter of BBC Radio 4's Woman's Hour, and five other notable female alumni. The uni is holding a "Women in Leadership" event tonight, featuring "inspirational graduates" including Mrs Murray.
The decision has sparked condemnation, with Hull University Union telling The Hull Tab they oppose the naming and no longer support the event, but think Murray's views should be debated and challenged.
In response to the row, the university have told The Hull Tab they will be reviewing the decision to name the lecture theatre after Murray.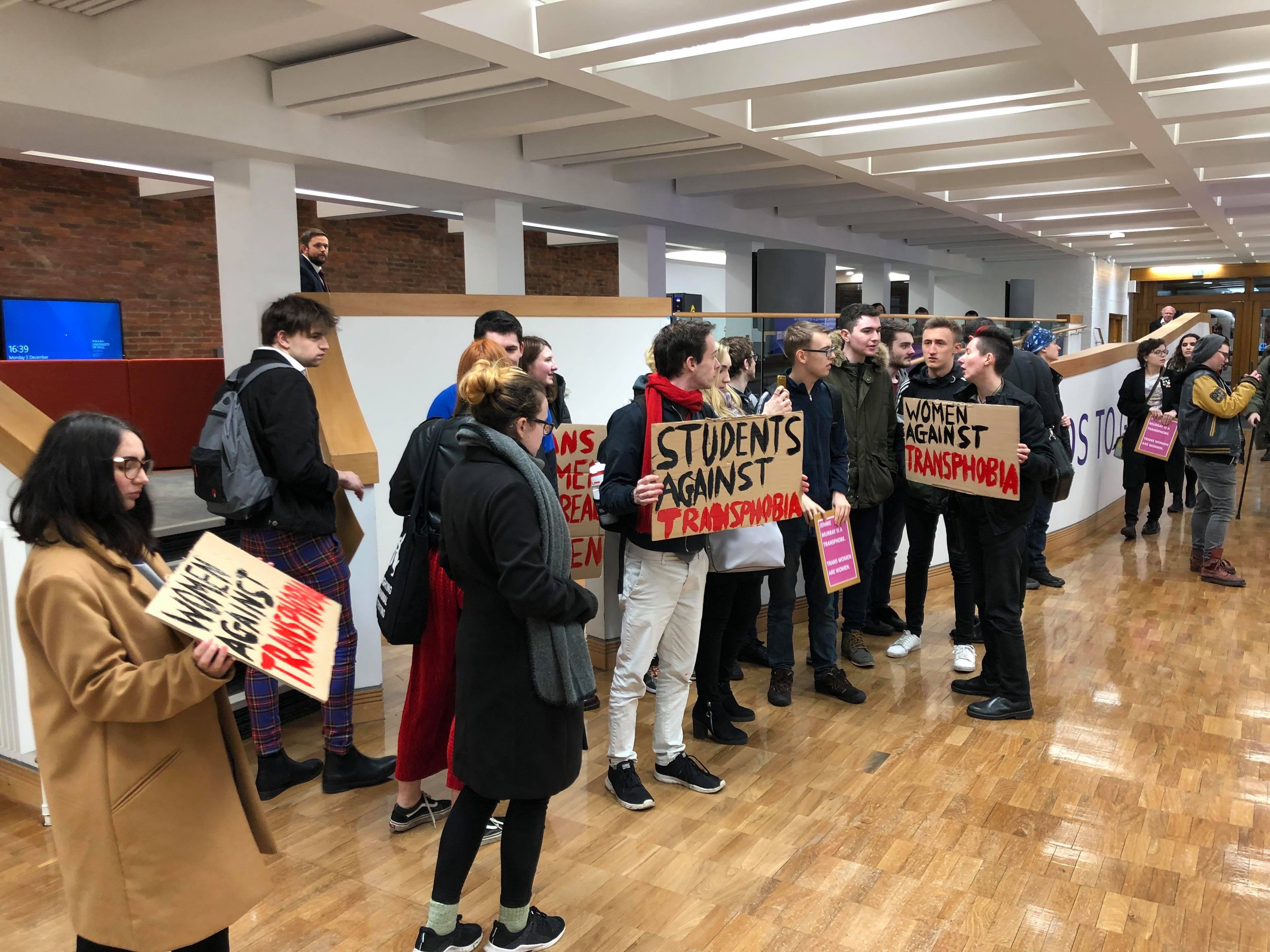 Last year, Murray wrote an article in the Sunday Times Magazine under the heading "Jenni Murray: Be trans, be proud – but don't call yourself a 'real woman'", going onto say: "Can someone who has lived as a man, with all the privilege that entails, really lay claim to womanhood? It takes more than a sex change and makeup." The article led to Murray being accused of questioning trans people's identity, with students at Sheffield uni picketing a university-sponsored event Murray spoke at, and a similar protest took place at Oxford.
In the article, however, Murray also states "I am not transphobic or anti-trans," and that "I firmly believe that transsexuals, transvestites, gays, lesbians and those of us who hold to the sex and sexual preference assumed at birth should be treated with respect and protected from the bullying and violence so many of us have suffered."
The article argues that trans women aren't as well-versed in sexual politics and feminism, and calls the issue "the most controversial and, at times, vicious, vulgar and threatening debate of our day."
Jess Clunan, who is Chair of the Union Council and a transgender student at the university, told The Hull Tab the university's decision had "legitimised the current thread of hatred for trans people in Britain, which emerged around the Gender Recognition Act consultation.
"By not only inviting a speaker, who has been outspoken in the belief that trans women aren't women, to speak at an event where she is framed as a role model to women, but also to give her the honour of having a lecture theatre named after her, the uni have shown a disregard towards their student population."
Clunan's complaint on Twitter caused a backlash from users who resorted to transphobic slurs against her. Ex-Hull University Union VP of Education Salman Anwar tweeted in support of Mrs Clunan, writing "Christ, I'm so sorry about all the horrible replies".
The hateful replies to Miss Clunan – which The Hull Tab will not be broadcasting in this article – appear to have mostly come from trans-exclusionary radical feminists (often labelled as TERFs) who were directed to the Tweet via a post on Mumsnet.
More palatable insults included Clunan being labelled a "pathetic snowflake" by a Twitter user whose profile picture shows a middle finger inside the ring of stars on the EU flag.
Get a grip! If you cannot cope with the lecture theatre being named after someone with whom you disagreed, stay at home wrapped in cotton wool. Pathetic snowflake.

— Gradgrind (@ThomGradgrind) November 30, 2018
In a statement to The Hull Tab – released with "the support and inclusion of Jess Clunan" – HUU have said they stand with the University's "trans students and the wider trans community in their right to identify however they wish. Trans women are women. Trans men are men. Trans rights are human rights."
Further, HUU have said they "oppose the naming of a lecture theatre after Jenni Murray and will no longer be supporting the event this evening. We do not believe that someone who holds these views should be presented as role model to students and are disappointed that despite being aware of Jenni's published views and our stance, the University are continuing with the naming event… we have all signed a motion to oppose the naming of the lecture theatre which has been submitted by a student to Union Council.
"We will be actively lobbying the University to reverse their decision."
However HUU stopped short of calling for tonight's Women in Leadership event to be cancelled as they believe that "Jenni Murray's views should be debated and challenged. We support the aims of this event and believe in championing our fantastic Alumnae".
A University of Hull spokesperson told The Hull Tab: "The University has chosen to name six lecture theatres after women alumni who have achieved great success in their careers. The decision to name a lecture theatre after Dame Jenni Murray was made some time ago, in recognition of her distinguished career as a broadcaster and journalist.
"In recent days, some of our staff and students have expressed concern about this decision, particularly in light of comments made by Dame Jenni in 2017 in relation to transgender issues.
"As a University striving to accelerate our equality, diversity and inclusion agenda, we will take these views into account.
"Over coming days, we will be inviting further feedback from our wider staff and student population which will then allow us to comprehensively review the decision to name the lecture theatre after Dame Jenni.
"Tonight's event is designed to hear inspirational women talk about their experience of leadership in their diverse careers, the challenges they have faced and what advice they would give to young women entering the workplace now."
Erin Sharpe, the Treasurer of Hull University Union's Women's Committee, announced that she has brought the situation to the attention of the rest of the Women's Committee, who are "trying to do everything we can to stop this from happening", further denouncing Mrs Murray's participation in Monday's Women in Leadership event as "disgusting".
The University also plans on naming lecture theatres after other "inspirational" female graduates, including comedian, broadcaster and political commentator, Ayesha Hazarika MBE; Court of Appeal-Lady Justice of Appeal, The Rt Hon Lady Justice Eleanor King DBE; and Artistic Director of the Kiln Theatre, Indhu Rubasingham MBE.
The Hull Tab has reached out to Jenni Murray and her representatives.