GUCFS announce 'YOUTH' as theme for this year's fashion show
We ask the creative team why you should buy tickets
On Friday Glasgow University Charity Fashion Show announced the theme for the 22/23 campaign 'YOUTH'.
They also announced the date for this year's show on the 17th and 18th of February 2023, which is in collaboration with Glasgow and Clyde Rape Crisis.
The charity provides advice and support to survivors affected by rape and sexual violence in the Glasgow and Clyde area.
Last year GUCFS raised over £40,000 for Glasgow charity Refuweegee.
Tiarna Meehan, Creative Director of GUCFS and Eve McMahon, Creative Assistant are just two of the students who are working hard to make the event possible. They spoke to the Tab about their vision for the event and why we should be buying a ticket this year:
 What is the theme for GUCFS this year and why did you choose it?
Tiarna: The theme for GUCFS 22/23 is YOUTH. It came from my observation of how cuter aesthetics proliferated into the mainstream post-pandemic. Yet however cute and colourful these aesthetics may be, they are often intertwined with more haunting undertones. This duality is something that I hope to achieve within YOUTH: a cute and playful campaign juxtaposed with a youthful nihilism.
For me, one particularly important aspect of YOUTH is the loss and rediscovery of identity, something I've experienced myself growing up working class, but then adapting to operate in an overtly middle class surrounding. It's a notion that is only amplified for many students navigating the straight white dominated space of the University of Glasgow. Although the campaign is localised here in Glasgow, it's with the hope that the theme will evolve as the team and models collate their own individual experiences into the singular, YOUTH.
Eve: YOUTH to me is sentimental, it's drinking Lambrini in a park thinking you're the shit. It's about physical and mental growth, being able to look back upon things you did with people who you've since left behind.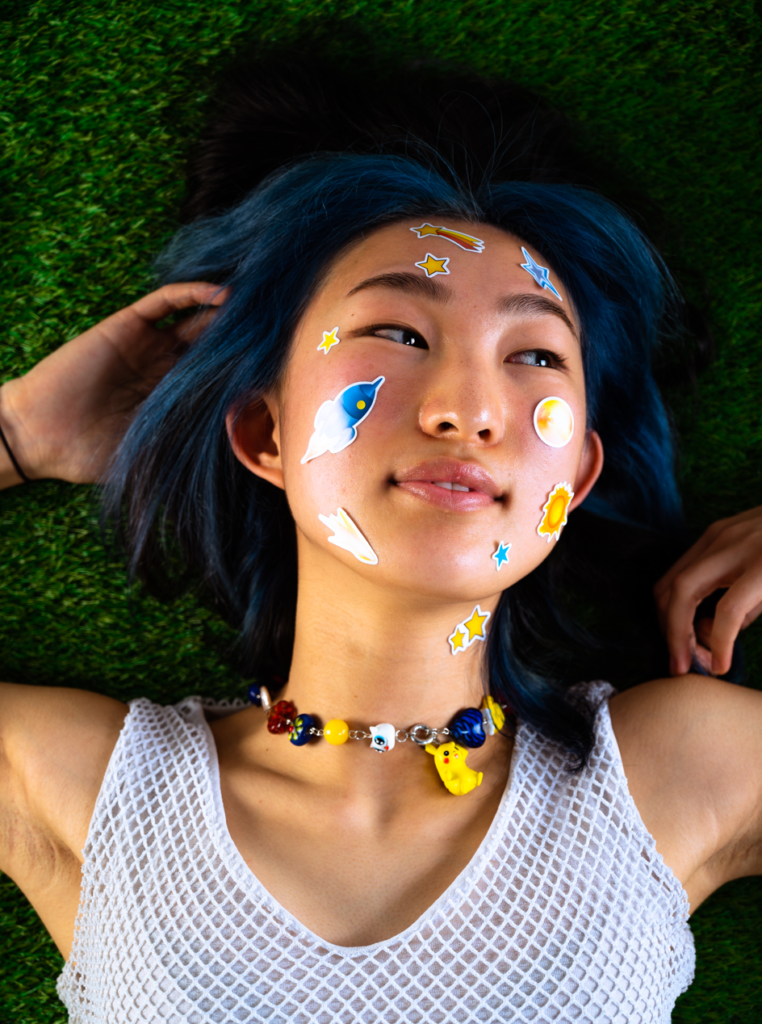 What ideas do you have for GUCFS this year?
Tiarna: In line with the theme, the shoot locations this year are all places communicative of YOUTH.
Aside from that, I'm keen to collaborate with and platform underrepresented creatives within the industry. The Glasgow creative scene is winning right now so I'm excited to explore it further.
That's all I can say for now without giving too much away!
Tell us a bit about the charitable aspect of the show
Tiarna: This year we are fundraising for Glasgow and Clyde Rape Crisis, an incredibly important charity. Alongside the work of our events team, sponsorships and the show itself, each member of the committee and the models also front their own individual fundraiser. Mine was a hardcore club night, YOUTH CLUB, back in November.
Why should people buy tickets?
Eve: So many reasons! GUCFS itself is student founded, student ran and student maintained.
Every penny goes towards the charity we have chosen this year – Glasgow and Clyde Rape Crisis, so to know that your money is going towards something so important and so permanent is a wonderful feeling.
Buy tickets to support your friends and peers. This is a nerve-wracking and amazing display of student talent and shows what we as a collective can achieve for such an invaluable charity. The show is a really fun night. It's a bunch of people coming together to celebrate some amazing things!
Tiarna: It's FUN. It's for charity.
VIP tickets go on sale on the 7th of December at 7pm. Tickets are £45 each and include:
Cloakroom

The official pre-party

Drinks package of 5 drinks worth £20pp

Live entertainment

VIP area

Party bag

YOUTH, the show

Exclusive GUCFS after party
General sale tickets will be on sale on the 16th of January. Profits from ticket sales will be donated to Glasgow and Clyde Rape Crisis. Their services exist to support, empower, and seek justice for survivors. They also work to reduce the impact of sexual violence, challenge oppression and identify barriers to equality.
Watch the full YOUTH reveal video here.
GUCFS encourage people to follow their Facebook and Instagram to hear about upcoming announcements and events.
Related stories recommended by this author: