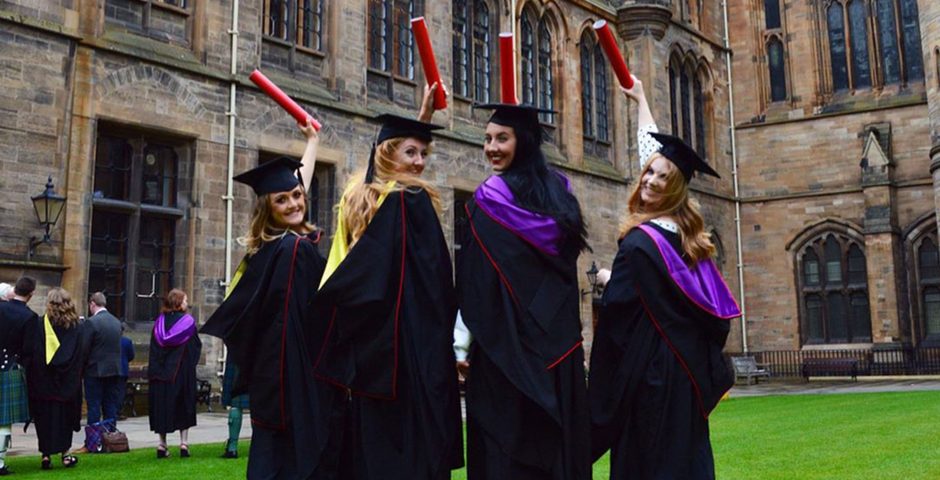 Here's everything that happened at Glasgow Uni in 2019
Remember when everyone got mumps?
With another year coming to a close, it's time to take a look back at the biggest stories this year.
From bomb scares to outrageous queue tickets, 2019 has been a year full of unforgettable moments and memories.
GUCFS raised £34,130 for Simon Community Scotland
At the start of the year, the Glasgow University Charity Fashion Show raised a staggering total of £34,130, which made them the biggest fundraising organisation on campus. All proceeds went towards Simon Community Scotland and the main bulk of the figure came from their FLVX fashion show event back in February.
Glasgow campus was evacuated due to a bomb threat
Nine months ago, all classes in numerous buildings were cancelled when a suspicious package was found in the Glasgow University mailroom. Emergency services were on the scene immediately and a controlled explosion was carried out by a bomb squad. This happened after a number of explosive devices were found the day before in London, at Waterloo train station and Heathrow airport.
The GUSA President was re-elected for a second year
Paddy Everingham was re-elected as GUSA President in March this year, beating his opponents Louise O'Neill and Shereif Kholeif. This was the first GUSA election in history that saw three candidates run for the position of president.
GlasKnow was born on Facebook (twice)
In March, Glasgow University students finally created their own confessions page for anyone to submit anonymous truths, memes and queries. However, the page was shut down after a few weeks due to controversial and offensive posts. The second confessions page, GlasHoe, was quickly transformed into GlasKnow 2.0. It currently has over 8,600 followers.
There was a Mumps outbreak
In April 2019, a number of reported cases of the viral epidemic spread rapidly around Glasgow University. The outbreak occurred during the exam season and multiple students had to be treated as they had not been properly vaccinated.
Glasgow University was ranked 14th best in the UK
In June 2019, Glasgow University managed to rise above Edinburgh in the Guardian's 2020 university league tables. The university moved up ten places since 2018, when it was ranked 24th. Glasgow University was also ranked 2nd best in Scotland, beating Edinburgh, Aberdeen and Strathclyde.
Iyaz came to Glasgow during Freshers Week
September 17th 2019 at the GUU was the place to be seen. Freshers Week delivered some of the best acts on campus and Iyaz performing was one not to miss. With bangers such as Solo and Replay, hundreds of students flooded the Debates Chamber to catch a glimpse of the star.
The Glasgow University ski trip sold out in 5 minutes
The annual trip, this year going to Les Arc resort in January 2020, sold out in a record-breaking five minutes. 600 students will be hitting the slopes in France, making it the biggest ski trip the Ski and Snowboard Club has ever organised.
GUCFS Jailbreak was the most successful one yet
The annual charity event saw 9 teams attempt to get as far away from Glasgow University as possible. Nóirín & Noemie were the winning team, travelling a staggering 3693km to Cyprus and setting a new GUCFS Jailbreak record for the furthest distance travelled ever.
Four sexual assaults happened in the West End
A series of sex attacks occurred in the West End in October this year. The University Glasgow is reportedly increasing security following the incidents and improving the lighting on campus. A spokesperson for the university told The Glasgow Tab the reported incidents "were not within the campus area," and Police Scotland have since charged a man in connection with three of these assaults.
The Daft Friday queue was the most ridiculous one yet
The Daft Friday queue this year was crazier than ever, with students beginning to queue outside the Union at 12am with deckchairs, tents and even a sofa. However, despite people waiting for up to 9 hours, tickets didn't even sell out on the day and the GUU sold the last remaining tickets on a flash sale.
Lecturer strikes hit Glasgow (again)
Following on from last year's strikes, lecturers across the UK went on strike for a second time in November to protest about the pension plan set for them by the government. While last year's protests were initially meant to happen as a one off, no progress had been made and numerous staff members went on strike for up to two weeks again.
This resulted in lectures, dissertation meetings and academic services being cancelled.
The Rugby Club's 150th Anniversary speeches sparked controversy
The 150th Anniversary Rugby Club Dinner on Saturday 16th November was an eventful night due to 'racist' and 'sexist' comments made by the speakers. A student present at the dinner told The Glasgow Tab: "I don't think anyone in the audience was enjoying the speeches. Nobody was laughing – everyone was just shocked." Both clubs posted a full apology on their Facebook pages.
The Daft Friday 2019 theme was Roald Dahl
The annual Daft Friday Ball, commonly referred to as D*** F*****, celebrated it's 111th year this December and was the place to be seen. The Roald Dahl inspired theme was the perfect backdrop to a fabulous evening, with highlights including a headphone disco, an ABBA tribute band, karaoke, laser tag, a ball pit and the headline performers Becky Hill and DJ Tom Zanetti.
Thank you too everyone who made this year as weird and wonderful as it was! Here's to 2020 being another great year at the University of Glasgow.
Image Credit:
Facebook The Glasgow Guardian (@glasgowguardian)
Facebook Glasgow University Union (GUU) (@GUUnion)
Facebook Hive (@GUUHive)