What you'll miss most about Glasgow on your year abroad
According to people who've already done it
There's no place on earth quite like Glasgow. And if you've been studying here for a few years already, you'll know that for sure.
But the time comes for a lot of students when they must flee the comfort of their baltic Glasgow tenements and forge their path a bit further afield. Also known as: the year abroad.
If you're one of those students, boy, do we have a treat for you. We know not everyone likes surprises so we've spoken to a few veterans who've already been there and done that, to give you the lowdown on life abroad and what you'll miss most about the land of rain and Bucky.
Don't say we're not good to you.
 Alison, 4th year, Nova Scotia, Canada
If you're a fan of lobster, then Halifax is the place to go – it's notorious for it. Also, in March they have 'burger week', when all the restaurants do a really good, really cheap burger; you can get a burger passport where you can stamp off all the ones you've tried.
The lifestyle is a lot different to Glasgow – much more chilled and laid back.
There wasn't a language barrier but I definitely had to get used to some Canadian slang. For instance, a two dollar coin is a 'toonie' and a one dollar a 'loonie'. But the locals couldn't have been any friendlier and they were all keen to help me pick up the ways of a Nova Scotian.
I probably missed the sense of humour of Glaswegians the most. But I guess there's nowhere in the world where you can have quite the same laugh as you do in Glasgow.
TOP TIP: Bring lots of layers for the winter.
Joe, 4th year, Alabama, USA 
 There is a whole range of different food in the South of America. Greek life (the sororities and fraternities) have weekly 'Fried Fridays'. This is exactly what it says on the tin: every type of food under the sun deep-fried – it's quite an experience! In the Spring semester, a lot of fraternities hold crawfish boils. This involves getting three or four tables in front of their houses and stacking them high with crawfish – a culinary delight.
Glasgow was definitely different, both socially and academically. American Football is the centre of attention and game days were incredible! Friends of the University of Alabama, alumni, students, teachers and everyone in between would flock to Tuscaloosa on game day, with cook-outs, music and beer. Then you had the Greek Life, with the University of Alabama having one of the biggest Greek scenes in the US, you quickly came to grips with the in's and out's.
There obviously wasn't a language barrier in America but you'd be surprised at the number of times I got asked what language we speak in Scotland … I'm not joking.
The thing I missed most about Glasgow was definitely the people. People Make Glasgow. Enough said.
TOP TIP: It's America! It's one of the most diverse places on Earth, so if you don't find something you don't like straight away, don't give up. There is something for everyone.
Sinead, 4th year, Sydney, Australia
Sydney-siders spend the majority of their time at the beach, showing off their rock-hard abs and amazing figures. This has definitely affected their attitude towards food as every second restaurant in the city centre specialises in gluten free or vegan delicacies; it's pretty different to Glasgow's love for deep fried Mars bars and a pizza crunch.
It's safe to say that Glasgow and Sydney have a lot of similarities. Both cities have great bars, nightclubs, quirky cafes and restaurants. However, Sydney had just introduced their "Lock -Out Laws" when I arrived which put a severe restriction on the nightlife scene. The laws include no shots or double measures after midnight and no entry to a club after 1am, not even if you've been out for a smoke. I can't imagine the people of Glasgow being too pleased if these laws were implemented here.
Without a doubt, I would have to say I missed my friends the most. I met some incredible people when I was away, but none of them compare to the pals I left behind in Glasgow.
TOP TIP: Wear sunscreen! No matter how much you love the sun beds or how tanned you looked on your holiday to Zante in 2012, please remember that Australia has essentially no O-Zone layer and burning to the point of blistering is not a good look for anyone – I had to learn that the hard way. If you are ever in need of medical attention in Australia you can find all of the answers you need here.
Rosie, 4th year, Toulouse, France
Food in Toulouse was amazing – they're famous for amazing duck and "saucisse de Toulouse" (basically delicious sausages). Then, there's the cheese and the bread. In your average supermarket there'll be at least a full aisle and a half dedicated to cheese, and a baguette will cos around 40p.
Toulouse has a pretty relaxed vibe in general, and a whole lot more sunshine adds to a great culture of eating outside and just taking your time a bit more in general. There is more of a "nice bar which happens to have a dance floor" scene than big clubs and you can meet people by just buying a 2€ bottle of wine and heading down to the banks of the river.
There's a clear language barrier and it definitely helped that I had studied French; it's not a particularly touristy place so, for example, there aren't usually menus in English and most people in shops won't naturally switch to English at the first sign of a faltering accent.
The whole campus life thing which is great at Glasgow is missing over there. I didn't find this to be a drawback but it did make me really appreciate it and want to get more involved when I came back home.
TOP TIP: Photocopy every document about yourself you've ever had (birth certificate, student status, passport). You can find information about the documents you'll need here.
Anna, 4th year, Milan, Italy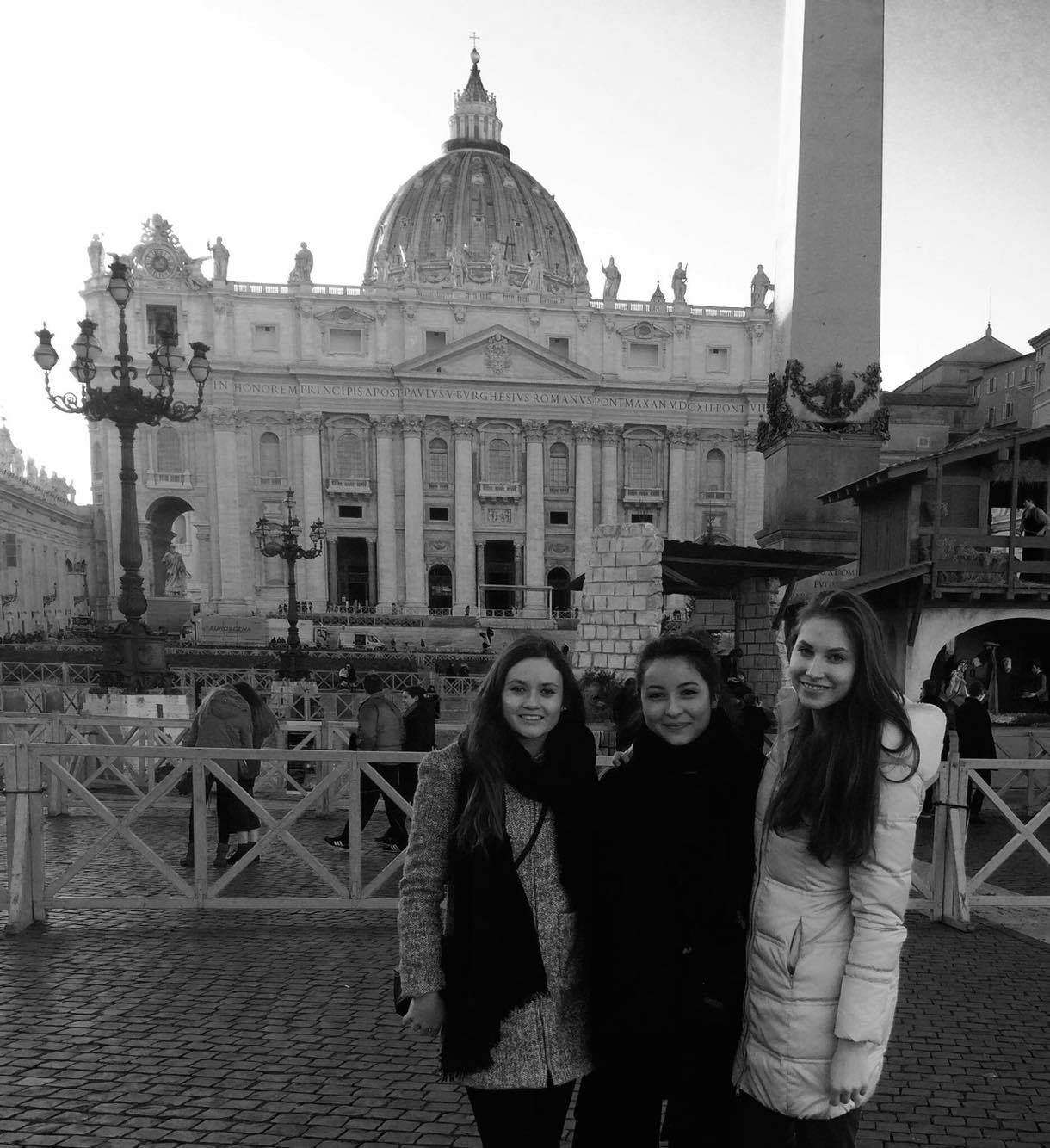 I tried so many foods for the first time and all of it was so delicious. I ate the most amazing Italian food – Glasgow's deep fried pizza just doesn't quite compare to the real thing.
Italians are very relaxed and it came as a bit of a culture shock when I first arrived, but you just need to learn to adapt. It's nice to totally immerse yourself in a different culture and learn their ways of living.
I didn't speak any Italian when I arrived in Milan, so there was definitely a language barrier. It was a great opportunity to learn a new language, and all of the exchange students communicated in English so it was still really easy to meet people and make friends.
I was so busy that I didn't really have time to miss anything! Mostly I missed my family and friends, and it was great to come home at Christmas time to see everyone.
TOP TIP: Don't be afraid to step out of your comfort zone, and always be open to trying new things.
David, 4th year, Rotterdam, the Netherlands
I have to say I much prefer the food in Glasgow, which may be surprising. I love going for a traditional pub dinner, and I am a massive fan of haggis. Plus, Dutch food is pretty weird in general, with one exception – a Kapsalon. It's loads of kebab meat, chips, salad, and garlic sauce all in a big box. Sounds awful but it is incredible.
The Dutch lifestyle is fantastic. It is so relaxed, everyone is chilled out all the time and so positive as well. Not to mention the fact that everyone cycles everywhere, which I really enjoyed. It was definitely a laugh cycling to and from the club on nights out.
The locals in Holland are really friendly. The Dutch way of interacting is very direct, not like the overly-polite British, but you get used to that quickly. As for the language, I didn't understand a word of Dutch but that was not a problem at all. Pretty much everyone speaks perfect English and it can be easy to forget you are in another country at times.
I missed the Scottish banter. There is definitely a unique way we rip into each other which doesn't really translate as well in Europe, especially given the fact that people found it really hard to understand my accent.
TOP TIP: Buy a bike straight away. It is hands down the best way to travel.