Meet the GUCFS 2016 committee
They're trying to tackle the stigma around mental health
It's a new semester and Glasgow University Charity Fashion Show is back with a bang.
Members of the GUCFS committee already participated in a skydive this summer which raised £2000 for SAMH, and they have many more ideas up their sleeves to raise even more for the mental health charity.
We chatted to some of the key committee members at their Open Model Casting to find out why they're so passionate about GUCFS.
Autumn Withey-Stevens – President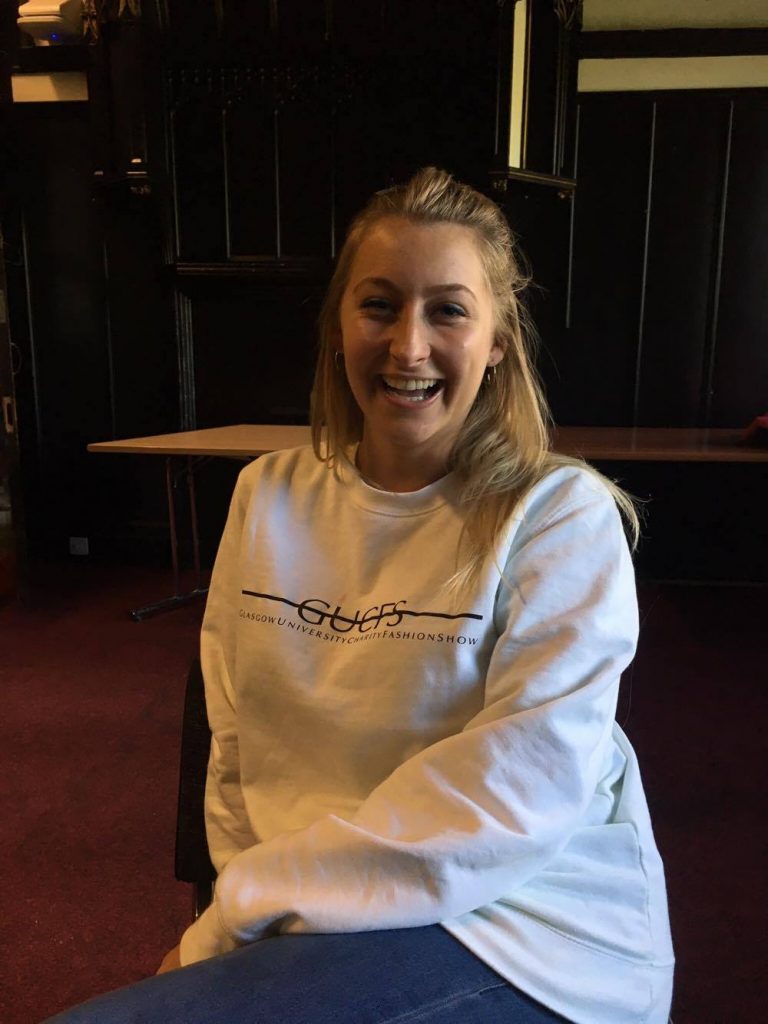 "I was in the PR team in my first year with GUCFS, then Head of Marketing in my second. I knew of other well-established charity fashion shows, like the St Andrews one – it's such a fun concept to witness and take part in. I wanted to join for the charity as I'm not too much of a fashionista. Straight away I loved being involved and was properly interested in the cause. I can't believe I got the President position.
"This year's show, Horizon, is named aptly because it ties in with mental health. The first fashion show was After Dark so it's nice that it ties in with that too. I'm excited to see the space transformed – that's probably the most fun part for me. It's always so professional and I love turning up on the night and seeing it come together.
"GUCFS 2016 is mainly about raising awareness for SAMH, our chosen charity. I believe we could do more for mental health charities as a collective student body. If, after this year, I could say GUCFS has changed the way people think about mental health that would be amazing."
David Philpott – Director of Marketing
"This is my first year in GUCFS. I joined because it's the only society which helps a cause, but I'm also interested in fashion and marketing.
"My job entails a lot of social media and PR – it's about finding new ways to put ourselves out there and promote SAMH. There are three other people in the GUCFS marketing team so I'm looking forward to what we can come up with as a group.
"I'm looking forward to working with the charity the most, though. We all know someone that has been influenced by mental health problems. Our job is to try and get rid of the stigma. World Mental Health awareness day is 10th October and we're going to be hosting a week of events to open up the mental health conversation. I'm also excited to see how the Horizon theme develops and about the videos we're putting out – we have a separate videographer to create a big social media buzz."
Lucy Garvie – Finance Director
"My job is to look after sponsorship, accounts, fundraising and legal aspects – all the paperwork. I was a model in last year's show so I'm excited to be on the committee this year. I participated in the fashion show at school and enjoy events and projects – and especially raising money for charity. It's fun seeing the end result and seeing the show unfold."
Lauren Tucker – Creative Director
"I was on the GUCFS committee for model management last year and was always going to carry on. I loved everyone I met and it was just so fun. I made good friends with the models because I had to be at the rehearsals.
"This year my job is to do with all the creative aspects – we have a creative team of about six and we manage all the photoshoots, designing the mood boards, contacting photographers, make up and showcasing the designers. We try to use student photographers and our creative team contacts local designers. I'm excited about the show itself as it was so fun last year – it's stressful but once it's done everyone is so buzzed."
Jocelyn Gilmour – Vice President
"I'm one of the founding members of the fashion show and this is my third year. My flatmate asked me to help to start it up and I was all aboard. I remember the first show and thinking: "Oh my god, we actually pulled it off!" And then last year was even bigger and better than the first.
"My role this year is to help everyone out and saying what has worked before – even little things like booking the Williams room for the model castings. It's exciting to see people become friends and making one big group out of it.
"I did the skydive for SAMH and one of the reasons was because a boy in my class at school committed suicide. I thought I could easily jump out of a plane compared to what he went through. That situation made me realise people really do need help and GUCFS is all about spreading awareness. I'm excited to see the models backstage so proud of themselves and buzzing – it's nice to see."
Raphaella Gordon-Saker – Womenswear 
"I was a Brand Ambassador last year which made me want to be on the committee this time round. It's a responsibility but so rewarding to see it come together as the weeks go on. Throughout the summer we were emailing designers and there's a lot of rejection but we got some exciting people – some are Glasgow graduates or graduates from big art schools, probably people who are going to be major designers in the future.
"Myself and Eilidh [Tippen, Menswear, who couldn't attend the interview] wanted the clothes this year to be more of a spectacle rather than "wearable" items. We'll be helping to style the models and decide what clothes they wear which is exciting. Last year I was watching the show so this time it'll be nice to be behind it.
"I have a family member who's affected by mental health so it's something I'm passionate about. GUCFS try to incorporate SAMH into everything we do – there's so many fun ways to raise awareness. There was a Tab article recently saying Glasgow Uni is bad at dealing with mental health so we want to directly tackle this and raise awareness."