'We've had no news': Severe damage to Exeter student house 30m from bomb detonation site
'We were told we could return to take our stuff at our own risk since it's life threatening'
A group of Exeter second year students have been left with severe damage to their student house following the detonation of Exeter's World War Two bomb on Saturday night. 
The house is located roughly 30 metres from the site where the bomb was found last Friday morning. 
The students: Mathieu, Yves, Guillaume, Alessandro and Barnabe (@omeghouse), spoke to The Exeter Tab about their experience:
Mathieu told us: "We left on Friday at around 10am. A police officer came to tell us the bomb was 30 meters away from our house. We left without taking anything, but we came back during the afternoon as we heard the whole thing would last a couple of days.
"We'd been told that we could return to the house to take our stuff at our own risk since it was life threatening. The second time we have been to the house was after the explosion yesterday."
Returning to their house following the explosion, the group became aware of a significant amount of damage caused to the property. Mathieu told us: "We have no news from the landlord, we haven't received any email from uni, nor from the council. We have no clue when we can come back.
"For now we're just wandering from one place to another. The uni is not going to help us on this one because we're in a private accommodation. The council is supposed to find us a hotel but the one they chose is beside the airport which is not convenient at all.
"I'm being hosted by mates, some of my housemates decided to go at the airport to sleep in the hotel paid by the council".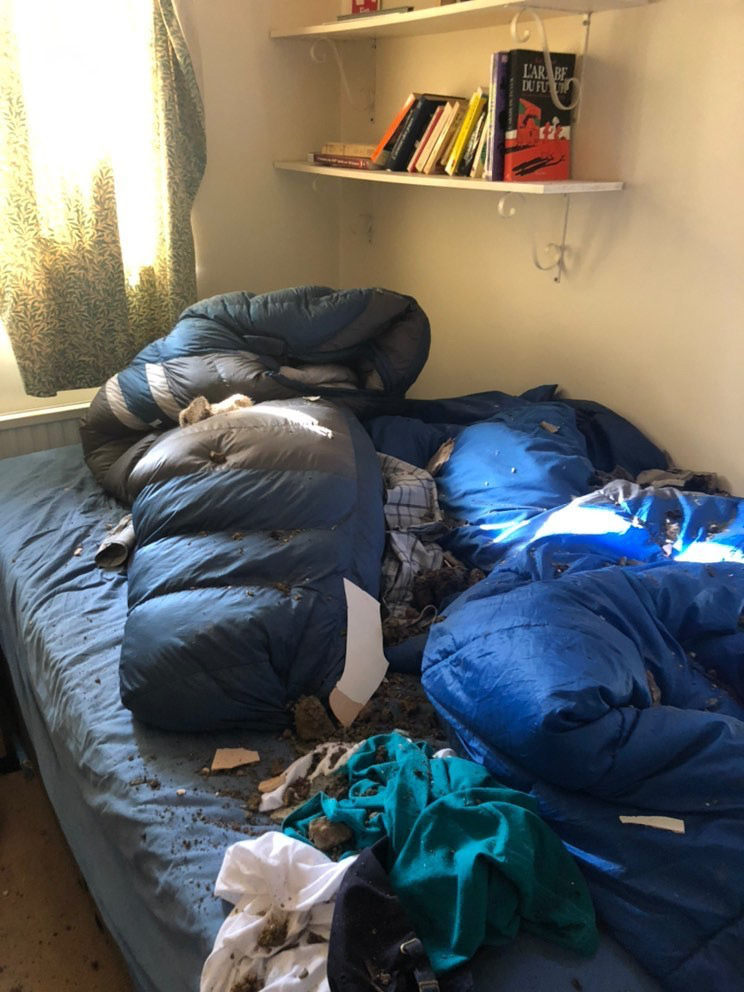 The students are prohibited from accessing their house fully due to the damage caused, but they have "been allowed to get in once to feed our chickens, which are still laying eggs. They were a bit traumatised when we arrived".
A similar fate has occurred for some of Exeter's first year students who are still unable to return to their halls of residence following damage caused by the detonation of the bomb.
According to Devon Live, other students and local residents have also been affected by the controlled explosion, such as students Amelia Luxton and Ella Robinson, who have also reported a lack of communication from the council. The students said they received a leaflet through their door at 11pm on Friday that said they had to be out the house by 9am the next day. They were given accommodation at a local Holiday Inn.
In an email to students yesterday, Vice Chancellor Lisa Roberts wrote: "We have been hugely impressed by our students' response to this unprecedented situation, and wanted to write to you all to say thank you for your patience, your resilience and your community spirit.
"We know that the disruptions cannot have been easy and we know that many of you will have had concerns about how the situation would be resolved. Indeed, for some of you, a return to your rooms has not yet been possible. Let us reassure you that we are working tirelessly to bring you back as soon as it is safe to do so.
"We want to pay tribute to our colleagues for the way they have responded, and also to our partners who worked alongside us in this multi-agency response, including Exeter City Council, Devon County Council, Devon and Cornwall Police and Public Health England. The British Army worked with great expertise to carry out the controlled detonation, and we would like to say a special thank you to the staff of the hotels in the city and beyond who were able to accommodate and look after so many students at such short notice, making a huge difference to our ability to support you".
In a statement given to The Tab Exeter on Saturday, an Exeter Uni spokesperson said: "A huge thank you to colleagues, volunteers and partners who have done extraordinary work over the past 24 hours to relocate around 1000 students to support the police and military deal with an unexploded World War 2 bomb.
"Thank you to our students for their patience and co-operation and we will continue to do everything we can to support our community."
• Exeter students evacuated as far as Taunton after World War Two bomb found