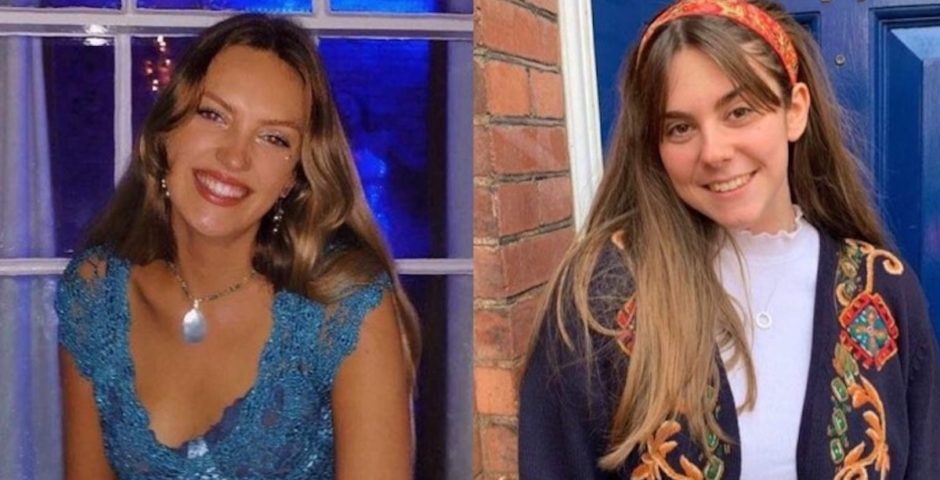 Charity shop and Depop queens: The sustainable edition of Looks in Lockdown
Sustainability is stylish: The best sustainable Looks in Lockdown in Exeter this week!
Welcome to the sustainable fashion edition of Looks in Lockdown in collaboration with Be the Change Society @sustainablefashion.exeter.
Before we get into our special edition, here's what Be the Change Society have to say about the importance of sustainable fashion:
"Sustainable fashion means reducing consumption, buying from second-hand stores and reworking clothes you (or your siblings) already own. There are so many ways to become more sustainable, most importantly reducing purchases from fast fashion brands."
Look, we all know fast fashion brands can have slightly dubious environmental and ethical policies, but there are loads of great sustainable alternatives. Be the Change Society said: "Charity shops provide an amazing alternative where clothing is cheap and helps instead of harms the environment. You will find so many fun and unique items that you'd never think to buy online making environmentally responsible and super fashionable all at the same time! 
"Our top tip for quitting fast fashion is to unfollow all fast fashion brands on Instagram and delete all the apps from your phone. This sounds like a simple solution but can really reduce mindless scrolling through the websites. Another great tip is to check what your friends and family already own and borrow from them. Hand-me-downs in this case really are your best friend. Even ask your grandparents, cardigans are back in fashion after all (plus think how cool you'd sound saying 'yeah this is my Grandpa's from the 70's') Apps like Depop and Vinted are great too, and you won't feel guilty about mindless scrolling."
So when lockdown ends get yourself down to charity or vintage shops, if not for sustainability reasons then to make you feel environmentally and fashionably smug! 
Here are all the best sustainable Looks in Lockdown this week:
Will has got sustainable dressing on lock. See what we did there? We all know that the student loan barely covers rent, let alone clothes. Therefore, Will's statement that "sustainable dressing is cheaper" rings true, with his entire outfit made up of pieces from Ebay, Depop, charity shops and markets!
His Reebok trainers are from Ebay and compliment the grey and blue tones that make up his look. Will likes shopping sustainably because it is better for the environment than buying directly from big brands. He chooses to find branded pieces on second hand sites and in charity shops instead, as shown by his Tommy Hilfiger sweatshirt from Depop.
Will follows pages on Depop that reflect the fashion he likes, which is how he stumbled across the Levi jeans he is wearing. These are nicely paired with a white shirt that he copped from a charity shop. We commend his outlook on fashion!
Sal, Second Year, English Law and French Law (@sal_croker)
Sal might be Exeter's resident queen of sustainability. Her passion for shopping in an environmentally friendly way is amazing.
When asked why she likes dressing sustainably, Sal said: "I personally just think making more clothes is unnecessary at the current rate that we are. We always see clothes being promoted by influencers from huge companies that churn out thousands of products a month but we never hear about sustainable second hand shops which have such hidden gems at a fraction of the price." We wish we had her moral compass! It is no surprise then, that as an avid fan of charity shops, most of her outfit is made up of pieces from them. Her earrings are from the RSPCC charity shop in Exeter, her necklace is from Cancer Research in Midhurst and her top was found Age UK in Towcester. I think it's time we took a trip to some charity shops to find gems like these!
As Sal says, there is no need to make as many clothes as fashion brands currently do, with her even suggesting that "fashion should be a closed circle where we reuse, share and adapt our clothes to the new trends instead of throwing out the old and buying in the new!" Like the rest of the Exeter population, she is also a fan of Depop, with her jeans hailing from the mighty app. Charity shopping is a great way to spend your time, especially in the holidays or when you have time to spare, as Sal discovered in her gap year. It can be very rewarding to find your own style when you know you are also helping out the world!
Sofia, Third Year, English and Drama (@sofiagalluccigiles)
Sofia's sustainable look in lockdown incorporates all of her favourite things: Exeter charity shops, her mum's clothes and sustainable small brands. This article has taught us that Exeter charity shops are some of the best. Sofia reiterates this, insisting that we visit the children's hospice on Sidwell Street!
Therefore, it is no surprise that her white crop top was found in one of these stores. Sofia's beautiful cardigan dates back to 1980s Italy and belongs to her mum, who she states is an "icon". She is super proud to be Italian, as is clear when she tells people that she is Italian within two minutes of meeting them. No wonder, then, that the cardigan is her favourite part of the look. Her headband is from Demoo Jeans, a brand started by a group of students at Durham Uni. Sofia's love of sustainability clearly extends beyond the bleed green territory. We're unsure how to feel about this.
Sofia finds charity shopping particularly fun to do, especially with her two best mates. However, she does admit that charity shops are a lucky dip, and to find gems you have to be 100 per cent in the right mindset.
Vicky is so passionate about shopping sustainably that she has started her own small business, called @wearing_bak. This was created during lockdown, stemming from her interest in sewing. The aim of the project is to offer uni students an "affordable and wearable alternative to fast fashion". The jeans that Vicky wears here – which were originally bought from a charity shop – were up-cycled by her as part of the business. She tells us "they go with pretty much everything but light up [her] life a little bit from the ordinary flare". We love that she's switching up the classic Exetah look.
Vicky pairs the jeans with sick red boots and a Tommy Hilfiger coat, both from Depop. Her white turtle neck is the perfect basic to pair with the bright jacket, and was found at the Exeter vintage kilo sale. Her belt belongs to her mum. Vicky tells us that she has always been conscious with her fashion choices. She said "I have the privilege to be picky with my outfits, so I might as well help the planet". We love her outlook!
—
This has been your special sustainable fashion edition of Looks in Lockdown in collaboration with Be the Change Society! It has been our pleasure to show you some of the best sustainable outfits in Exeter and we hope that you all have a very merry Christmas and that those pesky January deadlines aren't too much! If you want to be involved, as always, contact us @thetab.exeter on Instagram.
More Looks in Lockdown: