Pennsylvania Court freshers will not be evicted tomorrow to accommodate quarantined students
They may still be evacuated at a later date
The University of Exeter have backtracked on their decision to evict 27 freshers from Pennsylvania Court Block A to accommodate quarantined students returning from Italy.
A meeting between the uni and students living in Pennsylvania Court was held at 5pm today, after the freshers protested the decision outside their accommodation.
A first year student living in Pennsylvania Court told The Exeter Tab: "We're speaking to the director of residences at Exeter and he is refusing to answer questions over how he can justify moving 20+ people with coronavirus to a hall metres from us.
"He's backtracked and won't be moving people out tomorrow but says an evacuation of Block A is likely at a later date."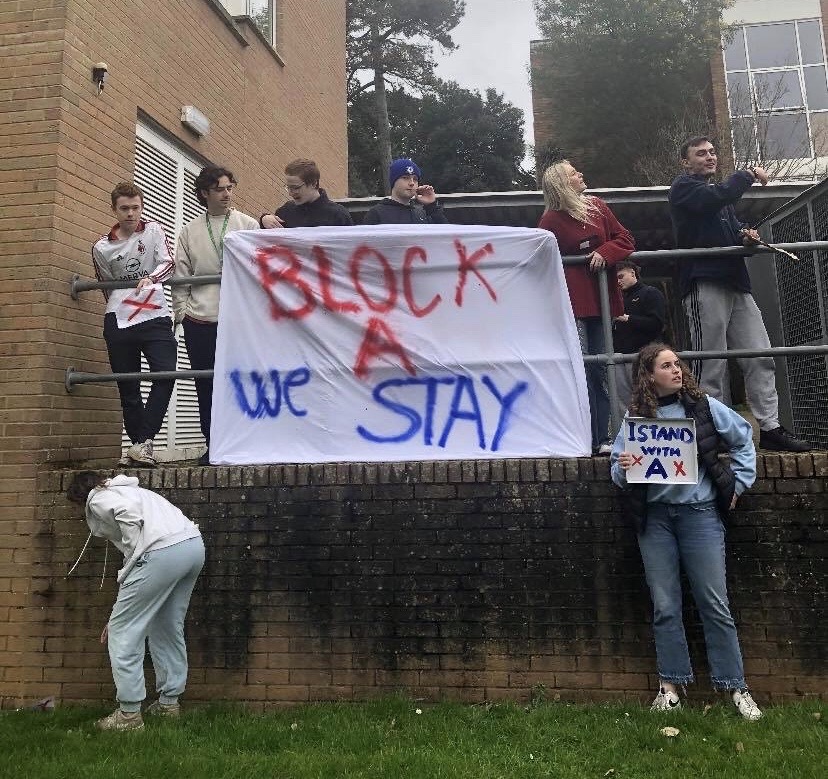 A spokesperson for the University of Exeter said: "We are talking to a small number of students in one of our accommodation blocks about the possibility of moving them to make way for other students who may need to self-isolate due to the coronavirus situation.
"We currently have no students with coronavirus and this is a measure to prepare and plan for any potential cases or people who may need to self-isolate. We will take into consideration all student views and offer full support if we need to relocate people."
The Pennsylvania Court student said that the Director of Commercial, Residential and Campus Services, Peter Scargill, "admitted there's no legal obligation, but a moral one, to bring them into Penny C" and that "he was wrong and rash to send the original email" asking students to move into alternative accommodation.
He added: "Penny C was identified in January as a place to house those with coronavirus – they were invited to be in Exeter before the residents were informed. But it's looking unlikely we'll have to move out due to cancelled flights from Italy.
"He says there are plans to have a block off campus called the Depot to house the people but it may not be ready in time."
Another fresher in Pennsylvania Court confirmed that they will not be moving out tomorrow.
He told The Exeter Tab: "Since all flights from Italy are cancelled, we will not be moving out tomorrow. They have a plan to hopefully use the new Depot accommodation as an off site quarantine area. However the site isn't due to be finished for another two weeks."
A spokesperson for the University stated that the claims the Depot would be used as a quarantine were "a misunderstanding by one or more of the students present at the meeting".
He said: "In his briefing to them on Tuesday, Peter Scargill explained that the University was looking for options to house students in the event we had to create a space for those who needed to self-isolate. This seems to have left some students under the impression that the University was planning to "quarantine" students in the Depot, which is not the case."
This comes after an email was sent to students in Pennsylvania Court Block A this morning notifying them that was an emergency meeting regarding their accommodation. They were informed that they would have to move into alternative accommodation by tomorrow morning to make room for quarantined students returning from Italy.
Related stories recommended by this writer:
• Pennsylvania Court evicts 27 freshers to quarantine students returning from Italy
• Exeter University denies rumours of student contracting coronavirus