We asked Exeter students for their worst Valentine's Day stories, and wow you did not disappoint
'My boyfriend ended up taking me to hospital'
Valentine's Day has arrived again, whether you wanted it to or not.
For those lucky enough to have a Valentine, the 14th of Feb can be the most romantic day of the year – albeit swamped with overpriced roses, cringey cards and those heart-holding teddy bears that nobody actually wants. For singletons, it brings about as much excitement as an electricity bill.
However, Valentine's Day isn't always a candlelit dinner or a surprise trip to Paris. Sometimes, it's throwing up over your boyfriend after one too many VKs.
If you're spending V-Day alone this year, these horror stories from Exeter students could make that meal-for-one seem a little more appetising.
The one who still wasn't over his ex
"A guy I was seeing gave me a Valentine's Day present in the same bag his ex had given him the year before.
"I know because her name was still on the gift tag."
Sometimes recycling is not the way to go (sorry Greta Thunberg).
The one who got dumped for his best mate
"On Valentine's Day, I bought a gift for my then-girlfriend of three years but got dumped for my best mate after giving it to her.
"Now I'm gay though so I guess it's not a real loss."
The ultimate plot twist.
They say bad things happen in three's, whatever next?
"I had a car accident with my parents, then proceeded to get food poisoning the same day."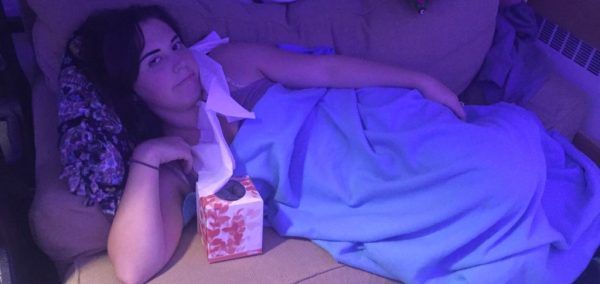 Just when you thought third-wheeling your parents on V-Day couldn't get any worse…
An example of true love
"Last Valentine's Day, I threw up on my boyfriend after too many VKs in Fever. It was gross, I'm amazed he's still with me to be honest."
Can it get more tragic than spending Valentine's Day in Fever?
Clearly, it can.
The *almost* best Valentine's gift
"The guy I've been seeing on-and-off for a year and a half sent me a screenshot of a band I like playing at his uni town on Valentine's Day and asked me if I know them.
"I said 'Ooh, yeah are you going to get tickets for Valentine's then?' and he replied 'Nah, just thought you'd know them.'"
Ouch.
The intense first date
"In second year, I stupidly went on a date on Valentine's Day and he took me to watch the second Fifty Shades of Grey movie.
"The only good thing about the date was the milkshake we had before the film started!"
Because nothing says 'Happy Valentine's Day' like soft porn.
The Belieber
"In a chicken restaurant on Valentine's Day, I asked my ex-boyfriend whether his parents liked me, and he took my hands and sung 'My mamma don't like you and she likes everyone.' Worst part was I spent two more Valentine's Days with him."
If a suitable time for quoting Justin Bieber exists, this was definitely not it.
The one that ended in a trip to A&E
"My boyfriend came to visit last year for Valentine's Day but ended up having to take me to hospital because I had a quinsy. We spent a romantic day and night there."
What could be more romantic than a nine hour wait in A&E?
And the one we can all relate to…
"Well, to be honest, I don't think there's anything more tragic than never having been on a date!
"Never been asked by anyone until last week, and now he's ditched. This is what 19 years of life has given me."
As if we needed more proof that men are trash.
Related stories recommended by this writer:
• Galentines Day truly and undoubtedly the best thing about Valentine's
• How to survive Valentine's Day single
• Which one of these tragic Valentine's Day starter packs is you right now?