We rated the food and drink at the Exeter Christmas market, and here's our verdict
Everyone knows the best part of Christmas is the food, and the Exeter Christmas market is no disappointment.
It sells every food you can think of, from all corners of the world. From Gyros and Paella, to Churros and Fudge, the Christmas market has it all.
We took it upon ourselves to rate pretty much every food and drink there is to try, to save you the hassle. Here's our verdict:
Alimentos
Delicious and the perfect portion size.
My housemate informed me that the Paella here is so good he's gone back three years in a row.
9/10
Chocolate Wine
Who doesn't love chocolate, and who doesn't love wine? Whatever genius decided to combine the two deserves some kind of award.
We were definitely guilty of returning to the Chocolate Wine stall to try the free samples more than once.
This wonderful concoction is just sweet enough that you can taste the chocolate, without it being sickly or overpowering the wine.
7/10
BUN
We tried the Spicy Bean burger here, it tasted pretty good and the sauce was really nice, but it needed more filling. Not quite satisfying, but tasty overall.
However the aesthetics were pretty poor, and I mean honestly what's even the point of food if you can't Instagram it…
7/10
Chubby Churros
You can't really go wrong with Churros, and Chubby Churros get bonus points because they have the option of a white chocolate dip, as well as the classic milk chocolate.
7.5/10
Norcotts Cider
I'm not exaggerating, this is hands down the best cider I've ever tasted. I'd go as far as to say it even gives the Old Firehouse a run for it's money. Naturally, we tried every single flavour and couldn't resist the 5 for £10 deal (what a bargain!).
10/10
O'Donnell's Moonshine
I can't claim to have actually tried this one myself, I couldn't stomach shot-ing something that's 50 per cent alcohol.
But my housemate confirmed that it was "scrummy" and didn't actually taste too strong.
Definitely good value for the alcohol content too.
7/10
Greekook
This one has very mixed reviews.
One of my friends had the Pork Gyro and said there was "too much bread and not enough filling". My housemate tried the Halloumi and mushroom Gyro (which was actually just Halloumi because they ran out of mushrooms) and said the bread was the only good part, and the Tzatiki was too watery. But my coursemate said it was amazing, so who knows?
The general consensus was that it's better in Greece.
4/10
Ed's Fudge Kitchen
I have just one word for this fudge, MOUTH-WATERING.
Actually I suppose that's technically two words but this fudge is so good, it's impossible to sum up in one word. Would highly recommend the Bailey's flavour – although we were tempted to buy them all.
9/10
Khana
The curry plate is AMAZING. You get so many different chutneys with it, as well as onions and salsa – the flavours are incredible.
The only downside is that the portion was so big, we couldn't actually finish it.
9.5/10
Le Plaisirs de France
Apparently the cheesy potatoes and garlic mushrooms are pretty good.
6.5/10
Simply Duck
I personally haven't tried the Duck wraps because I'm a vegetarian, but my friend informed me that they're amazing and deserve no less than a 10.
10/10
Street Food Southwest
There are so many different flavours to try, I feel like I'm going to end up spending my entire student loan on Mac n' Cheese.
Again, the only downside is that the portion size was so huge we couldn't finish it.
All my friend had to say was "top notch, love that shit", which I think sums it up pretty nicely.
10/10
Cornish Cheese Company
I am a HUGE cheese fan. I'm pretty certain half my weekly food budget is saved for cheese. But the one cheese I've never been able to stand is blue cheese, so I was highly disappointed when I realised the samples were blue cheese.
But I was mind-blown. My outlook towards blue cheese has completely changed, because this one was delicious. I'm also told the blue goat's cheese is particularly exquisite, so I'll have to return to try that too.
7/10
That's Nacho Burrito
We tried the Nachos here, and can confirm that they're the perfect side.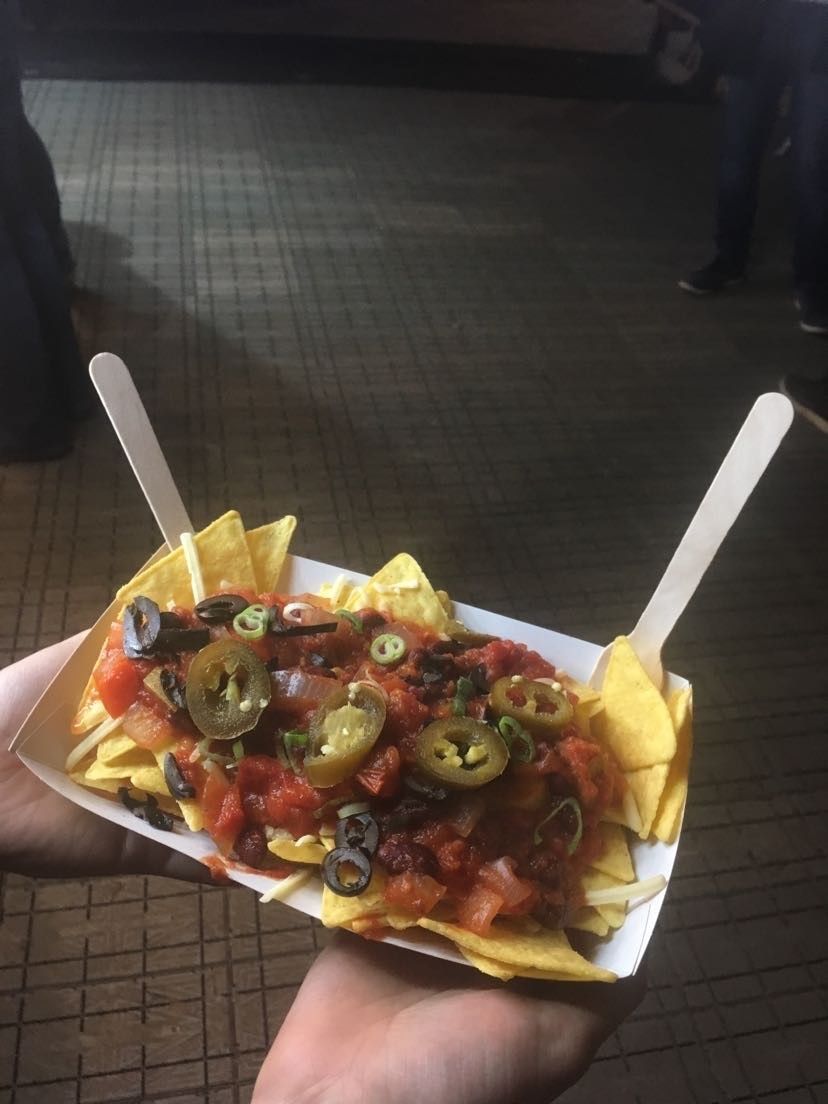 The chilli was slightly watery which made the tortilla chips soggy, and there was an insufficient amount of cheese, but it was pretty tasty overall.
5.5/10
Exeter Gin
We tried the 'Grandad's Revenge' first, which tastes exactly how you'd expect 57 per cent gin to taste. Wouldn't recommend shot-ing it, but it tastes pretty decent with mixer.
The Rhubarb gin is delicious, and much weaker, for anyone who can't stomach 57 per cent strength.
6/10
Mulled Cider
Mulled cider is a delicious take on the traditional mulled wine, and the Exeter Christmas Market sells the nicest one I've tasted.
There's nothing more comforting on a miserable Winter's day mid-deadline season, than a warm alcoholic drink.
Bonus points for the reusable cups.
10/10
Cheese Board
They have CURRY SAUCE flavoured cheese. All my post-night out dreams have come true. Need I say more?
8/10
Hullaballoos Lemonade
Hullaballoos Lemonade is the perfect mixer for any cocktail, but I'm not even sure it needs the addition of alcohol. In fact the Lemon and Mint flavour tastes exactly like a Mojito anyway.
I'm definitely heading back to buy a bottle of every flavour.
9/10
Related stories recommended by this writer:
• A Definitive Ranking of Exeter's Cheesy Chips
• We rated the carpets in Exeter's Wetherspoons, and here's our verdict