I went on every night out in Exeter for a week, and this what I learned
Ah the Exeter clubbing scene, so many different nights out to explore, although I can't say they're necessarily all good.
For research purposes, I decided to subject myself to a night out, every night, for six days on the trot. I would've done Sunday too, but let's be real, Sunday's not exactly a LIT night out. Is anywhere even open?
I actually gained a lot from the experience, and not just a horrific hangover. Here's what I learned:
Monday – Fever
Fever Mondays are an amazing kick start to the week, but will undoubtedly leave you feeling horrendous on Tuesday morning.
As it's always packed, one thing that's guaranteed is that everyone gets SO sweaty. Particularly in the cheesy room, where the mirrors become so steamy, that you're bound to see someone drawing something rude on them, and putting it on their snapchat stories because they're such legends.
Tuesday – Unit 1
For Tuesday's night out I decided to venture to the land of Cheesy Tuesdays.
Now, I tread carefully here as I know lots of people (particularly Drama students) absolutely THRIVE on this night of the week, because they can belt out The Greatest Showman to their heart's content.
I decided to give it a go but it wasn't really my thing. It all got a bit much for me when I heard Troy Bolton's opening lines of Breaking Free at about 11pm. So I left after half an hour, stopping at the Unit 1 food truck for some munch (some of the best after a night out if you ask me).
It's safe to say I won't be returning to this night out any time soon.
Wednesday – Timepiece
Wednesday was a classic night at TP. This is a hard one to miss, particularly if you're part of a sports society, where the socials before-hand will have you bolting VKs or strawpedo-ing all evening.
The only downside to TP Wednesday is the fact that you have to get there before you'd normally even start getting ready – most socials start at around 7pm!
One thing that I've learned and that never fails to surprise me on a Wednesday, is how royally sloshed everyone gets – TP actually have in-house paramedics to take care of those who've overdone it.
The best part is that everyone from the sports societies are dressed in some ridiculous outfit, which makes the whole ordeal even funnier.
I woke up the following morning, dazed and confused, still dressed in my costume from the night before. And it's safe to say that my bank account was well and truly dented – God knows how I ended up spending £50…
And to top it all off, I'd lost my voice from belting out 'Country Roads'.
Thursday – Fever
So on Thursday I ended up in Fever again.
I mean it would be rude not to, Fever Thursdays are actually one of the best club nights in my professional opinion. Less crowded and sweaty than Fever Monday, with much better music!
After the night had ended, I stumbled to Subway with my housemates and four giant inflatable penises. To be honest, I'm not entirely sure why these were relevant to the club night, but we took them anyway.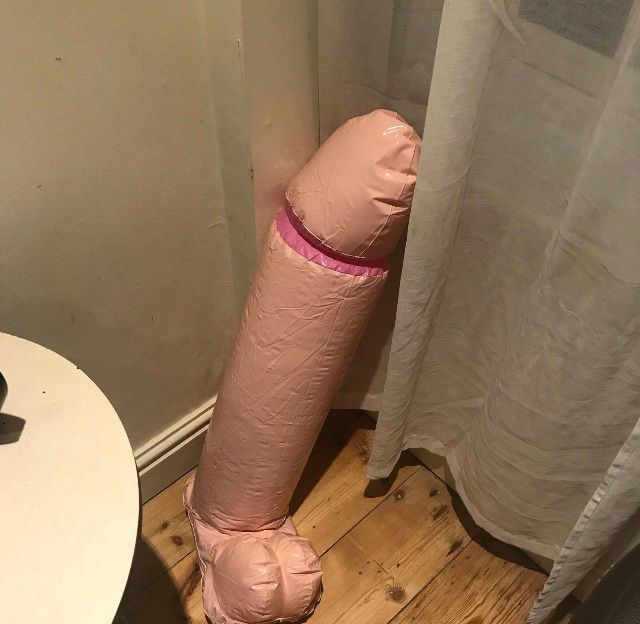 I genuinely had to fight people off from stealing them, and someone even tried to trade multiple inflatable fish they'd stolen from Unit 1. I politely declined stating that I wanted to use it as a decoration for our living room, where it now resides.
Friday – Move
So Friday typically would be Sketch at TP, but this night I decided to go to Move, and wow it was HOT in there.
Even though Move have apparently installed a new air-conditioning system, I can confirm that the sweaty underground pit still resembles a dingy sauna rather than a nightclub.
I thoroughly enjoyed the music, I'd say the best music in Exeter by far is at Move or Phoenix if you like techno or D&B. The sweating is worth it, but you might need a shower afterwards!
Saturday – The Lemmy
If you're a shark then this is the perfect night out for you – it's full of silly fresh who can walk the 30 seconds from their accommodation to get there early.
Having to slum it in the huge queue to get in even though we paid for tickets was rather jarring, but overall Lemmy Saturdays are a decent night, as long as you're pissed.
So, to conclude what I learned this week:
Firstly, I'm genuinely considering pursuing a DJ-ing career in Exeter, because some of the music being played on club nights is actually tragic. Do we really want some middle aged DJ called Dave playing a house remix of 'Mr Brightside'?
Secondly, the queuing situation is a bit of a joke. TP Wednesday is the worst, so if you want to get in, make sure you get there by 8:30pm at the latest.
Thirdly, you will end up with SO many random items after a night out. As well as the four giant inflatable penises I ended up with after Fever on Thursday, I also got a watering can from Wednesday TP – I told the guy it belonged to I wanted it to water my plants with but I don't even have any plants…
Lastly, Exeter gets a lot of stick for having bad nightlife, but it's actually pretty fun. If you're with your pals and have hit pres hard, you'll have a good night wherever you go.
Related stories recommended by this writer:
• Vote for Exeter's best night out
• What your favourite Exeter club night says about you
• How to become an Exeter club rep, by someone who's done it