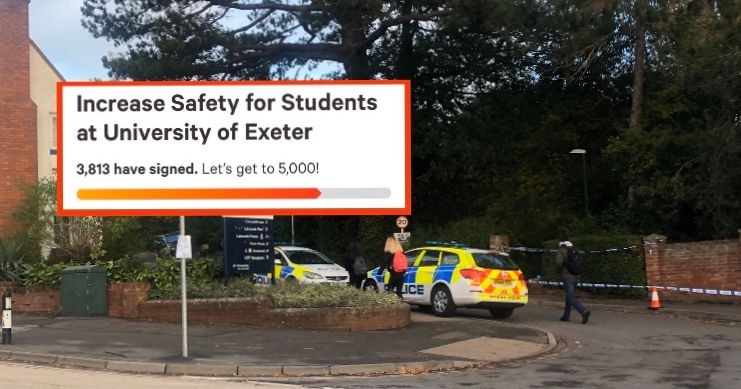 Over 3,000 sign petition for new safety measures in Exeter after sexual assault
'For £9,250 a year a shuttle bus to prevent further horrific assaults is a small request'
Exeter students have started a petition to introduce new safety measures to the city after a woman was sexually assaulted in the early hours of Wednesday morning.
A petition has been created asking the university to introduce a night-time shuttle bus system from clubs to halls and other popular student residential areas.
They have also requested a more visible presence of Estate patrol at night-time, particularly along the routes students take home from clubs.
This comes after a woman was the victim of a serious sexual assault on St. German's Road between the hours of 2am and 4am Wednesday.
The Police have issued a public appeal for information about the identity of the suspect. Detectives have described him as a white male, aged mid to late twenties, tall, of slim build, with short, dark hair and facial stubble.
He spoke broken English, with an eastern-European accent, and was wearing dark, navy blue jeans with a belt, and a dark top believed to be grey or black.
Detective Inspector Dawn Perriam said: "This is a rare and isolated incident. I would like to reassure the public that police are pursuing all lines of enquiry."
Anyone with any information is urged to call police on 101, or email [email protected], quoting log number 205 of 14/11/19.
Information can also be passed anonymously to Crimestoppers by calling 0800 555111.
The University issued an email response to students in light of the attack, advising that "the best way to stay safe at night is to stick with your friends" and to "make sure your phone has charge and you have enough money to get yourself home".
They also included the number of the estate patrol team, who are available 24/7.
However students don't feel that the University are doing enough.
Read the full post from the petition below:
"After the recent serious sexual assault on St Germans Road and other assaults/attacks in Exeter, many students feel like their safety is in danger after nights out.
"We are asking the University of Exeter to help protect its students by introducing a night time shuttle bus to halls and popular student living areas. We are also asking for a more visible presence of Estate Patrol during the night time, around halls, and on the typical routes students use to get home from clubs.
"We don't feel like a couple of emails with nothing more than the Estate Patrol's phone number is enough of an effort to protect our safety. The safety of the students is invaluable and for £9,250 a year a shuttle bus to prevent further horrific assaults is a small request.
"If you have ever felt unsafe, unsettled, or scared walking home at night, please sign this petition to try and get the University of Exeter to take serious and necessary action to protect you and your fellow students."
Related stories recommended by this writer:
• St Germans Road sealed off by Police after woman is seriously assaulted
• 250 sign open letter to Exeter Uni over the handling of the ExeHonestly scandal