These 20 reactions to the end of ExeHonestly will make you weep like a baby
The mourning period begins
ExeHonestly, the beloved confession page of Exeter students, has officially been closed down.
The site made headlines recently when a series of posts were found to have Neo-Nazi and white supremacist origins. In light of these accusations, the admins made the decision to shut down the page for good.
The news hit the population of Exeter hard and the mourning period has officially begun. From candle-lit vigils to homemade pies, these are the best reactions to the pages' demise.
1. Oh the irony
2. A pie for a pie
3. The mourning period begins
4. Fair tbh
5. Guess who's back
6. Right in the feels
7. It's not that deep
8. We stand in solidarity
9. How are we meant to procrastinate essays now?
10. Because expressing your love to someone's face is not an option
11. You had one job
12. And they thought they'd seen the last of us…
13. My bet's on Exeposé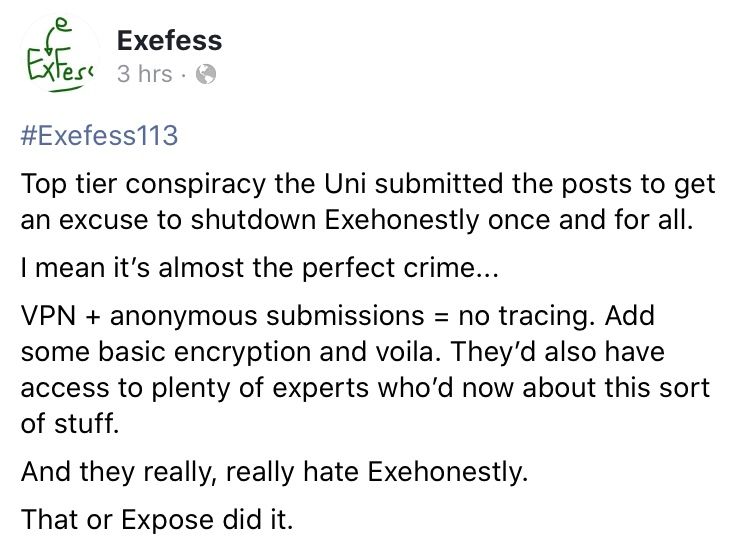 14. Shocking
15. Forget the Safer Sex Ball
16. Good question
17. No, one does not
18. Feel like pure shit, just want ExeHonestly back
19. The body's not even cold yet
20. RIP
Related stories recommended by this writer:
• Exeter Uni reports Exehonestly for allowing 'Nazi propaganda'
• BREAKING: ExeHonestly is shutting down following racist post controversy
• Liverfess stands in solidarity with Exehonestly after their page was removed