Toff from Made in Chelsea got with a fresher in Exeter
Someone left with a bloody nose
National
noad
Unusual Georgia Toffolo caused a stir last weekend when she got with a fresher and was inadvertently embroiled in a dispute about a hat that left a girl with a bloody nose. 
One of the lesser known characters, the aptly nicknamed Toff is rumoured to have a house in the South West. She spent Saturday night at the Phoenix for Thick as Thieves' Hijacked event, and even found herself scoring with a first year from Penny C.
Ed was the lucky fresher who took her fancy. He said: "She was just a top girl. She can join me on the dancefloor in Mosaic any time."
He added: "It was just interesting to have a conversation with her, she said being on Made in Chelsea can make it hard for her to just go on a night out with her friends."
Not only this, but the posh princess was accidentally involved in a commotion that left a girl with a bloody nose.
Another resident of Penny C, Jamie Ross-Skinner, was caught off guard when he stumbled across Toff wearing the snapback he lent to his friend Ed several months ago.
After confronting Toff's tonsil-tennis partner, a minor tussle followed in which one unsuspecting clubber was caught in the crossfire.
The victim of the blow, Geography student and Holland Hall resident, Emmy Dundas, had to be helped the manager as she sat with ice pressed to her face for an hour.
She said: "I was just innocently going about my night trying to be a good samaritan and getting my friend's cap back. When bam, out of nowhere an arm hits me in the nose and I spend the next hour with the manager waiting for the blood to stop."
Jamie, the owner of the hat, said: "I just want my hat back. It's been 5 days since the last sighting in Phoenix on the night of the incident, and I'm starting to lose hope that we'll ever be reunited."
There is no suggestion that Toff or Ed were responsible for Emmy's injuries.
If you have seen this hat, please email in so we can locate its whereabouts and return it to its loving, and grief-stricken, owner.
Commenting on Toff's presence at Phoenix, Politics student Olivia Prioleau said: "Toff was sat with me and told me I was the nicest person she'd ever met."
Felicity Walsh, a first year Psychologist, noticed she may have been on her own. She added: "She wasn't with anybody… Did she come on her own or something?"
Toff's appearance was met with a mixed reaction, with some calling her "stuck up". She has been noticed around Exeter on nights out since her first appearance in the popular reality show. She has also been to Timepiece.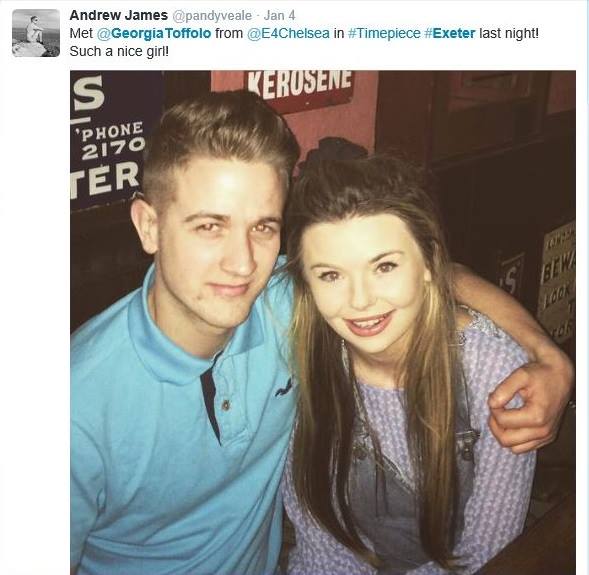 Toff was down in Exeter for the Hijacked Festival launch party, headlined by Jonas Rathsman.
The electro Swede then played at the after-party – which sources tell us lasted until 6am.
@zakalac I sincerely hope you're not planning a career in journalism, unfortunately there has to be an element of truth to a story

— Toff (@GeorgiaToffolo) January 19, 2015