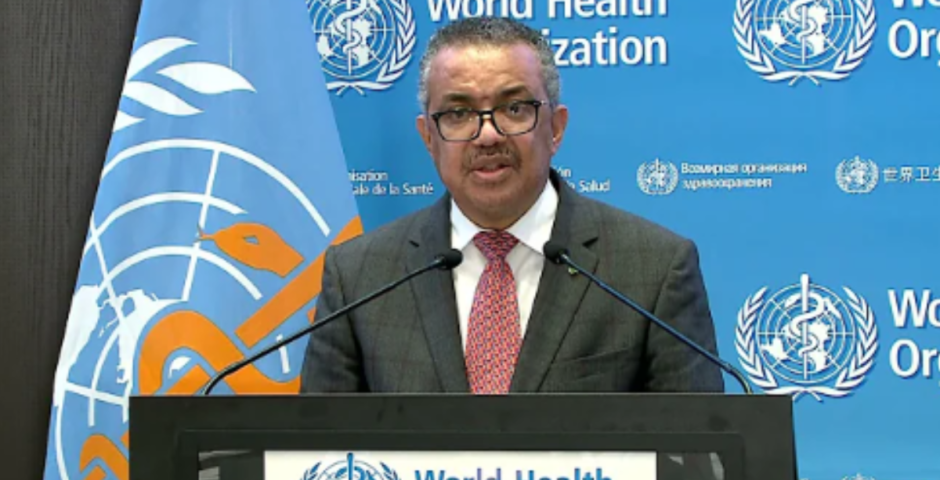 'Controversial' World Health Organisation boss awarded honorary degree from Edinburgh Uni
Tedros Ghebreyseus has previously been accused of enabling genocide in Ethiopia
Controversial World Health Organisation chief Tedros Ghebreseus has been awarded an honorary degree from Edinburgh University for his "significant contribution to raising the profile of nursing and midwifery."
Dr Tedros was elected as the Director General at WHO in July 2017 and was responsible for leading the guidance behind the coronavirus, some of which have come under scrutiny.
In 2020 he was accused by American economist David Steinman of enabling genocide in Ethiopia, who claimed that Tedros "was a crucial decision maker in relation to security service actions that included killing, arbitrarily detaining and torturing Ethiopians."
Dr Tedros has denied the allegations and any wrongdoing, stating that "there have been reports suggesting I am taking sides in this situation, this is not true and I want to say that I am on only one side and that is the side of peace."
Dr Tedros has expressed that he was "honoured" to receive the honorary degree, and accepted it on behalf of "nurses, midwives, and other health professionals."
Before becoming the Director General of WHO in 2017 Dr Tedros was the Minister of Health for Ethiopia from 2005-2012. After his position as Health Minister, he became Ethiopia's Minister of Foreign Affairs during the Ebola outbreak and was criticised for his "delayed response" and "inappropriate" use of funds to combat the epidemic.
Following this he was elected for the role of Director General at WHO, a decision that was met with a strong backlash, as a petition opposing his candidacy gained over 10,000 signatures.
His controversies continued as in October 2017, Tedros announced he had chosen President Robert Mugabe of Zimbabwe to serve as a WHO Goodwill Ambassador to help tackle non-communicable diseases in Africa. It was condemned as "an insult" by WHO member states and international organizations alike who said Zimbabwe's healthcare system had gone "backwards" under Mugabe's regime.
The UK government commented that the decision to appoint Mugabe was "surprising and disappointing", and the US state department saying that the "appointment clearly contradicts the United Nations ideals of respect for human rights and human dignity."
Once coronavirus was declared a public health emergency Dr Tedros praised China's "commitment to transparency and helping other countries" claiming that "China is setting a new standard for outbreak response."
This statement caused further controversy, with another petition reaching over one million signatures, calling for Dr Tedros to resign as WHO Director General. The petition stated that Dr Tedros was not "fit for his role" and that despite WHO being "politically neutral" Dr Tedros did not choose to investigate the deaths and number of infected that the Chinese government provided.
In response, Dr Tedros called the allegations a "distraction," saying politics should be "quarantined" to mount an effective pandemic response.
Dr Tedros is also a Tigray People's Liberation Front member, recognised as a designated terrorist organisation by the Ethiopian government. The regime rejected a call by the UN human rights body to investigate the killings of at least 669 civilians during protests, and imprisoned over 80,000 people for opposing its rule.
The university's decision to award Dr Tedros with an honorary degree has been met with criticism, with many people feeling that the university has made a "big mistake" in recognising him and his actions, with another tweet saying that Dr Tedros "served in an inner circle of dictatorship."
A spokesperson for The University of Edinburgh told the Edinburgh Tab: "Dr Tedros Ghebreyesus received an Honorary Degree for his work in raising the profile of nurses and midwives worldwide. He received his award as part of the graduation ceremony for Nursing Students, and he met with a number of students before the event to hear about their work.
"The University confers Honorary Degrees to people who have dedicated their life to public service or advanced their field of expertise for the benefit of humankind. This year's recipients include those who have made a significant contribution in global health, education, homelessness, nursing and medical research. Nominations are reviewed by the University's Honorary Degrees Committee and undergo due diligence before an award can be given."
Dr Tedros has been contacted  for comment
Related stories recommended by this writer:
• Edinburgh Uni invests millions in company that donates to anti-LGBT+ American Republicans
• Scottish universities to face student support funding cuts following spending review