'She covers all the bases' to 'I didn't feel a spark': Here's Edinburgh Goes Dating 9!
Back again for another round of Edinburgh's best match making service
Edinburgh goes dating is BACK with another round! It's only been a week, and our second bunch of singles are here to find out if they've got a shot at true love.
With the success of last weeks dates, will our next batch of singles be as lucky? Is love in the air for Edinburgh or are people just getting desperate? Is Zoom ideal for cultivating romance, or were these dates just as awkward as a tutorial breakout room?
Let's see how our couples got on!
 Emily, second year Textile Design and Kartikay, second year Physics

Emily wants someone kind who can make her laugh while Kartikay is looking for an intelligent and fit gal. Did these two hit it off?
Was the chat good? 
Emily: For most of the Zoom we had really nice conversation and lots to talk about.
Kartikay: It was pretty good.
Did being on Zoom make it easier or harder to chat? 
Emily: I found it more difficult being on Zoom because its harder to expect where the conversation might go, but considering that it was actually okay!
Kartikay: Harder, definitely
Was your date 'your type'?
Emily: Don't think I really have a type generally, but didn't feel there was an instant connection romantically. However we had a really good chat and it was nice to meet someone new especially during this time in lockdown.
Kartikay: Not sure
Would you go on a second date (in person or Zoom)?
Emily: Lovely guy and great chat, but would just keep it as friends.
Kartikay: Yeah I would like to meet her in person and get to know her better.
Alexander, Informatics Msc and Georgina, fourth year English Literature
Alexander is looking for someone bubbly who is up for a laugh, and Georgina is looking for a softboi to break her heart. Was love in the air for this pair?
Did you like the date?
Alexander: Aye, it was a lovely evening! Certainly brought some excitement to lockdown.
Georgina: It wasn't terrible, and I've never been on a blind date.
What did you talk about on the date?
Alexander: To be honest, I can't remember it all… I had drunk quite a bit that evening. I do remember that she's friends with two of my closest pals and her flatmate is EUSA president.
Georgina: Just general things really.
Is your date 'your type'?
Alexander: Yes! I seem to have a long streak of going on dates with humanity students so I guess that's my type.
Georgina: I wouldn't say he was my type at all.
Was there a spark?
Alexander: Aye, I believe there was a spark. We talked for three hours which flew by. Difficult to say anything about a romantic connection because it was over Zoom
Georgina: I didn't feel a spark.
Would you go on a second date (in person or Zoom)?
Alexander: Aye it would be nice to meet up in person. Maybe go for a cheeky afternoon tea.
Georgina: I'd maybe consider it but I don't think it'd lead anywhere.
Will, third year Social Sciences and Sophie, fourth year Economics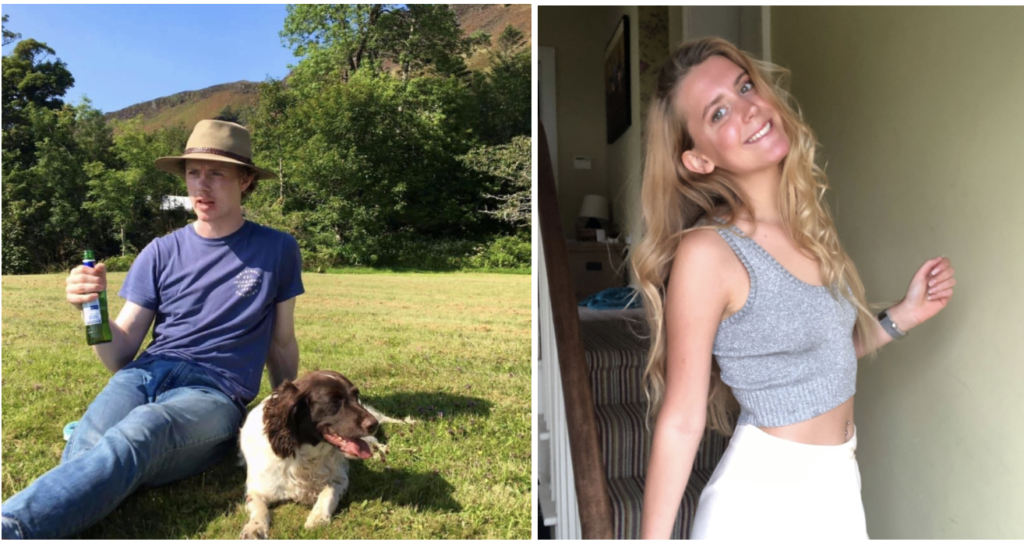 Will is up for anything, and Sophie once ran to her boyfriend's house with nothing but her pyjamas and a tea light candle. Will these two prove just as wild as each other?
Was the chat good?
Will: Sure did, she was a cracker
Sophie: We got on well and the chat was good and flowing
What was the most awkward moment of the date?
Will: When I logged on and thought Sophie was Amelia [the one organising the date]
Sophie: No awkward moment but set up of the camera and WiFi was stressful.
Was your date your type?
Will: Don't have a specific type but she certainly covers all bases
Sophie: I don't have a type but he's a really nice guy and I felt comfortable speaking to him.
Would you go on a second date (in person or Zoom)?
Will: Obviously very hard to tell from the acer 1.2 but a good connection that needs explored. In person would be good, bloody shame Ox 184 isn't open to get a gallon of beer together.
Sophie: Hard to tell spark wise because of it being on Zoom, but not shutting it down and would be up for seeing him in person. Xx
Do you want to get set up by The Tab Edinburgh? Sign up for Edinburgh Goes Dating here. 
Related articles recommended by this writer:
• Dog poop and ugly vases: Edinburgh Goes Dating is back again
• Do you believe in love? Here's Edinburgh Goes Dating round seven
• Awkward Zooms and an accidental second date: It's another round of Edinburgh Goes Dating!