You can now buy a Uni of Edi signet ring and I've never seen anything more Edinburgh in my life
Ever wanted a memento of Edinburgh that could sum up your entire university degree in just one item? Then look no further, because just when you thought Edinburgh couldn't get any more Edinburgh, you can now buy a signet ring engraved with your name and our beloved logo.
Just when you thought the Edi tweed range was the best thing the Uni had to offer, they brought out the library pins. And boy they've done it again, I present to you, the Edinburgh signet ring.
The official collaboration comes in the form of Annotated and the University and are available to buy here. These beauties are on sale for an absolute steal of a price, a mere £595. That is of course if you wanted to go for the 18ct Gold version, otherwise you're looking at a respectable £85 for the sterling silver. Now that's more like it.
There's also an option to get your year of graduation engraved on the side, along with your initials, because why would you not wish to be associated with such magnificent jewellery?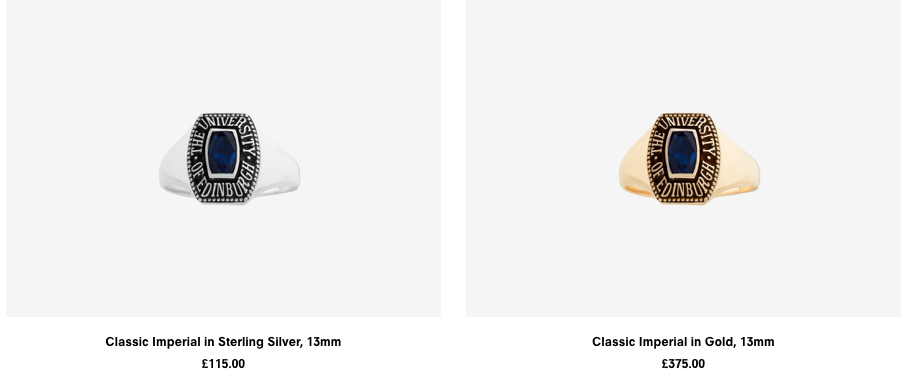 Along with the signet rings, there are also a collection of band rings, if you are going for something slighted more understated. These range in price from £65 to £425, being defined on the website as "culpted, polished and imbued with meaning."
Some even come with a complimentary engraving on the inside of the band of your name, to give it that personalised touch. Just take my money!
Photo credit: Annotation Studios 
Related articles recommended by this writer:
• Your Saturday night starts right here! It's BNOC finalists, strap in
• Feeling cheeky Edinburgh? Nando's has returned for home delivery from tomorrow
• One in ten Edi students admit to breaking lockdown to have sex