An extensive list of the very best neon signs in Edinburgh, ranked
Everyone wants to channel their inner VSCO girl every now and again, and nothing screams 'grammable' like a good old fashioned neon sign.
The best way to light up your feed is with some neon text mounted on a wall, some killer photography and a heavy filter.
Here's where in Edinburgh you can find the very best signs and live out your neon dreams.
'You're the bollocks'
Location: Garibaldis
Pros: A welcome reminder of your superiority during your night out
Cons: Prepare to be smushed in Gazza's to capture this poetic truth
Ranking: 6/10
'Oh isn't it wild?'
Location: Lulu's
Pros: Very easy to pose with, at perfect height
Cons: Creme Soda no longer exists, rip
Ranking: 7/10
'Not all those who wander are lost'
Location: Robertson's Close
Pros: Makes for a strong album cover pic
Cons: The type of slogan you'd see in an embarrassing instagram bio
Ranking: 4/10
'Oh you pretty things'
Location: Medusa hairdressers, Teviot Place
Pros: It's pretty and pink and a welcome compliment as you wander by
Cons: Everyone getting their hair done can see you snapping the sign. Plus, the 's' isn't lit up.
Ranking: 8/10
'Jack lives here.'
Location: La Belle Angele
Pros: Fantastic if your name is Jack
Cons: Not unique, can be spotted in various bars around the city
Ranking: 5/10
'Viva la Cowgate'
Location: Subway
Pros: Can fool your followers into thinking you're in a cool Spanish Reggaeton club when in reality you're in the depths of Cowgate
Cons: Everyone puts it on their story. Everyone.
Ranking: 7/10
'Tequila + me = lucky you'
Location: Garibaldis
Pros: A mathematical truth
Cons: Full of lies – tequila + me = never a good combination
Ranking: 6/10
'Rascals'
Location: Bourbon
Pros: Apparently the only blue neon sign in Edinburgh
Cons: It's outside, so you'll have to brave the cold smoking area to snap a pic
Ranking: 4/10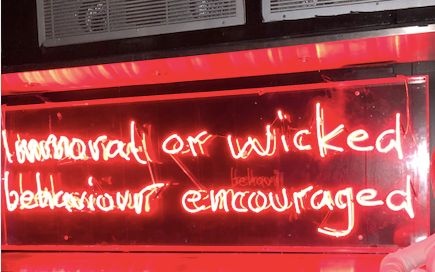 'Immoral or wicked behaviour encouraged'
Location: Juju's
Pros: Profound. Lyrical. Poetic. Sets the tone for your Monday night.
Cons: You'll have to push through a lot of Pollock freshers to get this picture
Ranking: 8/10
'This is where the magic happens…'
Location: Pizza Posto, Nicolson Street
Pros: The restaurant adds a cool aesthetic
Cons: Will have to buy a pizza to be able to get this pic (not necessarily a huge loss)
Ranking: 9/10
'Where is hero'
Location: Dog House
Pros: So philosophical that you could reference it in your next essay
Cons: Doesn't really make sense, actually on the ceiling
Ranking: 2/10
'Rascals'
Location: Bourbon
Pros: Shows you go out on a Thursday and are still up for mid-week madness
Cons: The same sign as before, but in red. Have to push to front of the bar queue and dodge the bartenders to snap the pic.
Ranking: 3/10
'Get dirty'
Location: Garibaldis
Pros: The mirror ceiling adds a whole new dimension to your picture
Cons: Terrible instruction for club etiquette
Ranking: 5/10
'Don't grow up, it's a trap'
Location: PDT
Pros: Profound truth, surrounded by other cool signs
Cons: May lead to an existential crisis
Ranking: 7/10