Edinburgh Vet students bare all for charity calendar
Putting the cheek in 'cheeky'
Almost 100 students from the University of Edinburgh's Royal Dick School of Veterinary Studies have stripped off for charity.
The cheeky students had their photos taken around the Scottish countryside, braving the weather and wildlife for a perfect shot.
The photos taken will be featured in a calendar available for purchase, with the proceeds going towards All4Paws, a charity that treats the animals of the homeless and vulnerably housed people around Edinburgh.
All4Paws is run by vet students and staff who volunteer their time, and is totally reliant on donations. Not only is medical attention supplied, but coats, toys and leads are also available.
The calendar's organiser, Jara Mrdja, told The Edinburgh Tab: "When we've shot in more public locations, we've a couple of people spread up and down the trails to warn hikers and walkers of what's going on.
"It's a fantastic team effort. We've had a lot of positive feedback about how much more confident people feel about themselves after doing the shoots. My main goal was to produce really beautiful and interesting portraits of vet students and raise money for a great cause.
"The cause is really unique and special. These animals offer companionship, compassion and love to those in society who need it most. "
While it seems to be a daunting idea that your nude photo will be hung up the walls of random people, the students featured took it all in their stride.
Other than the fact that they were posing nude, there were other things on the models' minds.
Kalia Noor Pinkston told The Edinburgh Tab: "I was mostly worried about accidentally mishandling or dropping the animals that we borrowed for the photos."
While the photos look as if the models and animals are in sync with each other, that was not always the case.
Photographer Liv Halloran said: "Shooting in nature always has its challenges. You have to be willing, as the photographer, to get a little dirty or uncomfortable. If the best shot requires you to be crouched down in the mud or in a prickly bush, then that is where you are going to be.
"On top of that working with big animals, such as the highland cattle, requires you to be on your toes. If they start moving towards you or the models you have to know when people are potentially in a dangerous situation."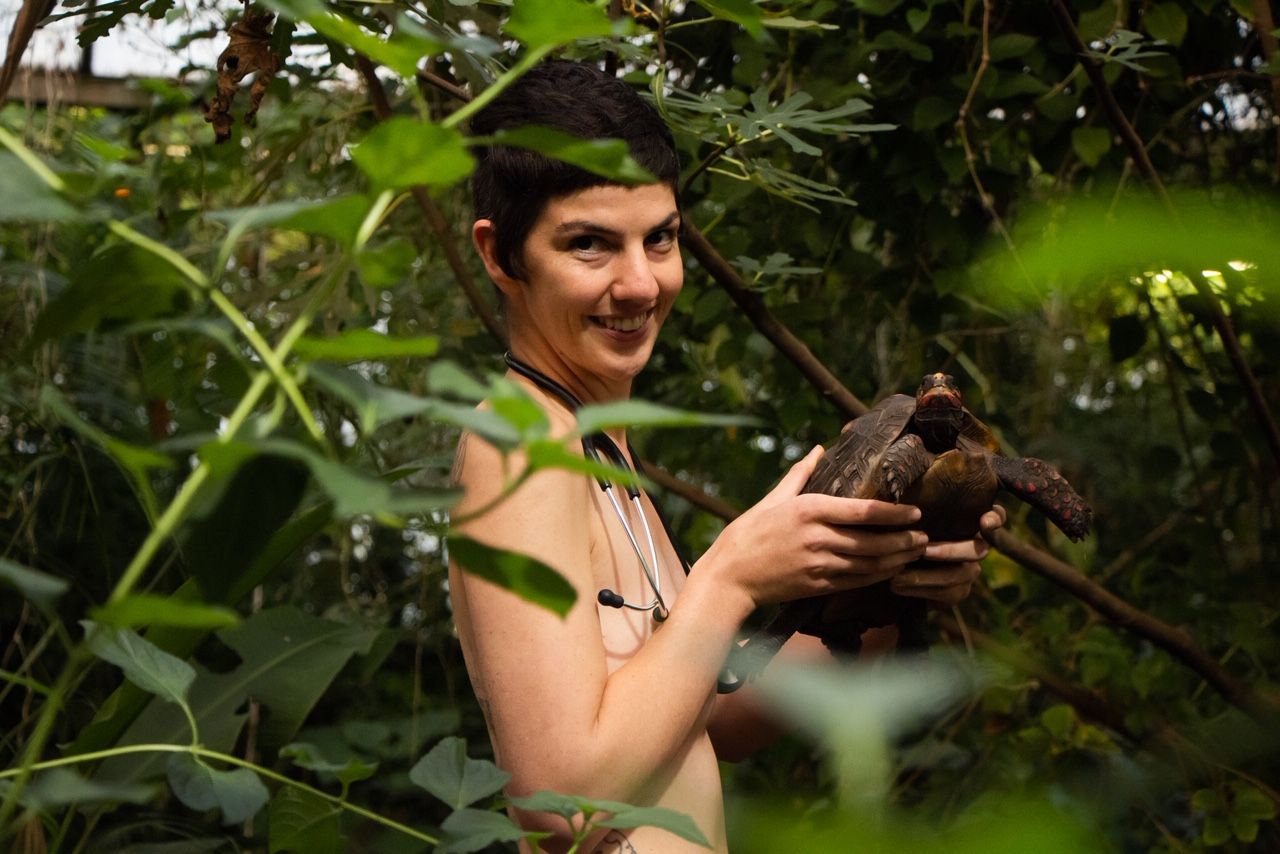 Beyond the unpredictability of the animals, the Scottish weather was another obstacle. Luckily for photographers Mengxuan Zhang and Nirvana Leaver, nature was on their side for most of their shoots, but even the sun can't stop the cold Scottish wind.
It is obvious that all those involved are passionate about All4Paws, and hopefully this calendar will ignite that flame around more of Edinburgh. This is a perfect opportunity to not only donate to a deserving cause, but also gain a beautiful piece of art while doing so.
Photos for the calendar began shooting in July, with it now available for pre-order, and plans to ship it out in time for Christmas. You can order a single calendar, a pack of three, or a pack of five here.