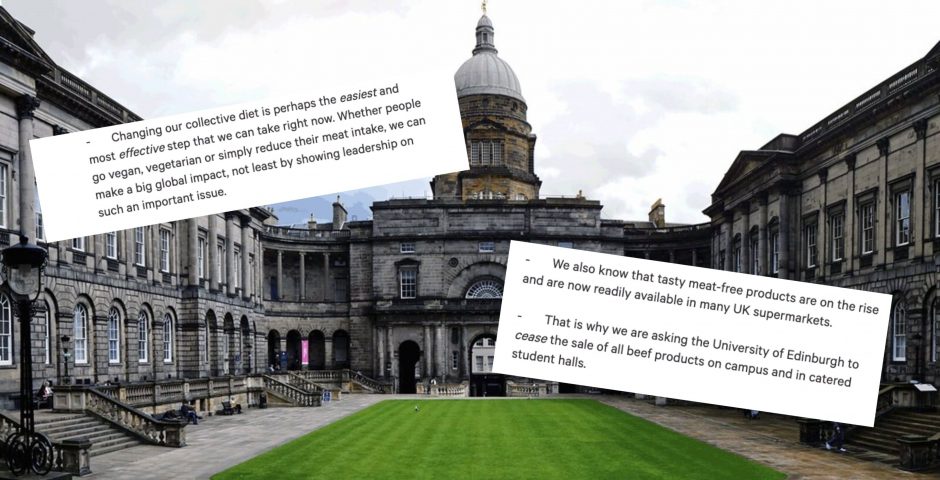 A petition is calling to end all sales of beef at Edinburgh University
It's received over 300 signatures so far
Two second year students have launched a petition to end the sale of beef at Edinburgh University.
Therese Ribeiro and Elena Silverstein, both studying Mechanical Engineering, have taken the measure to put Edinburgh students "at the forefront of tackling climate change."
The petition has amassed over 300 signatures thus far.
Elena and Therese told The Edinburgh Tab: "We started this petition because we know just how big a challenge the climate crisis is and that Edinburgh's students want to be at the forefront of tackling it.
"We specifically chose the objective of ending the sale of beef on campus because we know that animal agriculture is responsible for more than half of all our greenhouse gas emissions."
Elena and Therese would eventually like to see the phasing out of all animal products from Edinburgh University, however they acknowledge this would be a longer-term policy to implement.
They said: "If we collectively want to take the biggest first step we can to help minimise the negative impacts of the animal agricultural industry, then cutting out beef products is the most effective way to achieve that.
"Ideally we should phase out all animal products, but asking the university to stop providing beef to staff and students is an immediately achievable objective which will make a very real difference to the university's GHG footprint overnight."
Elena and Therese are pleased with responses they've received to the petition so far.
They said: "We can't say we're surprised at the level of positive responses we've received, because we know how much the students of Edinburgh care about this issue, the university and our planet!
"We are overjoyed and proud of our fellow students for standing shoulder-to-shoulder as we call on the university to make one small change that will immediately have a huge and inspiring impact."
If the petition is successful, Edinburgh would not be the first British university to ban beef; Goldsmiths, University of London and Cambridge University implemented similar policies this year.
The University of Edinburgh has been approached for comment.