Savage rejection and awkward encounters: It's time for round three of Edinburgh Goes Dating
With the new uni semester now under way, we're bringing you a brand new, fresh batch of daters. Some are cute, some are savage, and all were part of our project to bring Edi students a little closer to finding love. So how well did The Tab Cupid do this round?
Tessa, second year English Literature and Classics, and Samm, second year Geography
The Hanging Bat was the location of Tessa and Samm's drinks date. The two met to determine whether an Edinburgh Uni-Heriot-Watt romance is actually a thing that can happen.
Highlights of the date?
Tessa: The chat was pretty good, and there weren't many awkward moments, I don't think? He had a lot of questions.
Samm: It was all good fun. The bar was nice and Tessa was very polite.
Any strange moments?
Tessa: He's a Geography student, so he was really interested in Singapore, where I come from. He asked me lots of questions about it from a geographer's point of view, which I thought was kind of funny.
Samm: Weirdest was her saying she writes for The Tab, that was very awkward.
Was there a spark?
Tessa: I don't think so, but he's really nice .
Samm: I don't think we will go on a second date, we got on very well but more on a friends basis. Our personalities seemed to be quite different.
Rosa, third year Veterinary Medicine, and Peter, second year Economics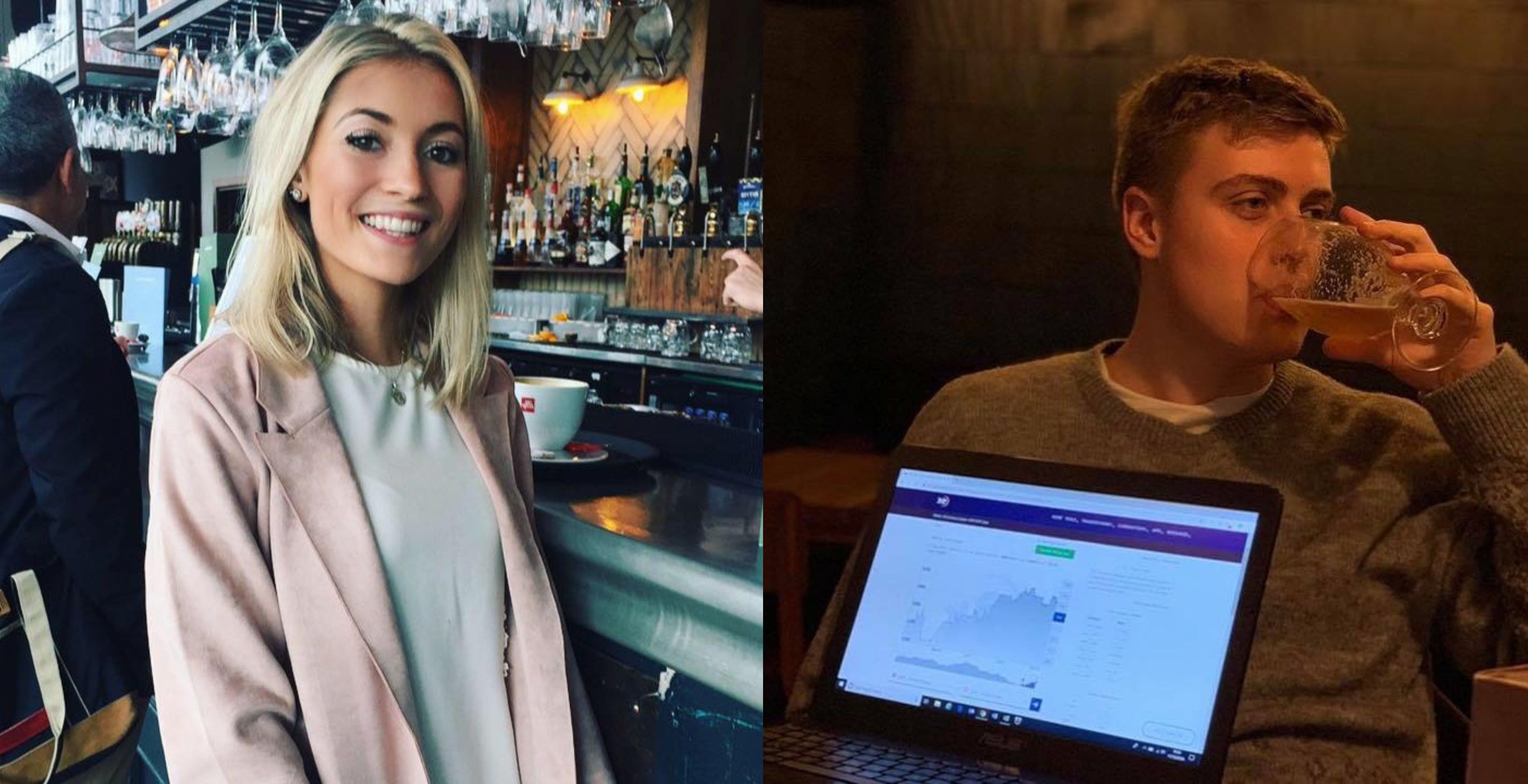 Rosa and Peter went to Montpeliers to see if their date could be the start of something big.
How did you find the date?
Peter: The chat was great, and we had a lot in common. There were a couple of awkward pauses, but they were few and far between so it didn't feel too awkward overall.
Rosa: It was a nice chilled evening and he was a nice guy, but there were some awkward moments. We only chatted about interests and hobbies, nothing majorly exciting.
Any weird moments?
Peter: The weirdest was definitely that her flatmate and one of my best friends were out together at the same time on the same night.
Rosa: When he sat next to me rather than opposite me…
Second date?
Peter: Definitely. I asked if she wanted to and she said she did, so fingers crossed.
Rosa: No.
Chloe, second year English Literature and History, and Annie, first year History of Art
Chloe and Annie met up for drinks at Paradise Palms to enjoy G&Ts amongst the eclectic decor.
Any weird moments on the date?
Chloe: I don't think there really were any for us, although there was a couple near us committing serious PDA, which was just jokes. Also, one of my best friends also happened to be there and she came and said hi – hi Charlotte!
Annie: Weirdest moment of the date has to be seeing this lad sitting by us in the bar playing with a girl's thong under her skirt. Ew.
How did you find the chat?
Chloe: The chat was nice, she's really sweet. It was a bit awkward to begin with, because meeting someone new always is! But after we sat down and had a drink it was fun.
Annie: The chat was alright, although I don't think we had that much in common. She seemed a bit put off when I nearly ordered a pint though – in the end I went for a G&T instead.
Second date?
Chloe: No, probably not. But the whole date was lovely and she's an angel. I'm very happy to have had my first blind date experiment with Annie.
Annie: Unfortunately not, but I'm sure she will find the right girl for her soon.
Karla, fourth year History of Art and English Literature, and Joseph, third year Philosophy and English Literature
The Tab's very own meme queen Karla met up with edgy Joseph to see what was in store.
How did the date go?
Karla: The date was lovely! Chat was good, and nothing was weird or awkward that stood out to me.
Joseph: It was really nice and lasted a lot longer than I thought. The chat went smoothly, though I may have mucked up a few times.
How did you find going on a blind date?
Karla: A bit weird at first, but I'm glad it wasn't disastrous.
Joseph: Interesting, scary, but mostly exciting.
Thoughts on a second date?
Karla: He was nice – don't know if I'd go on a second date though.
Joseph: Not at the moment, no.
If you're interested in joining the over 500 students taking part in Edinburgh Goes Dating so far, fill in our application form here.