From Marchmont to Morningside: Where should you live next year?
May the odds be ever in your favour
The Zoopla app has been downloaded, and the viewings have begun – get ready for the anarchy that is securing a flat.
Although you say you'll take anywhere to avoid the stress, it's nice to pretend for a bit you care where you'll end up living. Marchmont vs New Town may seem like the only competition, but there's so many other options that should be considered. Here's a breakdown of some of the most popular student areas in Edinburgh to help you decide.
Marchmont
Pros:
Let's not lie, Marchmont is the BNOC of student living. It's close to George Square (King's too), and walking to clubs and pubs isn't too much to handle. It's mostly a student area, and there's no denying the beauty of those bay windows.
Cons:
Everyone and their mother wants to live here, so be prepared for flat viewing carnage.
Estimated price:
£450 – £575 pcm
New Town
Pros:
New Town is a great place for clubbing and pubbing. It's the in the ideal location for Gari's, Standing Order, and of course Jujus on a Monday. The flats are also gorgeous and look like something out of Made in Chelsea.
Cons:
New Town is for the big spenders out there, but if you got it then go for it. It's also a trek to all uni campuses – King's students beware. But that's no problem for most New Town residents (that's what Uber's for, right?)
Estimated price:
£575 – £650 pcm
Bruntsfield/Morningside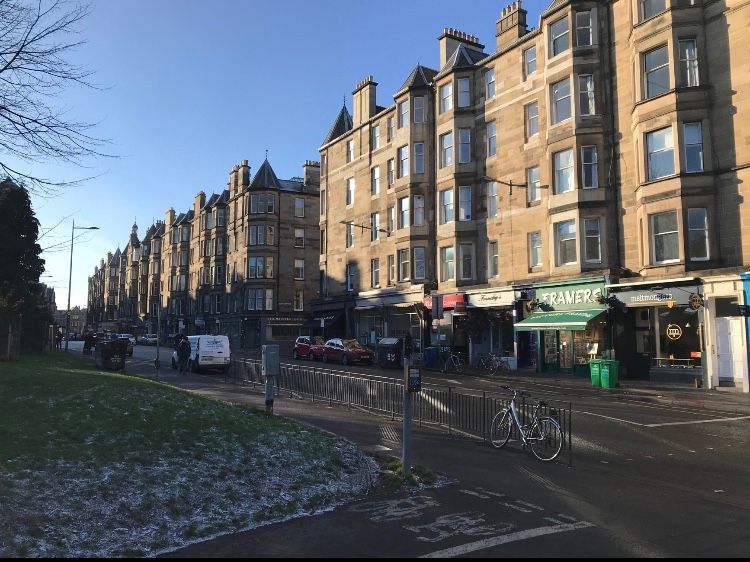 Pros:
Fewer students occupy these areas, so they're best suited for fourth years who want some peace and quiet. Bruntsfield is near enough to both George Square and King's, and still has the beaut walk through the Meadows. Morningside also has a wonderful array of pubs.
Cons:
There's no denying that Bruntsfield is Marchmont's ugly sister. And anywhere is a trek from Morningside, so you'll never leave the flat.
Estimated pricing:
£475 – £550 pcm
Newington
Pros:
It is arguably the best located area to live in. It's near to all the shops (we all know Lidl is all you need), and student pubs and clubs. You can also practically roll out of pres to Big Cheese – perfect!
Cons:
Seemingly, prices are rising here (but where are they not?)
Estimated price:
£500 – £600 pcm
Tollcross
Pros:
A very underrated area for students. You're still really near uni, and there are food shops and restaurants aplenty. If you're a sucker for indie vibes, there are still some boujee pubs and coffee spots, with Cowgate just on your doorstep.
Cons:
Apparently the flats are not great inside, and it can be unexpectedly pricey.
Estimated price:
£525 – £600 pcm